Differences Between Nespresso VertuoPlus and Evoluo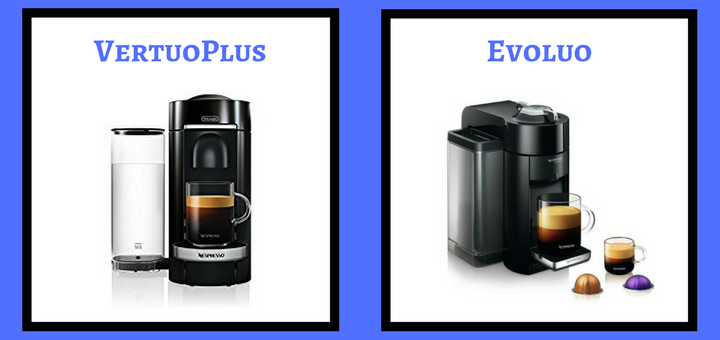 Being one of the leading producers of coffee machines, Nespresso provides a wide variety of high-quality machines with different features that successfully suit the needs of the most demanding coffee lovers.
In this post, we'll be talking about some of the most important differences among two popular coffee machines coming from Nespresso – VertuoPlus and Evoluo. So, if you are thinking about buying one of these, stay with us until the end of this post and learn more about each of them.
Nespresso VertuoPlus: The Queen of Automatization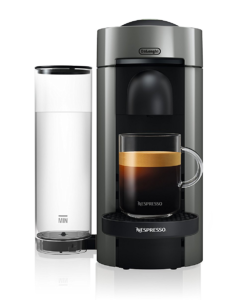 The VertuoPlus machine has all you need to get yourself both espresso and coffee drinks and it uses Nespresso Vertuo capsules. It is a highly practical machine owed to the 40 oz water tank that can be easily placed at the back or on the either side of the machine, to help you efficiently use your counter top.
Nespresso VertuoPlus has a motorized head that is slowly opened by a push of a button and it automatically punctures the capsule as it closes down. In other words, it's built pretty conveniently since you don't have to force the lid down to pierce the capsule. Additionally, the machine automatically adjusts the brewing parameters by reading and instantly recognizing the bar code that is placed on every Vertuo capsule.
VertuoPlus comes with a cup holder that can change the height in accordance with your needs, and a container for used capsules, that automatically ejects the used capsule. You can also choose between two cup sizes: 8 oz coffee and 1.35 oz espresso. All you have to do is to make sure you've chosen the right capsule since every cup size requires a specific type of capsule.
The heat up time of the VertuoPlus coffee machine is about 15 to 20 seconds and it also has the descaling alert and automatic off mode if it's not used for more than nine minutes.
Finally, VertuoPlus doesn't only offer quality processed coffee but it also has an awesome design. It's a completely redesigned machine that's taller than the other versions and it has a modern, sleeker appearance.


Nespresso Evoluo: The Queen of Heat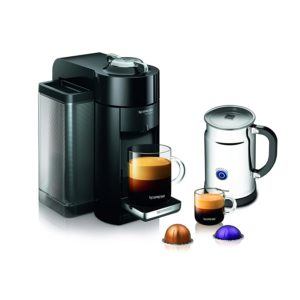 Representing the next generation of the Vertuoline, Evoluo makes it possible for you to brew hotter coffee and has the fast heat-up time of only 15 seconds. Additionally, it fits more cup sizes since it has a removable and foldable drip tray.
Like VertuoPlus, Evoluo can brew both coffee and espresso, and it has the automatic coffee pod recognition which is also equipped with a laser bar code reader. Its water tank has the capacity of 54 oz and it is completely removable.
When it comes to brewing, Evoluo doesn't use the pump pressure like numerous other espresso machines. Instead, it relies on Centrifusion technology, and it automatically adjusts settings in accordance with the type of pod and blend.
Another similarity with the VertuoPlus machine comes from the fact it has the used capsule container, and this container can hold up to 17 capsules before discarding.


What are the key differences between VertuoPlus and Evoluo?
As we've already mentioned, the VertuoPlus coffee machine can brag with the motorized brew head and repositionable water reservoir, which probably are its most important advantages, having in mind none of the other machines have these features.
Additionally, even though the regular versions of these machines have the same capacity (40 oz), when we compare the upgraded versions of VertuoPlus and Evoluo (VertuoPlus Deluxe and Evoluo Deluxe), we realize there is a significant difference in the water tank capacity. While Evoluo Deluxe can store about 56 oz of water, VertuoPlus has the capacity of 60 oz.
Finally, if the noise of your coffee machine is important for you at the moment of purchase, you should pay attention to the following: Even though all of the VertuoLine machines use the Centrifusion technology which makes it possible for a capsule to spin at 7,000 spins per minute while brewing the coffee, VirtuoPlus is the only VertuoLine machine that makes this process ultra-quiet. All the other machines, including Evoluo, usually get a bit noisy.