Nespresso Vertuoplus vs Vertuoplus Deluxe vs Vertuo vs Vertuo Evoluo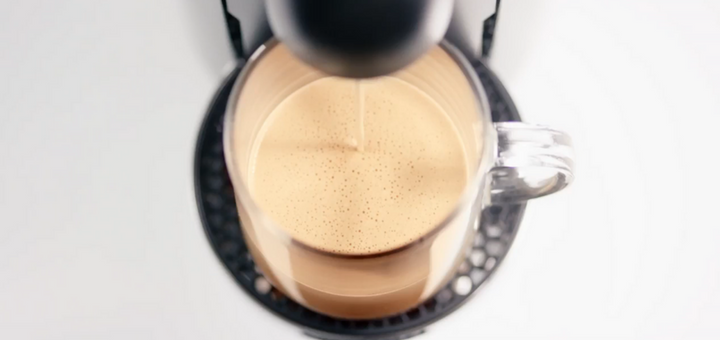 Nespresso is well known as a company that produces all kind of coffee products including coffee makers. They released many different coffee machine models, and sometimes you can find yourself confused about their features.
We will try to solve the mistery about VertuoPlus and Vertuo models in this article. Some of their features are completely same, but in some other characteristics, they are different. Users are very fond of these four models, and they are in love with all the advantages that these models have. One of the biggest advantages is that all these models can brew both, coffee and espresso.
If we speak about the release chronology than we have to say that the VertuoPlus and Vertuo models are upgraded Vertuo Line models. The coffee temperature was a problem since it was not considered as a hot ( enough ), but with the upgraded models it became higher and that was the most important thing. We will describe all models by their features.
One more thing that separates VertuoPlus from Vertuo models besides the appearance is the brew head. VeruoPlus models have motorized brew head. With the press of a button, it opens by itself and closes the same way. This is perfect since there is no possibility for making any mechanical damage due to an inadequate usage.
Appearance:

VertuoPlus – Vertuo Plus is made of high-quality plastic, and you can find it in several colors. Its water reservoir can change its position and you can swivel it on right or left side, or behind the machine body. With this possibility, you can easily find a place for it on your kitchen counter.
VertuoPlus Deluxe – this model is similar to the VertuoPlus model, made of high-quality plastic in several different colors with a movable water reservoir. This model has a slender machine body so it doesn't take too much space on the kitchen counter.
Nespresso Vertuo – also made in plastic with the choice of several colors. It is wider than the previous two models since the water and used capsules tanks are set on the left and right side of a coffee machine.
Vertuo Evoluo -made in plastic with a few differences in design. The top of a coffee maker is a little flat compared to the Vertuo model. Both tanks, water, and used capsules are set on the sides of a coffee maker.

Price

The price of all four models is around 150 dollars, a few bucks more or less, depending on a Nespresso machine, manufacturer and time when you are baying.



Dimensions

VertuoPlus – dimensions are 16.2 x 5.6 x 12.8 inches. This model is tall and slender.
VertuoPlus Deluxe – dimensions are 16.2 x 5.6 x 12.8 inches. It is exactly the same as the VertuoPlus.
Nespresso Vertuo – dimensions are 11.9 x 8.3 x 11.9 inches. With this dimensions, Nespresso Vertuo is not tall as the VertuoPlus models.
Vertuo Evoluo – dimensions are 12.2 x 9 x 12.3 inches. The difference between Vertuo and Vertuo Evoluo dimensions is so small that it is not worthy of mentioning.

Read also:

Water reservoir

VertuoPlus – has a 40 oz movable water reservoir. You cannot remove it from the coffee maker but you can anyway easily refill it.
VertuoPlus Deluxe – has a 60 oz movable water tank. It is bigger than the VertuoPlus coffee maker's water reservoir.
Nespresso Vertuo – has 54 oz removable water reservoir. It is placed on the right side of a coffee machine.
Vertuo Evoluo – has a 54 oz removable water reservoir. It is same as the Nespresso Vertuos' water reservoir.

Brew Method


All four Nespresso coffee machine models use the Centrifusion as a brew method. This means that the coffee maker rotates capsule really fast, to be exact, 7000 rotations in a minute. With this brew method, the coffee maker can extract coffee or espresso in the most delicious way.

Brew choice

Vertuo Line and VertuoPlus models use only VertuoLine capsules. These coffee makers won't be able to use OriginalLine Nespresso capsules. There are two capsule sizes, small ones for espresso and big ones for coffee. Every capsule has a barcode on its rim, and when machine reads the barcode it prepares the ideal settings for that type of beverage. You can choose between 12 coffee capsules and 4 espresso Grand Crus.



Brew size

VertuoPlus – brews two sizes 1.35 oz for espresso and 7.7 oz for coffee. The size volume is determined by the capsule's barcode.
VertuoPlus Deluxe – great choice when it comes to a size volume, 1.35 oz ( espresso ), 2.7oz ( double espresso ), 5 oz ( gran lungo ), 7.7 oz ( coffee ), and 14 oz ( alto ).
Nespresso Vertuo – brews several different sizes, 1.35 oz for espresso, 2.7 oz for a double espresso, 5 oz for gran lungo, 7.7 oz for coffee and 14 oz for alto.
Vertuo Evoluo – two sizes 1.35 oz for espresso and 7.7 oz for coffee. The barcode on the capsules rim determines the size volume.

Auto-off mod

These coffee maker models are the same when it comes to this particular feature. They all automatically shuts-off after 9 minutes of inactivity.

The capacity of used capsules container

Nespresso VertuoPlus has 10 used capsules capacity container
Nespresso VertuoPlus Deluxe has 10 large capsule capacity
Nespresso Vertuo can accommodate 13 coffee capsules or 20 espresso capsules
Nespresso Vertuo Evoluo has 17 capsules capacity

Heat-up time


All these models are fast pre-heat coffee machine and they need from 15 to 20 seconds to pre-heat. These models are quick and easy to use. Practically, the machine does everything by itself. Every model has an adjustable cup tray in order to accommodate cups in different sizes.

Upgrading these four Nespresso models

Since neither of these four models has a built-in milk frother, you can upgrade your Nespresso machine with Aeroccino electric Milk Frother. This milk frother can prepare hot or cold milk froth. With this addition, you can make different coffee drinks that require milk. Of course, you will have to spend more money if you want this option.



Nespresso's collaboration with Breville and DeLonghi

You can find these coffee maker models under the name of Breville and DeLonghi, but this is not the only collaboration between these three great coffee product manufacturers. Many people wonder why are there so many models with the same name, but produced by different companies. In order to create perfect coffee and espresso maker with great features, these three brands joined their technologies.

There are small differences between Nespresso machine models produced by Breville and DeLonghi, but those differences don't change the final result, and that would be a perfect cup of your morning beverage.

Our choice

We must say that our favorite among all these models is VertuoPlus Deluxe. With an extra large water reservoir of 60 oz that can swivel around machine body, it is perfect for every kitchen. With the possibility to change the position of a water reservoir, you can easily find a place for it even in the most demanding kitchen designs.


This model has several different brew sizes and beside plastic machine body it has a few parts made of chrome. Thanks to the Centrifusion Technology, prepared beverages have a thickness and they seem like they are already frothed in one way. But we really like when we have a choice of milky beverages as well. If you add just 50 dollars more, you can get your Aeroccino electric Milk Frother. It can prepare cold and hot milk froth. Perfect for summer and winter beverages in the lazy afternoons.

Coffee lovers who trust in the quality of Nespresso products will be delighted with these models. They can give you all you want in the early morning hours, a perfect and tasteful cup of coffee or espresso, with different flavors, perfect temperature and all that with just one press of a button. No fuss during the morning rush hour, in just 15 seconds you can start your hard working day with the eyes wide open.