Coffee Cup Warmer With Auto Shut Off
If you are a real coffee addict, you probably hate it when you experience the disappointment caused by the underwhelming taste of cold coffee. We also bet that many of you have probably tried to warm the coffee following some silly tricks found on the Internet. However, if you are not into experiments with burning plates, cup sleeves, or candle warmers that may (or may not) keep the right temperature of your coffee, you may want to find a more convenient solution, and there's nothing more convenient than a reliable mug warmer.
In this article, we're presenting awesome cup warmers, as well as an easy DIY procedure of creating a mug warmer with an auto shut-off. Read on and find out more about the ideal ways of warming your favorite beverage.
I do not have Alzheimer's, but the reason why I need automatic shut-off feature on my beverage warmer (yes, for me it is just a coffee warmer, and I don't know why I have used that fancy name) is because I keep forgetting things. I do not want to think about what can happen (and it will happen) if I forget to turn-off my coffee cup warmer.
Nicelucky Auto Shut Off Mug Warmer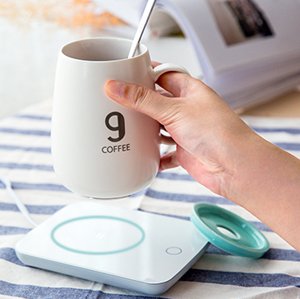 Coming from Nicelucky, this appliance can keep your favorite beverage warm providing a mug temperature of up to 131ºF and a surface whose dimensions are 5.88 x 4.56 inches with the 3.15-inch heating area diameter. It requires AC connection and it is an ideal appliance for the daily home or office use.
It's an incredibly reliable warmer made of silicone that can be placed on all types of surfaces, including enamel, tile, metal, ceramic, glassware and high-temperature plastic, and it provides the necessary heat in no time. What's great about this coffee warmer is the fact that it uses micro induction to control the liquid temperature which basically means that you don't have to turn it off when your coffee is warmed – all you have to do is remove the cup. And how do you know if it's really working? All you have to do is check the indicator. While your mug is placed on the appliance and being warmed, the indicator light is turned on, and once you've moved the mug, it automatically turns off and the heat pad gradually becomes cold again.


Important facts that you should know when buying Nicelucky Coffee Warmer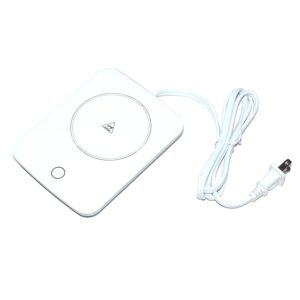 The appliance comes with the cord that's 3' 8'' long.
Waterproof and easy to clean
Apart from keeping your water, coffee, tea, milk, cocoa, or soup warm, this warmer can also work as a candle warmer, as long as the candle is placed in a jar.
It's more than likely that the appliance won't heat your coffee if you use a double wall glass cup since it only provides a medium heating temperature.
Even though the appliance may come with its special mug, you can also use your own can or mug as long as it's made of glass, ceramics, iron, glass.
The appliance doesn't work with borosilicate glass items – the warmer cannot get through this material and therefore, can't warm your beverage properly.
How long does it take before the auto shut-off actually shuts off?
This cup warmer works in that way that it shuts off automatically when you lift the mug off the warmer. There is no timer for auto shut-off.
The reason I write about this warmer is that I test it, and I know more about it. I bought this one with a ceramic mug (about 11 ounces). The mug has an aluminum bottom that allows better heat transfer to liquid.


I bought it just because it had a lot of reviews and most of them were positive. One more important thing convinced me to buy this one. They say that they will return money if you are not satisfied in the first 30 days after the mug warmer arrival.
Other warmers with same features
On the market, you can find the same mug warmers with different names. I suggest you to buy the one with the lowest price because, from my research, I cannot see any difference between all these coffee cup warmers. All warmers have the same look and features (auto shut off – most important), but some of them use slightly different mugs (you can buy warmer without mug and use your own)


If you are a slow coffee drinker like me, any of this mug warmers will be great for you. I use one at the office, and one at my home. You must know that coffee will not be too hot to burn your lips but it will be very warm and that is good enough for me. While researching other reviews, I saw that almost all users were satisfied with this little coffee lovers gadget.
Last year when I was looking for a cup warmer that had auto shut-off I didn't find any available. Manufacturers realized the need for that additional function that each cup warmer must have. Now when I am looking, I find a few more that look promising.
BETTY CROCKER Coffee Warmer


30-minute auto shut-off, with or without a mug in place
little pricey in my opinion
Bravo Coffee Mug Warmer Automatic Shut-off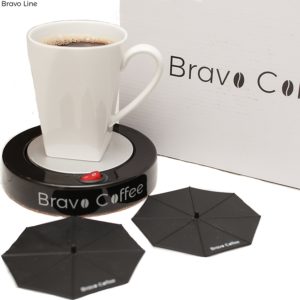 I must say that I did not test this warmer, but from the other reviews, it seems like this is the good one. This one is maybe even better than the one that I use at my home and office. Let's see its brief summary
Large Heat Plate 4″ in diameter – fits almost all coffee mugs
Higher coffee temperature up to 248˚F (better than all other warmers that I had tested)
Cord length is 50″
They offer a 30-day returns guarantee
4,3 rating
Automatically shuts off after 3 hours
I can't go too far with my opinion about this one. I can just summarise what other user said about this product. They said that this warmer works as they advertise, that it keeps coffee hot, not lukewarm as other coffee warmers. Quote: Heats up to 238 degrees F. according to my laser temp. reader
That is much higher temperature then my warmer can achieve. And this can be easy one of the best and Hottest mug warmer
Another important thing is that this warmer shuts off automatically after 3h even if the mug is still in it. Even if you forget your mug on it, the warmer will go off. That is a very good safety feature. Below you can see this warmer and price and find out more


Now we will show you how to convert any cup warmer to cup warmer with automatic shut off feature.
DIY Coffee Mug Warmer With An Auto Shut Off
If you're in need of a coffee mug warmer with an auto shut off option, yet you can't find one, you can always create one yourself! Even though it may seem like science fiction to you, the DIY process of coffee warmer creation is way simpler than you've probably expected.
If you want to improve your manual mug warmer and make it turn off automatically once you have your coffee warmed, all you have to do is find a device that will prevent it from staying turned on. In other words, all you have to do is to buy an electric timer in which you can plug your warmer in order to control its functions. This option is pretty affordable since the market offers some pretty cheap timers. I have this one


All you have to do is:
choose and set time preference
plug the electric timer into the wall
plug the coffee warmer into the electric timer
So, when you want to use the warmer, all you have to do is activate the warmer and the timer. This way, you will provide the heat for your beverage until the set time is up. Then, the electric timer will automatically turn off, turning off the warmer as well, without making you worry if you've turned off your appliance or not.
To sum up…
If you are a forgetful person like me, having an automatic shut-off feature on a coffee mug warmer is very important for safety reasons. Get one now or upgrade your old one with our trick.