Cameron's Southern Pecan Coffee Review
This Cameron's Southern Pecan coffee review is written by Kayla Addison
Southern Pecan coffee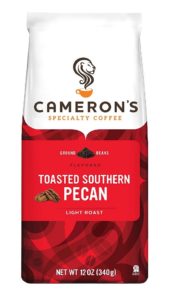 Today I am enjoying Cameron's Southern Pecan coffee in the most honest way, black and piping hot. I love the warm nutty taste of Cameron's Southern Pecan. I set the built-in timer on my old Black & Decker twelve – cup coffee maker from university for six forty – five every morning. One of the main reasons I advocate for this seemingly out of date coffeemaker is the ability to set a timer! Knowing there is a hot pot of coffee ready to pour in the kitchen helps to get me out of bed in the morning!
Cameron's Southern Pecan is also a crowd pleaser! This lighter roast is great for an evening beverage as the nuttiness give an illusion of a fuller body without the higher caffeine content. If I serve coffee and dessert to dinner guests, I often use a French press. It compliments sweet treats well. The French press is a solid iron family hand-me-down. I have also used it over a fire when camping.






I have enjoyed coffee every day since I was too young to be drinking coffee, and my affections for coffee come from my family. My grandpa is a cattle farmer. He always drinks five cups of black, classic roast Folger's in the morning, often enjoying a cup on the porch with a neighbor. He told me not to trust someone that doesn't drink coffee! While I do not completely employ that generalization, it is always comforting to share common ground with someone. Coffee to me is more than just what comes from a pod in an overblown machine. It is sharing. Sharing news, sharing thoughts, sharing a moment. Many a friend has shared their troubles with me over a cup of coffee and thanked me for the moment.






My only wish for Cameron's Southern Pecan is that they will roast a medium or dark bean for those mornings when I need the extra caffeine buzz. Although it has a wonderful flavor, I do miss the full bodied taste and extra caffeine boost of some other coffees. Caffeine always helps me get productive. Unlike most people, I prefer the taste of pecan coffee over hazelnut. Hazelnut coffees always seem over sweetened to me. I was first introduced to pecan coffee at a mom – and – pop shop in Texas a few years ago. It is still one of my favorite flavors to have at home! All in all, Cameron's Southern Pecan is a great coffee for every day, but you made need a shot of espresso on standby if you're tired.

Cameron's Toasted Ground Coffee, Southern Pecan my experience and my review
My black and decker coffee maker and my favorite coffee
Cameron's Southern Pecan coffee in my black mug
If you like our Cameron's Southern Pecan Coffee Review than you must read
Starbucks French Roast Coffee Review