Growing Coffee in a Pot or on a Plantation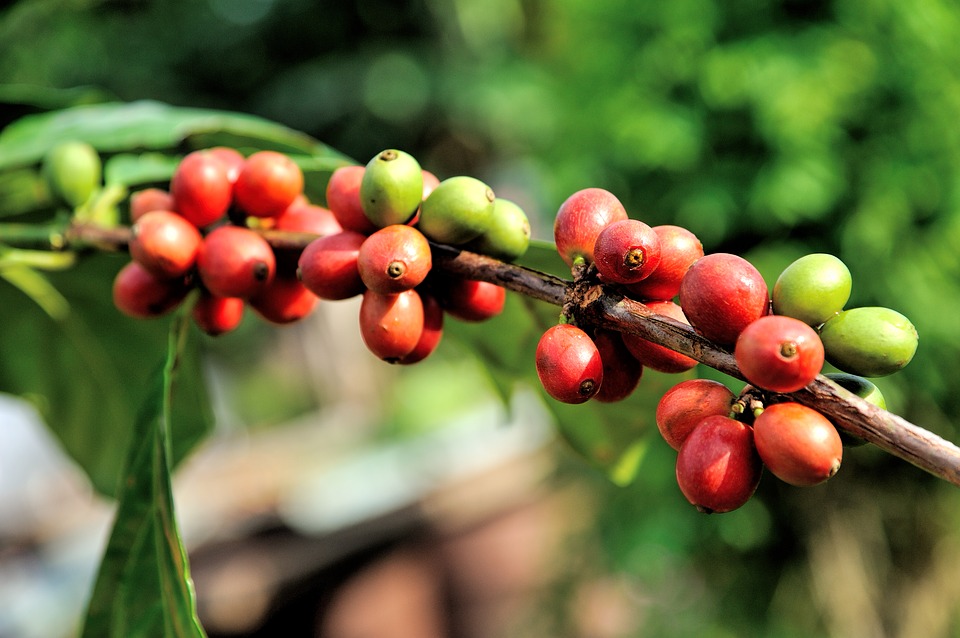 The bright red coffee cherry clung to the branch surrounded by other cherries in various shades of green and yellow. Mature coffee plants yield 10 to 15 pounds of cherries every year and every cherry ripens at its own pace. Geography, climate and the nutrients in the soil influence the ripening of the cherries and the flavor of the coffee beans hidden within them. If you understand and provide the basic needs of a coffee plant, you can grow coffee in your own home or on a plantation.
Sunshine and Rain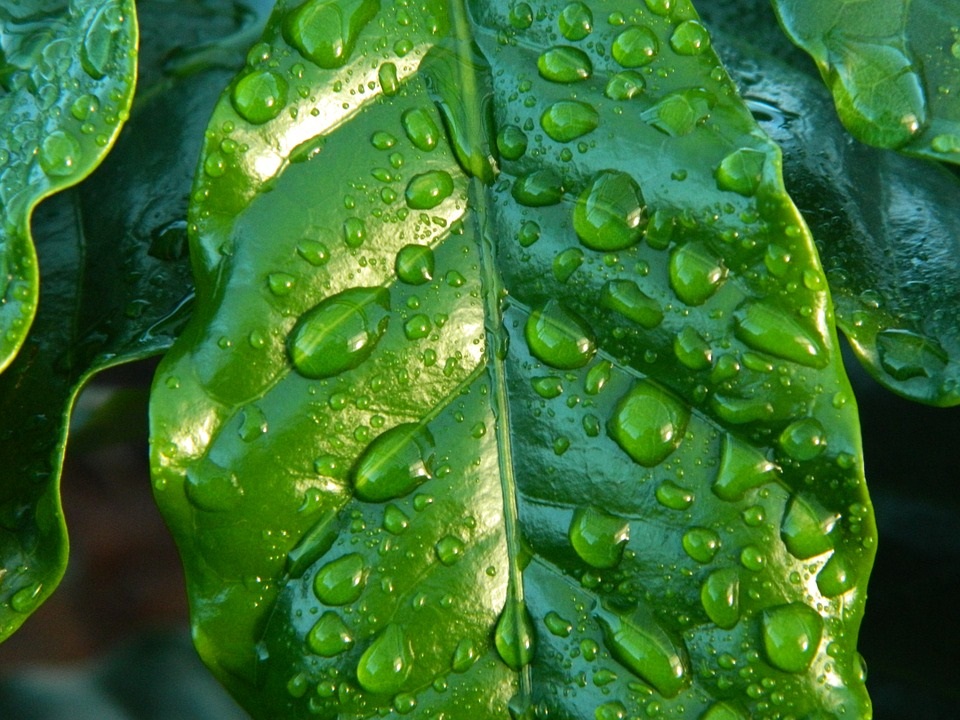 Coffee originated in Ethiopia centuries ago and continues to grow wild there. Ethiopia's weather varies from warm and dry to hot and wet with the heaviest rains falling between April and September. Over the years, coffee plants have undergone selective breeding to increase their resistance to diseases and the quality of their coffee beans, but they still love the tropical climate of their homeland. For a coffee plant to thrive, it must have:
Moderate Temperatures – Guatemala, Honduras, Indonesia and Columbia produce more than 200 thousand tons of coffee every year which earns them a place among the world's top ten coffee producing countries. These countries located on different continents have many differences, but they share one thing in common and that is that the temperatures in their coffee growing regions stays between 64°–70°F (18°C–21°C). Coffee plants can survive temperatures outside of this range, but it will affect the overall health of the plant and its productivity.
Moisture – Warm tropical rains moisten the air and soil making the difference between stunted coffee beans and those that are plump and flavorful. Coffee plants need an average of 60 to 80 inches (1,500 to 2,000 mm) of rainfall each year. Most coffee producing countries have one rainy season and one coffee harvest. Columbia and a few other countries, though, enjoy annual rains that are well spread out which makes it possible to harvest coffee twice a year. If you are cultivating a coffee plant in a pot, make sure that the soil drains well. Coffee plants need humidity in the air and water at their roots, but too much increases the risk of fungi, especially Hemileia vastatrix commonly called coffee leaf rust.
Indirect Light – Wild coffee grows under the canopy of tropical forests. In commercial cultivation, the fact that coffee plants prefer shade has been largely overlooked and many coffee plantations endure the sun's full heat. Agronomists now realize that planting coffee among fruit trees or native forest trees provides numerous benefits. Combining coffee with shade trees benefits the ecosystem by increasing organic material in the soil and filtering water and air, as well as providing a home for birds and insects. Shade benefits coffee plants specifically by increasing overall health and allowing the beans to mature at a slower speed. A slower maturation gives coffee beans a more complex flavor.

Mountainsides and Plateaus
Coffee plants not only love Ethiopia's tropical climate, but also its geography. The Simien and Bale mountains make Ethiopia one of the most mountainous countries in Africa and tropical forests with their native coffee plants climb thousands of feet towards the mountain peaks and across high plateaus. As coffee spread from Ethiopia to other countries, farmers began to grow it at lower elevations, but any coffee aficionado will tell you that low altitude affects both the flavor and body:
Low Altitude (2,000 – 3,000 feet above sea level) – Brazil exports almost 3 million tons of coffee beans every year and most of this is low-altitude coffee. Although Brazilian coffee is widely used in espresso blends and instant coffee, its simple to bland flavor and medium body keep it from being considered one of the best on the market.
High Altitude (4,000 – 6,000 feet above sea level) – High-altitude coffee beans are dense and contain complex sugars which gives them a wider array of flavor notes. Ethiopia and Columbia cultivate coffee at some of the highest altitudes and their coffee is bright and bursting with notes of nuts and vanilla or fruits and spices.
Essential Nutrients
Whether at a high or low altitude, coffee plants must have nutrient-rich soil to grow, flower and produce cherries. The College of Tropical Agriculture in Hawaii calculated that in every 10,000 pounds of coffee cherries there is approximately 63 pounds of nitrogen, 13 pounds of phosphorus and 68 pounds of potassium. The college went on to establish that the coffee plants producing these cherries needed 250 pounds of nitrogen, 60 pounds of phosphorus, and 200 pounds of potassium to maintain their own health. Coffee plants absorb about eighteen different nutrients from the soil with nitrogen, phosphorus and potassium being the three that they use the most of.
Commercial coffee growers regularly test their soil for these nutrients and then apply fertilizers to correct deficiencies. If you are keeping a coffee plant indoors, give it a well-balanced fertilizer every month or two during the spring and summer, but stop fertilizing it and allow it to rest during the fall and winter.
Peter Baskerville, who owned a variety of cafes and made more than 100 thousand cups of coffee, calculated that it takes sixteen coffee plants to provide one year's worth of beans for someone who drinks three cups of coffee each day. Hopefully each of those coffee plants will have adequate nutrition, a high altitude and the perfect climate to provide a delightful experience with every cup of coffee.