Coffee mugs made in USA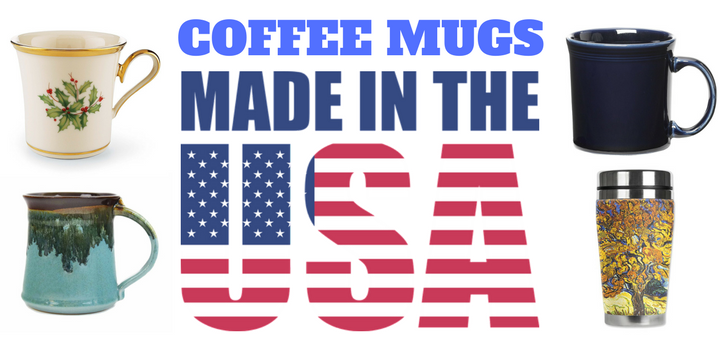 If you don't like to buy coffee mugs made in China and if you are an American patriotic person then these will be useful information for you. All those who like coffee and who start the day with it either in their own home or office, they usually have that one "special cup", but most of cups are made in China. If you want to support the American manufacturers change your old coffee cup with the new one coffee cup made in USA.
Whether it recalls you on a special place or person, or you have received it from a dear person, the mug has become part of the coffee-drinking culture and it often carries some hidden message inside. Americans are well-known for their travel mugs as well as office cups. It's logical that we will find the best choice and quality among those produced in America. In this review, we have selected the most interesting cups by manufacturers, but we have also prepared information about all those USA made mugs. We will write only about the cups produced by American manufacturers. Nowadays it is not easy to find American made coffee mugs because they almost all of them moved their manufacture to China, Taiwan, Indonesia…
Best coffee cups made in USA
We have selected the best USA made coffee mugs, their manufacturers, characteristic, dimensions, materials quality… If you are looking for a symbolic gift for someone, or you want to preserve memories of someone or something through a small detail, then these USA coffee mugs are the ideal way to do that. Again, maybe you just need a new set, because the previous one is destroyed at the last party. Anyway, we will give you the right information where to find and how to get the best mugs made in America.
Anchor Hocking
Anchor Hocking Glass Company is America's best-known glass product manufacturer. This company was founded back in 1905 in Lancaster, Ohio.
Anchor Hocking Glass Company was known as the main producer of Depression Glass. In 1939, they produced their first product, the so-called Royal Ruby. Today, besides luxury glass products that require special maintenance, they produce a large number of products of high quality and again simple maintenance products. Their quality is guaranteed by the fact that all their products have a warranty up to 10 years.
Anchor Hocking Café Glass Coffee Mugs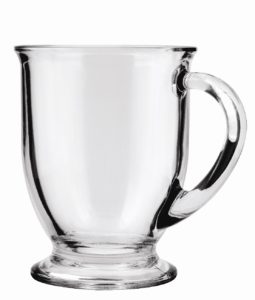 This is a set of 6 cups of 16oz capacity. They are made of Anchor Hocking thick glass with thick glass handles to prevent any spilling. This is a high-quality glass and it is always a better choice over a plastic mug. They are not made in any color so they can fit many different occasions. With a simple and pure look, and oversized capacity they are good for any type of hot beverage. It is already said, but we will repeat that it is made in USA. These mugs have a steady base which gives them extra stability. Made of very thick glass these mugs are durable and created for everyday use. They are easy for cleaning because they are dishwasher safe and you can heat them in the microwave. What is more important these cups are completely chemical free. They are 3 1/2 inches wide and 5 inches high. Anchor Hocking mugs are made from tempered soda-lime silicate glass which is an environmentally friendly product.


American Mug Pottery
American Mug Pottery is a company whose full name is American Mug & Stein Company. They are located in East Liverpool, Ohio, so that is one more American made product you will love. Their products are all hand cast and glazed. You have the luxury to choose color or design of a mug. What is better than customized mug for an office. Every occasion can be decorated with this mugs in right color or text. This company produces coffee mugs, decorative steins, and German-style beer steins. American Mug Pottery company cooperates with Starbucks by providing the coffee mugs with Starbucks logo.
American Mug Pottery Ceramic Bistro-Style Coffee Mug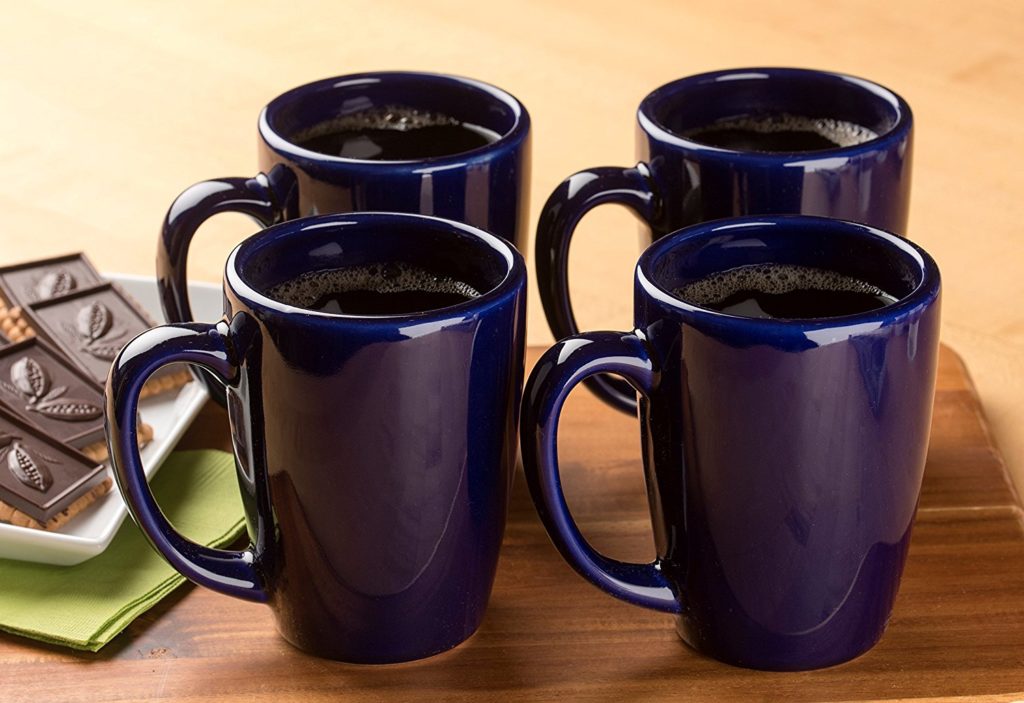 This is a set of 4 or 2 14oz. coffee mugs made in cobalt blue color. All mugs made by American Mug Pottery are lead and cadmium free, most of producing is done by hand, mugs are stylish, simple and perfect for any occasion or place. They can be perfect for your own home or as a gift. Their capacity makes them ideal for any type of hot drink, whether it is a coffee, tea or hot chocolate. They are thick and safe to clean in dishwasher or to warm up in the microwave, but they are also very light and well balanced. Everyone will enjoy this mug style, especially because they are an American product.


Usa Made Ceramic Square Handle Coffee Mug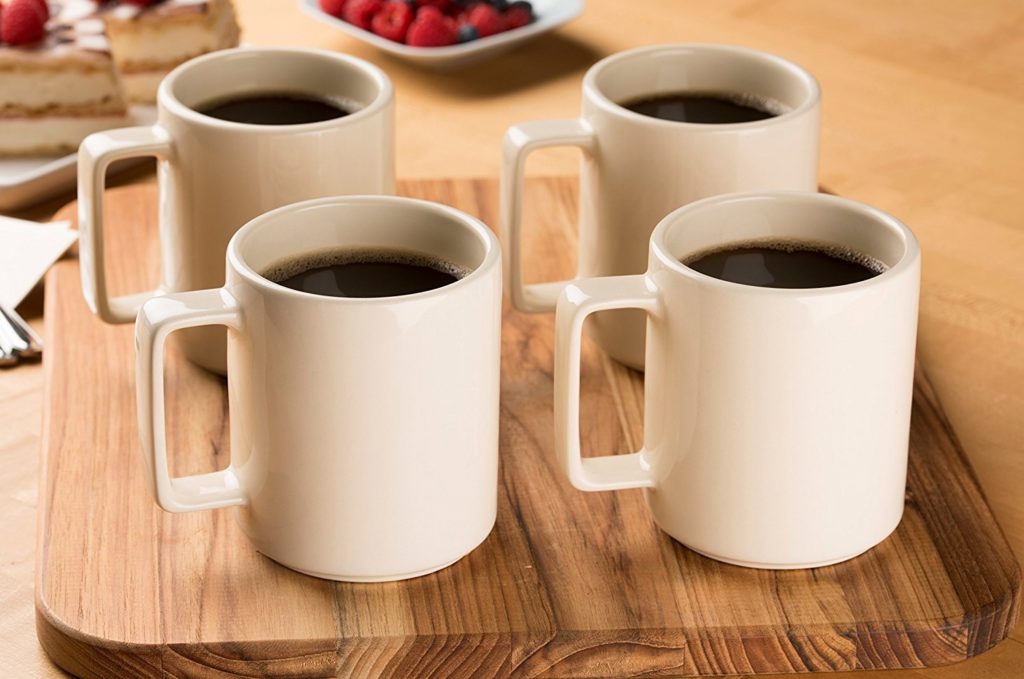 As you can see, we will introduce you to several products made by American Mug Pottery. This is another set of 2 or 4 ivory mugs with a capacity of 17oz. They are a little bigger than the previous one, but they are also stylish and simple. Their lines are straight so these ones are particularly well balanced. When producing this type of mugs meant for hot drinks it is logical that the ceramic will be thick, and in this way they are more durable and you can clean them in a dishwasher or warm up in the microwave. You can also pour hot drinks into it without worrying that it might crack. If you pay an extra attention to your health than you will be happy to know that these are also lead and cadmium free.


100% American Coffee Mug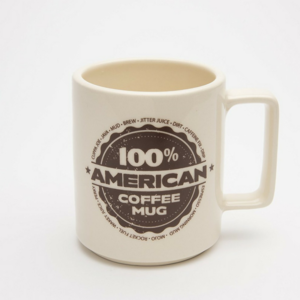 Perfection in all its glory. This would be a mug perfect for any home or coffee shop. Set of 2 or 4 17oz. ivory ceramic mugs made in America and completely lead and cadmium free. You can drink your coffee from it or serve your child a tea or hot chocolate in these beautiful cups. They are a bit different from others because they have a square handle and a nice design. It is true that the print says 100% coffee mug, but if your kid doesn't know how to read you can let him drink milk from it. Like the others, they are made in thick ceramic and they are dishwasher and microwave safe. Every cup made by American Mug Pottery is thick but light, and that makes them perfect for everyone.


American Mug Pottery Ceramic Diner Style Coffee Cup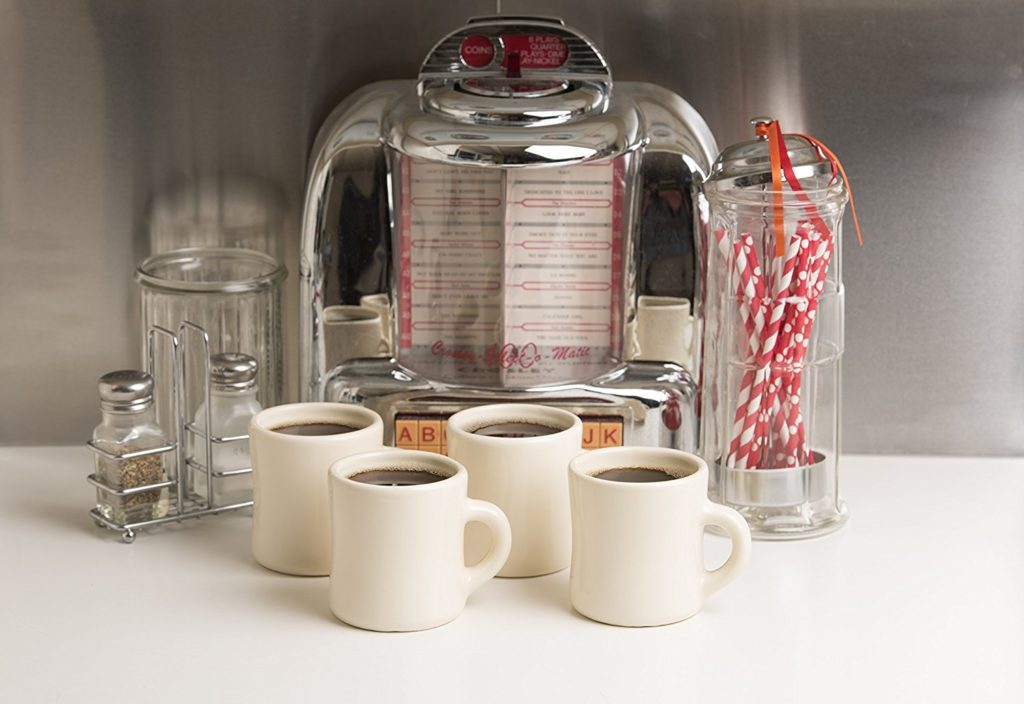 Although all these sets may look the same to someone, they are all different in style and design. Some of the main characteristics can be same as they are lead and cadmium free, handmade in USA, or that they are made of thick ceramic and dishwasher and microwave safe. But if you look carefully at their style you will see that there are differences in the shape of a mug and handle. This is very important because when you decide that previous characteristics are good for you, you will pay attention to other stuff. If you have arthritis or big hands you will choose those with enough space between a mug and handle, or maybe you will choose a design to fit with other glassware in your kitchen. These are ivory mugs of 11 oz. capacity. You get 4 of them in set and they are perfect for coffee serve after dinner.


American Mug Pottery Ceramic Square Handle Coffee Mug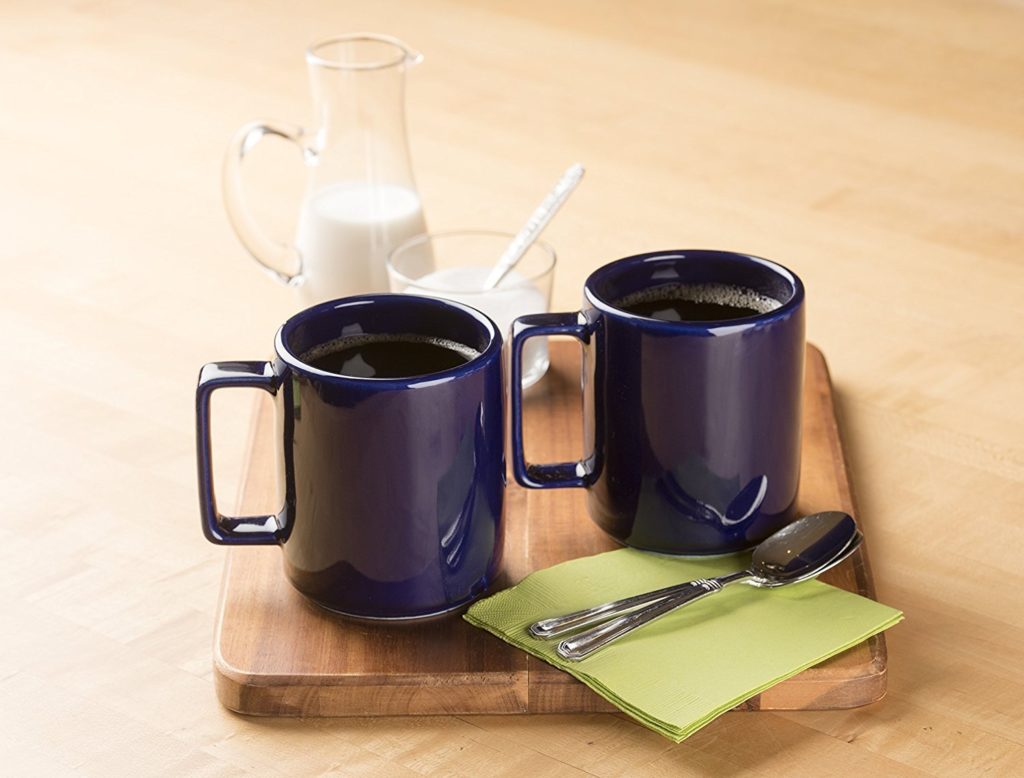 These are the last American Mug Pottery mugs we will write about and like all of the above mentioned this American coffee cups you can buy on Amazon. It is a set of two 17 oz. mugs made in cobalt blue color. They are a perfect gift for a couple since they are set as a pair. The design of these mugs is pretty stylish, their lines are straight and they have square handles. It is just like all the others lead and cadmium free. If you have a habit to warm up your drinks in the microwave it is ok because they are also made of thick ceramic which is also a dishwasher safe. Everyone who wants to support American small companies by using their product can choose some of these mugs they are 100% American products.


Clay in Motion
This is a charming company opened in 1981. year as a family pottery studio. Owners of Clay in Motion are Bob and Corina Neher and they are located in Milton-Freewater, Oregon. Their products are cremation urns, dental cuspidors and garden sculptures. The main characteristic of these ceramic products is that they are all handmade, they are lead-free, dishwasher, oven, and microwave safe. Corina is the one who does the decoration and glaze. All products are original, but Handwarmer Mug and AppleTorte Bowl are unique pieces.
Clay In Motion Handmade Ceramic Medium Mug 16oz – Ocean Tide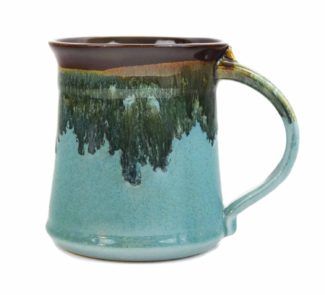 These mugs are something you would probably give as a gift to someone and then brag about how your gift was the best one. These mugs are handmade in America and often the colors may be a little different from the pictures because they make their colors also by hands. This is the best part cos' you actually get the unique mug that no one else has. They are usually being sold as a single mug and their capacity is 16 oz. It is lead-free and you can clean it in a dishwasher or warm up in oven and microwave. They all have a flat bottom and they are very stable. Their size is perfect for every hot drink, coffee, tea or cocoa.


Clay in Motion Handwarmer Mug – Left and Right Handed
Handwarmer mugs are indeed a unique work of art. This is an original and unique product of Clay in Motion studio which became very popular among all those who like hot beverages on cold days. The design of mug is unusual since it has a little pocket for fingers and they are produced in two versions, for right and left-handed. They are sold as a single item and their capacity is 14 oz, so they can be perfect for tea or cocoa as well as for coffee. Like every other Clay in Motion product, these are also lead-free, and they can stand at high temperature so they are oven and microwave safe. You can clean them easily manual or with dishwasher. They are meant to keep your hands warm while drinking your favorite beverage, but you should be careful and check the pocket because it can be really hot. Anyway it can be an original gift, right?
Everything in this studio is handmade so every item is different in color, style and in shape. You can buy this handwarmer mugs for right and left-handed. These mugs have flat-bottom so they are stable and you can warm them up on a warm plate. Could you get better from handmade in USA?


Lenox Holiday Mug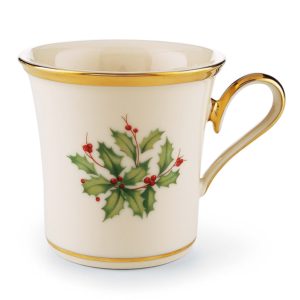 Lenox Corporation was founded in 1889 by Walter Scott Lenox who wanted to create the finest porcelain dinnerware made in America. Through hard times Lenox Corporation is after more than 120 years still one of the best in this job. All their products are sophisticated in their design and style. Here we choose one of their mugs made especially for holidays. This is a single mug of 12 oz. capacity made from ivory bone china and decorated with 24K gold. This mug can be bought as a single item but you can also buy a dinner set. They are perfect for any holiday occasion, and they are dishwasher safe so you can manage cleaning easily after a crazy party. This mug is not microwave or oven safe because it has a 24K gold decoration. The mugs dimensions are 5 x 5 x 4 inches and its weight is 8 ounces.


USA Made Glass Coffee Mug – Mosser Glass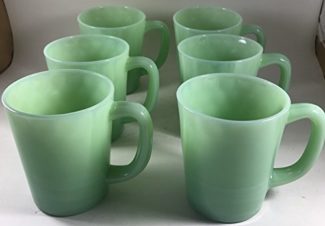 Mosser Glass is a company founded in 1959 by Thomas Mosser. It started with producing items of glass for the pharmaceutical industry. In 1971 they broadened their production in the field of glass tableware. This set of 6 mugs in jadeite green we prepared because they are beautiful in their simplicity. Their measurements are 4″ height X 3 1/4″ diameter. Their price is justified by the fact that this is a handmade glass product made in America. These are glass made mugs and it is not recommended to clean them in a dishwasher or warm up in microwave and oven.


Fiesta 12-Ounce Java Mug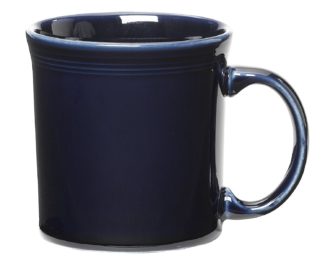 Homer Laughlin China Company or HLC Company was founded in 1971. in West Virginia, USA. Their best-known line of products is Fiesta and they are evergreen items which are collectible in America. They are enriched every year with new color or item, but the design stayed same in order to make possible every try of refilling your collection with new pieces. These mugs are very durable and they are dishwasher safe. You can warm them up in microwave and oven. Their capacity is 12oz. and measurements are 5 x 3.6 x 3.6 inches. The best characteristic is that all Fiesta items are lead-free.


20 oz ThermoServ Foam Insulated Made In USA Travel Coffee Mug Black/Green Two Pack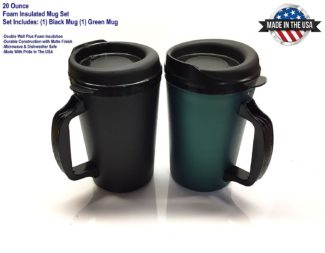 ThermoServ is a company that creates modern table and dinnerware. All their products are insulated, so everything in it stays cold or hot, their items are BPA free, dishwasher safe, and you can warm them up in a microwave. This set of two 20 oz. coffee mugs are made of polypropylene. They come in green and black color and they have lids in black color. They are perfect for travel cos' they have lids and they are insulated so they can keep drink warm for a long time.


Mugzie Van Gogh Mulberry Tree Travel Mug with Insulated Wetsuit Cover, 16 oz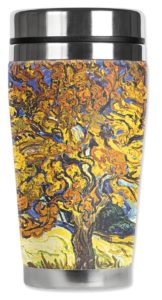 We have decided to show you some of the USA made travel mugs as well in this article. Most people don't have time to drink their morning coffee at the house so they take them out while driving to work. In this case you will need a good travel mug that keeps the drink hot. This Mugzie Van Gogh Tree Travel Mug is one of the best, its capacity is 16oz. and it is made of stainless steel. What is great with this travel mug is that it has a great lid that prevents spilling coffee all over you while driving. It has a perfect design which is done in hi-resolution, and it is made of water-proof, neoprene wetsuit material, so there will be no slipping from hands or condensation sweating. The diameter of a bottom is 2 3/4 Inch and it fits perfectly in almost every car cup holder. The dimensions of travel mug are 3.2 x 3.2 x 6.8 inches. These American made travel mugs can keep your drink warm for a long time without danger of burning hands while holding it.


Libbey 10.5-ounce Irish Coffee Mug, 4-piece Set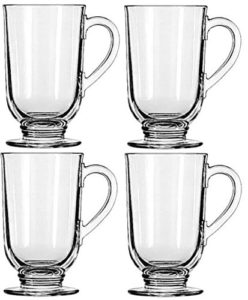 Libbey glassware is one of the greatest American company that produces glass items and tableware. Their glass products are highly ranked ( we include Libbey mugs in Best Clear Glass Coffee Mugs) and they are part of almost every household or restaurant but not all of their coffee cups are made in USA. This is a 4 piece set of transparent crystal clear glasses with 10,5 oz. capacity. They are made in a simple design with a short and stable stand. It is perfect to drink your beverage in this type of mugs cos' you can see clearly what is in them. They are made from very thick glass and they are dishwasher and microwave safe. These mugs dimensions are 5″ × 3-1/16″ × 2-3/4″.


Culver Mug America Glass Mug, Patriotic American Eagle Design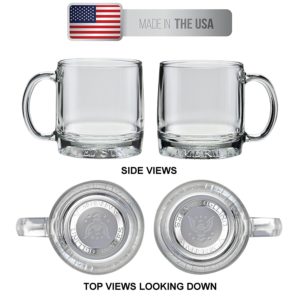 Culver is a glassware company founded 70 years ago in Brooklyn, New York. They are best-know for their glassware decoration with 22K gold. This set, however, isn't decorated with gold, but with its simplicity, it represents a perfect piece for your kitchen. You can buy them as a single mug or as a set of 4 12oz. mugs. They are made of thick, lead-free, transparent glass and their thick glass bottom is decorated with an engraved eagle. They are perfect for any occasion in your house or office. Dimension are 3.75-Inch height x 3.75-Inch diameter – and 5-Inch width with handle. Sice they are made of durable glass you can clean them easily in the dishwasher or warm them up in a microwave.


We hope that you get some good information from us. There are much more good and interesting mugs, but we tried to give you some of the best and and only those that are actually made in the USA. Find that one that suits your design taste and enjoy your morning coffee from it.