Best Portable Espresso Makers in 2018: MiniPresso GR, Litchi, STARESSO, Handpresso and WACACO MiniPresso Reviews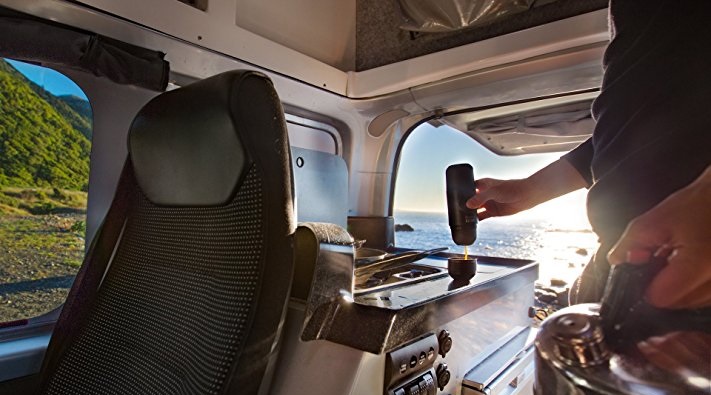 Handheld Espresso Makers: Have your dose off a wake-up espresso on the go in 2018
Having constant business meetings and flights can be tough on the body and mind and therefore, it is sometimes important to have that wake-me-up addition to give you another lift and a second breath on your travels. One good portable espresso maker can really make a difference to your productivity in 2018 and this can increase the amount of meetings that you make and also keep you from falling asleep in those boring ones.
Air travel is most common when it comes to further distances, but having a excellent portable espresso maker in the car can be a great addition for those mornings when you are late for work. You can even add an additional few takeaway cups and buy some cream to allow you to make the perfect cup of coffee when you forget at home.
But, before we look at the most intricate portable espresso machines, there are a few features that you need to take note of when buying an hand held espresso machine. If you follow this buying guide and our reviews, you will also be able to get more value and you will know exactly what to look for in the next portable espresso machine you buy.

Key Features to look for in the Best Portable Espresso Machines:
When looking at an hand-powered espresso maker, there are multiple things to keep your eye on even though we know that the price is of concern to some, most of these portable espresso makers are fairly inexpensive and they will provide you with a lot of value for their features. These features should be looked for to get value and to ensure that you have a quality portable espresso maker for any travel.
Size: When you think portable, the first thing that comes to mind is the size of the product and having a product with a smaller size might make less coffee every time, but it is much easier to carry along and to store in your vehicle. Some espresso makers will even be great for carrying in your handbag and you should be able to easily use them on public transportation as well.
Power usage: Depending on the power source of the espresso maker, you will know how many times you could use it. Some espresso makers are powered by batteries, but we do recommend the manual espresso makers to allow you to have more usability and you will never have to worry about the batteries and suffer without coffee when you forget to check them.
Insulation: While most of these espresso makers will require you to add hot water, it is important to look at the level of insulation they provide. Better insulation will mean that the water will stay hotter for longer and thus it will give you more functionality and you will be able to use the flask espresso maker for a longer period of time after leaving the house.
Price: The best portable espresso makers can be rather expensive, but with most of them reasonably priced, you will be able to look for value in the product and even save a few bucks. The manual operated portable espresso makers are relatively cheaper than those with technologically advanced features and it will all depend on when and how long you need to use the espresso maker.
BPA free: Purchasing anything that rages in the food and beverage section needs to be BPA-free and approved by the FDA. We recommend ensuring that your handheld portable espresso maker has been cleared to ensure that you have a healthy espresso every day. We also recommend keeping the espresso maker clean and giving it a thorough soaking every now and then.
These 5 features are really great to look at when shopping for the perfect portable espresso machine and when you have these features, the price will automatically be correct and you will have value. It is imperative to know that certain brands are also overpriced for the quality they provide and you will be able to use this guide to determine the best value for your money.
With that being said, let's look at the best portable espresso makers for your portable coffee needs in 2018:
MiniPresso GR Espresso Maker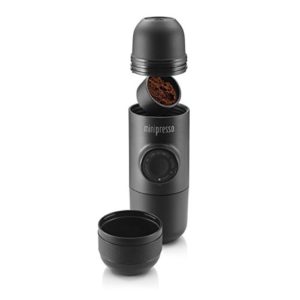 With a smaller amount of dispensing, the MiniPresso GR is great fo giving you that quality shot of espresso. The espresso maker pumps the water hot to about 8 bars and thus the compact design is key in creating this pressure.
With this espresso maker, you only need to add the water and the coffee and in minutes, you will have a great shot of espresso anywhere you go. There are no batteries required in this product and you will not need to worry about having to buy extra or any other payments. This will not only be a great investment for travelers and campers, but also for your motor vehicle and you will only need to clean it in the evenings. We have also found that the espresso maker can easily disassemble and thus allow you to put every part in the water for a thorough soak at least once a week.
Furthermore, the MiniPresso is very lightweight and small and it might even fit into the handbags of most women. Minipresso GR dimensions 6.9 x 2.8 x 2.4 inches. This means that you could now enjoy your very own shot of espresso throughout the day, no matter where you are and also save a few bucks on buying coffee from the local coffee shop every day. We highly recommend this for anyone caught up in life with no time to sit down and have a break.



Minipresso GR by WACACO Portable Hand Held Espresso Maker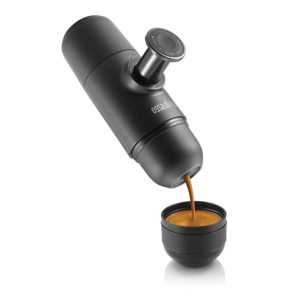 If you need to have that hot cup of espresso, topped with a creamy finish, this portable espresso maker will be perfect for you. The Minipresso GR by WACACO hand espresso maker has been rated as one of the most compact and lightweight espresso makers currently available and it has even won the "Coffee Fest best new product of 2016" award to show you the real value provided by the espresso maker.
You should easily be able to use the pressure and pump feature to get an espresso on the go, but we recommend adding some hot water to get that creamy finish. The espresso maker also dispenses a lot of coffee at once and this will allow you to enjoy one cup of coffee as well if you are not a fan of the bold taste from an espresso. Minipresso GR by WACACO espresso maker doesn't use any expensive capsules and you can simply add ground coffee beans, which are readily available almost from any coffee shop in the world, thus allowing you to take it abroad for travel anywhere in the world.
Furthermore, it also does not require any batteries or electrical power to save you some money and the cleaning process can easily be done with some hot soapy water. We definitely recommend this espresso maker for travel and for carrying along wherever you go. If you manage to cook your water while traveling, you will be able to enjoy a creamy, shop-quality espresso in the outdoors as well.



Minipresso NS portable Nespresso machine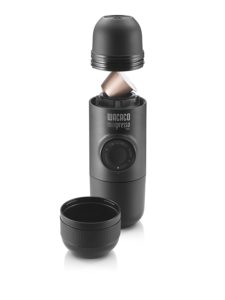 If you don't like to operate with scoops and measure amount of coffee every time you want to enjoy espresso, this portable espresso maker is perfect for you. It is created to use only genuine Nespresso capsules and you can't use any type of ground coffee.
Whether you are in your car or enjoying your free time camping, now it is possible to treat yourself to a delicious cup of Nespresso coffee. It doesn't use any type of battery or electric energy because 8 bar pressure manual pump will do what it takes to make a fantastic espresso. All you need is a hot water.
Its water reservoir capacity is only 2.35 oz, so it is sufficient for only one espresso. If you want your drink to be a little longer, just refill the reservoir and repeat everything using the same capsule. There is also an option for bigger water reservoir of 100 ml capacity, but it is not included and you will have to spend a few more bucks for this luxury.
With only 7.9 x 3 x 3 inches dimensions, it fits perfectly in your car or backpack during camping. It is made of food grade plastic and it is BPA free, so you don't have to worry about plastic taste in your espresso. If you are big fan of Nespresso this handheld espresso maker is right for you.



Litchi Portable Espresso Machine for Camping Hiking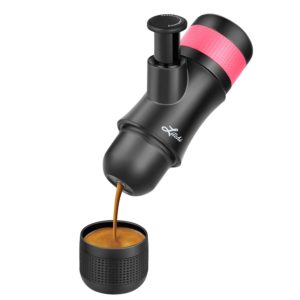 For hiking and travel, a portable handheld coffee maker can do you wonders and sometimes the journey does become a little too long. With the Litchi portable hand operated espresso machine, you will be able to make the perfect shot of espresso on the go and keep your body and mind refreshed and full of energy.
This espresso maker is really affordable and one of the cheapest on the list. It uses pressure to provide you with the perfect espresso and when you add hot water, you will be able to have the perfect creamy espresso on the go. The portable espresso maker does not require any batteries and this can be a huge plus for people in the wilderness when no shops are present, you will only need to get the water up to boiling point and add the coffee beans, the espresso maker will take care of the rest.
This espresso maker has also been stylishly designed and it is quite compact, but the design might hinder storage in smaller spaces, but it will easily fit into most backpacks. All the materials in the construction are BPA-free and approved by the FDA to ensure that you have a healthy and great tasting shot of espresso.
We definitely recommend Litchi portable espresso maker to travels and for use in your vehicle. It will save you a lot of time and also a few bucks, should you be used to buying a cup of coffee on your way to work every day.



STARESSO Portable Espresso Cappuccino Coffee Maker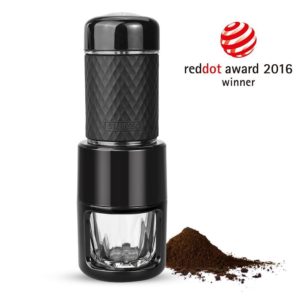 The Staresso is not only the 2016 Red Dot winner, but it also has multiple more advanced features for the same price as the other handheld espresso maker. The first thing you will notice is that fact that the espresso maker does not require hot water to brew a cup of coffee and you can even have a quick cup of cold coffee on the go. The espresso maker also dispenses much more coffee than it rivals and this will make it great for multifunctional use.
Espresso might not be for everyone, but with this handheld espresso maker, you can easily make a cappuccino as well and the 15 bar pressure will turn the added coffee and hot water in the perfect coffee mixture, you only need to add cream or froth and you will have the ultimate cappuccino on the go.
Portable Staresso espresso coffee and cappuccino maker can be compared to most kitchen coffee makers and it does not cost nearly as much. It does take a little longer to get the perfect cup of coffee, but it has been proven that the filter system does remove up to 5 times more acidity than normal coffee makers. This will allow you add sugar and all of the bitterness will be gone. If you do not like sugar in coffee, you could travel with this espresso maker all over the world and try the different coffee beans.
Furthermore, it is worth noting, that the open design of the coffee maker makes it easier to clean and everything can be taken apart. When clean, this BPA free coffee maker will surprise you with some of the best tasting coffee you have ever had.



Handpresso Wild Hybrid Espresso machine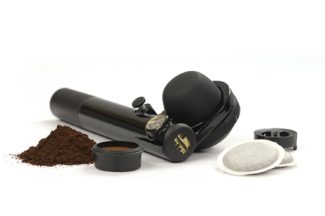 The Handpresso features a fascinating handheld design which will make it easier for you to control the coffee that you make. Handpresso Wild Hybrid Espresso maker makes use of pods that will make it easier to buy in bulk at a little more affordable price and the container is a little larger at 1.5 ounces. This will allow you to make more espresso shots with one go or you could simply make your very own cup of coffee.
The espresso maker does require you to add hot water in order to make it more efficient and give that added creamy texture to the coffee, but if you are stuck with only cold water, you could still boost your energy levels and get a delicious acid free cup of cold coffee.
The Handpresso is a little more expensive, but it can also easily disassemble and will be great for cleaning on the go. All of the parts can be placed in water and you can have a clean and fresh cup of coffee on your way to work every day. This espresso maker is definitely recommended for the constant traveler and the smaller parts are great for carrying it around without taking up too much space.



Final Thoughts about Portable Espresso Machines
With so many great coffee and espresso makers available on the market (check best espresso machine under 300), it can be hard to choose the top 5 portable espresso makers, but we believe that you can choose anyone of these 5 and still receive great value for your money.
We would like to thank you for reading this reviews and we would also like to encourage you to let us know of any other portable espresso machines that you like and think we have missed. We would also like to hear more about your experiences with these portable handheld espresso makers.
Staresso vs Minipresso
| | | |
| --- | --- | --- |
| Image | | |
| Title | Wacaco Company MiniPresso GR Espresso Maker | STARESSO Portable Espresso Cappuccino Coffee Maker |
| Brand | Wacaco Company | STARESSO |
| Color | Black | Black |
| Size | 7"x 2.5"x 2.4" | 10.9 x 4.6 x 4.3 inches |
| Weight | 0.65 pound | 2.05 pound |
| Link | More Info | More Info |
Litchi Portable Espresso Machine video – How does it look package, unpacking and how to use Litchi