Best Coffee Makers under $150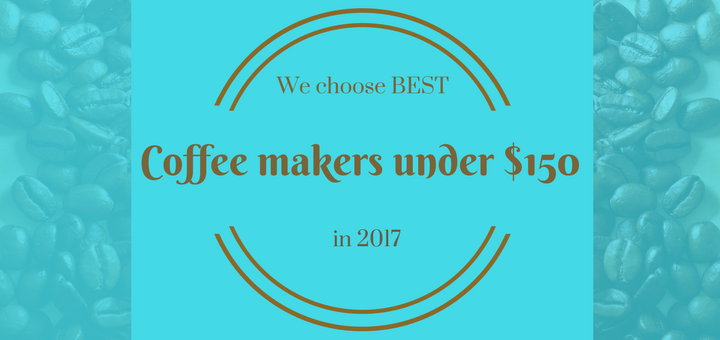 Top 5 coffee makers that can be bought for less than 150 dollars in 2018 (with short reviews)
For those who cannot start the daily grind before enjoying a piping hot cup of coffee, the right brewer is on top of the list. You can spend over 200 bucks a brewer with an interactive display and other pro-style features. But did you know that you can get a reliable brewer to give you a consistent cup of coffee with less than $150? Of course, when buying you need to consider your personal preferences. With a little understanding on the on the features of a good coffee maker, it will be easy to select a coffee maker that best meets your needs.

How we chose the best coffee maker for this budget
Our team is used and tested all the machines
We paid attention to the price range
We read the other people's opinions, reviews and ratings. Only if our opinion is similar with the majority opinion we add that coffee maker in our list.
The list below includes best coffee makers under $150, each of them offers you a different level of efficiency. We will look at their different comparable features, to give you an insight on decided which one suits you best. Since they all fall under the same price range, the choice is entirely yours depending on personal preferences.

All coffee machines from our list

| | | | | | |
| --- | --- | --- | --- | --- | --- |
| Image | | | | | |
| Title | Ninja Coffee Bar Single-Serve System with XL Ninja Hot & Cold 22 oz. Multi-Serve Tumbler and Recipe Book (CF112) | Cuisinart DCC-3750 Elite 10-Cup Thermal Coffeemaker, Stainless Steel | 10C BLK Coffee Brewer | KRUPS KM4689 Moka Brewer Coffee Maker Machine with Permanent Filter and Glass Carafe, 10-Cup, Black | Keurig K55/K45 Elite Single Cup Home Brewing System (Black) |
| Brand | SharkNinja | Cuisinart | Bunn-O-Matic | KRUPS | Keurig |
| Color | Black/Stainless Steel | Stainless Steel / Black | Black | Black | Black |
| Link | More Info | More Info | More Info | More Info | More Info |
Top 5 coffee machines under 150 dollars (Reviews)
Cuisinart DCC 3750 Elite stainless steel coffee maker
Great Thermal Carafe Brewer!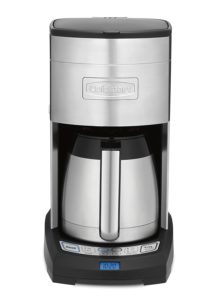 The Cuisinart DCC-3750 Elite 10-cup coffeemaker is a good choice if your budget is under 150 dollars. It is fully automatic with easy touch pad controls that make your brewing easy. It has an adjustable coffee brewing temperature control with three internal temperature heating setting of regular, hot, and x-hot. This feature allows you select the level of hotness for your cup of coffee. The DCC-3750 coffee maker is also programmable hence making your brewing experience easy and fast.
If you like your coffee brewed fast without losing its flavor or quality, then this is the coffeemaker to go for; it has an extreme brew fast engineered brewing technology which enables it to brew 25% faster than a regular coffee maker. With a gold tone filter and charcoal water filter, this coffee maker gives you the freedom to enjoy your coffee either regular of bold.



Comparison between Cuisinart DCC-3000, DCC-3200, DCC-3400 and DCC-3750
Ninja Coffee Bar Single-Serve System CF112
Ninja Coffee Bar give you huge variety of brewing settings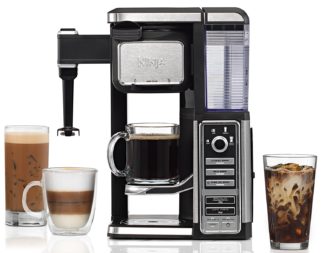 The Ninja coffee bar single-serve system comes complete with a variety of brew types and sizes. It has the capability of brewing different coffee recipes as it comes with an inbuilt hot and cold frothing capabilities. It can brew either classic, rich, signature brews such as café forte and specialty, or over ice coffee. The coffee maker has an XL Hot and Cold Multi-Serve Tumbler which gives you the freedom to enjoy either hot or cold iced coffee. The coffee maker has an auto-IQ one touch intelligence technology which helps draw the right amount of water from the reservoir depending on the brew. You can use either a cup, travel mug, XL cup, or XL Multi-serve mug.There are more models of Ninja coffee bar systems with different features and if you want to find out more check difference between Ninja cf091, cf097 and cf112
With the Ninja coffee bar single-serve system, you can unlock the full potential of your ground coffee as it has an advanced thermal flavor extraction technology. With this feature, you get to enjoy full richness of your coffee. With the classic brew, you get a smooth and balanced flavor of your coffee while with rich brew you enjoy the intense flavor that stands out to milk, flavorings, and crème. You can also use Over Iced Brew with this coffee maker to get perfect iced coffee free of the taste watering down.



10C BLK Coffee Brewer
BUNN made the top coffee makers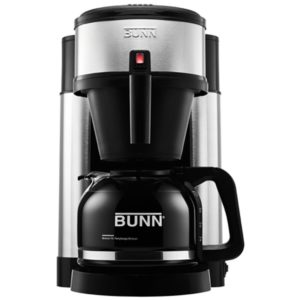 The Bunn-O-Matic 10C BLK Coffee Maker comes with an elegant and contemporary design, and it is also highly durable making it give you a long service. It has the capability of brewing 10 cups within 3 minutes without losing the taste and flavor of your coffee. With an internal thermostat, you are assured that the water reservoir will keep the water at an ideal temperature to allow the coffee maker brew on request.
The 10C BLK coffee maker also comes with a warming plate with an On/Off switch to prevent your coffee from getting cold. The vacation switch integrated into this coffee maker allows it switch on idle mode when not in use, hence helping save power and also minimizes burning incidences in case you forget to switch it off after use. The coffee maker's tank is stainless steel, and so is the face plates which make them easy to maintain clean.
This Bunn-O-Matic coffee maker is made of quality material and is easy to maintain since it comes with an easy to read the user manual and is dishwasher safe. It is also easy to use, and you can count on it to produce a quality cup of coffee with every brew.



KRUPS KM4689 Coffee Maker
The best coffee brewer for under 150 budget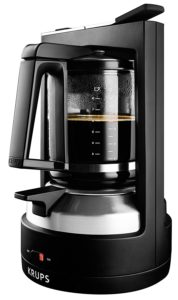 Krups Moka Brewer 4689 features a glass carafe that rests on a hot plate and acts as the lid of the water tank. The water reservoir is fitted with coils for heating the water. Once the water is heated, it rises on one side of the machine up to directly above the carafe. Through steam extraction, the machine produces full-bodied coffee which is rich in flavor. Krups is German coffee maker brand and that and it guarantees high quality and durability.
Additionally, this coffee maker comes with a permanent wire basket, meaning that if you like using paper filters, you will be double filtering your coffee. To prevent the brewer from opening during operation, Krups Moka Brewer has a lid on top. If you are looking for simplicity in brewing while still producing a quality beverage, the KRUPS KM4689 will be your perfect choice coffee maker especially for a budget under $ 150.
If you consider durability and reliability, KRUPS KM4689 coffee maker is one of the best-designed coffee makers by Krups. In case you switch it on by mistake, let's say when cleaning, and yes it will get hot but not a single sign of breaking down. It also comes with a readable manual which you need to follow to the letter when assembling the machine. Before putting it into operation, you should consider cleaning it first.



Keurig K55/K45 Elite Single Cup Home Brewing System
Keurig K55/K45 Well-Worth the Money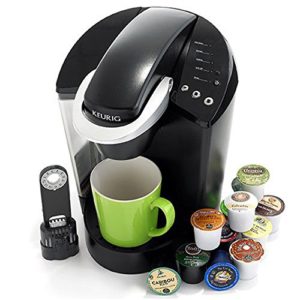 This coffee maker by Keurig produces a fresh cup of coffee with every brew. To allow the coffee maker always be ready to brew when you want coffee, Keurig applied microprocessor controlled technology which maintains the water at the appropriate brewing temperatures. The coffee maker also produces consistency in every single cup with its new needle flavor extraction technology. The Keurig k55/k45 is one of the safest coffee makers to use as it has an auto shut button which automatically goes off if the coffee maker stays in a standby mode for long.
You can choose any of this models of Keurig K45, K50 or K55 because differences between them are very small.
The Keurig Elite single-serve to accommodate three cup sizes depending on your preference. This feature also makes it easy to maintain the coffee maker clean without the brewing getting messy. This coffee maker is suitable for brewing tea, iced beverages, and hot chocolate in less than a minute and just a by a button click. Additionally, the coffee maker comes with a bonus of 12 Keurig sampler.
It is dishwasher safe, and with a removable drip tray, you can easily clean it and also use a travel mug. It has light indicators to show you the brewing progress and also has high consistency when it comes to producing brewing water.



Other Coffeemakers You Should Consider for the Same Budget
| | | | | | |
| --- | --- | --- | --- | --- | --- |
| Image | | | | | |
| Title | Ninja Coffee Bar Brewer, Thermal Carafe (CF086) | Cuisinart SS-780 Single Serve Coffee Brewing System | Bosch TAS2002UC8 Tassimo T20 Beverage System and Coffee Brewer | KitchenAid KCMB1204GOB 12-Cup Coffee Maker with One Touch Brewing with Grey Thermal Sleeve - Onyx Black | Keurig® 2.0 K200 Coffee Maker Brewing System(Peacock Blue) |
| Brand | SharkNinja | Cuisinart | Bosch | KitchenAid | Keurig |
| Color | Black | White | Black | Onyx Black | Peacock Blue |
| Model | CF086 | SS-780SA | TAS2002UC8 | KCMB1204GOB | KEURIG 2.0 K200 |
| Reviews | Read Reviews | Read Reviews | Read Reviews | Read Reviews | Read Reviews |
| Link | More Info | More Info | More Info | More Info | More Info |
We added a few more coffee makers because it all depends what you want from your coffee maker. If you have suggestion for some other coffee maker you can send us comment. If you are tight with budget then you can check
under 100
or
under 50
coffee makers. Of course better quality generally means a higher price.
Conclusion about coffee machines under $150
When purchasing your best coffee maker under $ 150, it is important you look at other features and especially reliability and durability in addition to your personal preference. In most cases, a good coffee maker should give you at least five years of services. Sometimes the price tag doesn't necessarily dictate the quality of the product. It is possible to get a well-made coffee maker at less than $150 which will serve you for the same period as a more sophisticated coffee machine.