What is breakfast blend coffee?
When you are crazy about the coffee and all coffee products that exist, then you must be interested in many questions that no one else thinks about. What is breakfast blend coffee? You have probably heard about this expression but never find out what it actually means.

Blend coffee meaning
When you see word blend in coffee name, it means that producer mixed various coffee beans into one coffee. Usually, coffee product manufacturers write what coffee beans create their unique coffee blend.
Is breakfast blend different from the other coffees?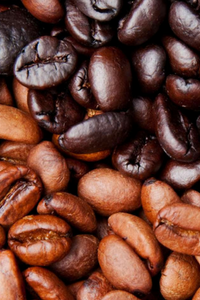 There are no rules, but many manufacturers use this name for light roasted coffees.
It is assumed that the name was obtained by the fact that we need the highest dose of caffeine in the morning and that is why lighter roast of coffee beans are used in this breakfast or morning blend. It is commonly known to all that dark roasted coffee beans contain more caffeine than lightly roasted beans. First, that is not true.
Irrelevant whether it is a dark roast or light roast, coffee can be caffeine-rich. Roast level does not affect caffeine level. Second, breakfast blend coffee means that coffee is caffeine-rich. But it is true that the most breakfast blend coffees are light roasted.
Why producers use this name?
There are so many products, coffee variations, and types, that sometimes it looks like they are just joking with us. They add words in the names, change names, add or change numbers, do a lot of things that just makes us even more confused. Just look at the Keurig K50 and K55 coffee maker models. These two coffee makers are completely the same. Than check phones, shampoos, chewing gums, detergents and everything else that is consumed or used in large quantities. Every day you can find a new model, new name. And they are almost the same models as they were before. I do not understand marketing that much, but the great brands probably know why they do it. It is obvious that this marketing method is successful, as the manufacturers continue to use "trick" with new names.
Morning blend coffee
That is another name for breakfast blend coffee.
Who started to use the name Breakfast Blend Coffee first?
From our research, and we try to research in detail, the first manufacturer that used the name Breakfast Blend for their coffee products was Gevalia and they have been using that mark since the 1990's (unverified information). We can not find the exact date. We contacted Gevalia support, but they could not tell us the exact year of birth Gevalia Breakfast Blend coffee
Next is Starbucks with their breakfast blend since 1998.


Eight O'Clock Breakfast Coffee
While doing our research work we had found this great story about Eight O'Clock Coffee. The Great Atlantic & Pacific Tea Company created the Eight O'Clock coffee in 1859. Do you know why they named this coffee Eight O'Clock? They had made a survey and asked people about the time when they usually drink their coffee. Most of the people they asked said that they drink their coffee at 8 a.m. and 8 p.m.
We have found their ad in The Washington Times newspaper from the 03 Nov. 1894. where they used the name Eight O'Clock Breakfast Coffee and described that coffee as the finest, the most delicious and the cheapest coffee in the market. And even now, after more than 120 years, Eight O'Clock Coffee really is one of the best and cheapest coffees on the market.


What are the best Breakfast Blend Coffees?
Today, almost all brands have their own Breakfast Blend Coffee. You can find a lot of whole beans, ground, k-cups and even instant coffees that use this name. We will select just our favorite ones.
Whole bean coffee
If you are looking for a freshly ground coffee taste in the morning, these several products of Breakfast Blend Whole Bean coffees will shake your senses.
Cafe Altura Whole Bean Organic Coffee, Breakfast Blend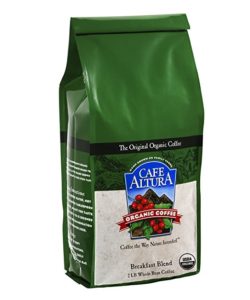 Cafe Altura has excellent organic coffees. This company is still guided by its founder Chris Shepherd. It is founded in 1979. and since then, it has been one of the best USDA certified organic coffees, by Stellar Certification Services. This breakfast blend, lightly roasted, 100 % Arabica whole bean is grown in Peru, Mexico, Colombia, Ethiopia, Nicaragua, and Sumatra. Their basic working rule is that all the coffee beans must be grown without the use of pesticides and chemicals, and it has to be freshly roasted in small batches. They guarantee a fresh and rich taste after every grind. This is a light roast, and if you prefer dark roast this one won't fulfill your expectations. In this case, you can just find Altura's dark roast products. With the perfect amount of caffeine and flavor, this coffee could be the perfect start of a great day.


Real Good Coffee Co, Whole Bean Coffee, Breakfast Blend Light Roast
This Breakfast Blend is also 100% Arabica, light roast, whole bean coffee. In many tests, it was described as a superior coffee blend. All the coffee beans are collected from Central and South America and they are grown with great responsibility toward the pesticide and chemical use. This coffee blend is kosher, sustainable and fair trade. Real Good Coffee Co is freshly roasted in Seattle, and the main characteristic, besides its freshness, is its rich flavor with citrus, milky, chocolate and creamy aromas. Doesn't this sound like a great flavor for your first-morning cup? This coffee is not organic but it is still one of the favorites in the market.


Verena Street Whole Bean Coffee, Medium Roast, Julien's Breakfast Blend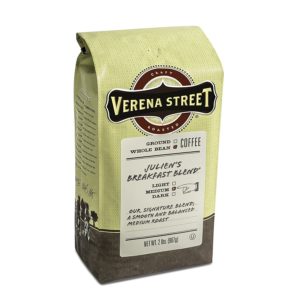 Verena Street is 100 % Arabica whole bean coffee. This is a blend of coffee that is grown on the Rainforest Alliance Certified farms. Since it is a medium roast coffee it has a bold and rich taste but without the unnecessary bitterness. Verena Street company is a family-founded coffee-roast facility that freshly roasts its coffee beans in small batches. In order to create an original taste they mix different coffee beans with different roast levels. In this way, you can experience the new and unique taste that can not be copied by other manufacturers. This coffee breakfast blend is kosher certified by the Orthodox Union, and it is roasted and packaged in Dubuque, Iowa.


Starbucks Breakfast Blend Medium Roast Whole Bean Coffee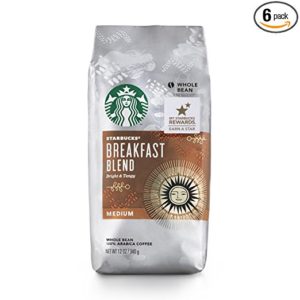 Almost all coffee stories must include Starbucks to complete the circle. Starbucks Breakfast Blend is one of the best coffees on the market today. If you are a Starbucks lover, now you can enjoy their coffee in your own home. This is a lighter medium roast with a citrus flavor that makes clean aftertaste. All the beans that Starbucks uses for this coffee are grown in Latin America. The taste of this coffee is smooth and balanced. This is a good way to start a hard working day.


Also read:
Breakfast Blend ground coffee
If you are in a hurry, don't like to waste your time on coffee grinding, or your dear coffee maker doesn't have a built-in grinder then you have to put all your trust into a ground coffee. These are the best Breakfast blend ground coffee.
Folgers Breakfast Blend Ground Coffee, Mild Roast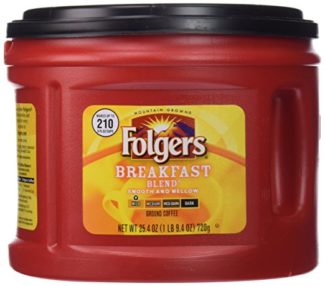 Folgers company is a family oriented coffee company founded in 1850. With a great and long history, this company brought smiles on many faces in early morning hours. Mixed coffee beans, both Arabica and Robusta, roasted with great care, brought a smooth, light and well-balanced flavor into your homes. This company uses only mountain grown beans, breed with great responsibility toward their consumers and environment. You will most certainly enjoy your mornings with this rich and clean taste.


New England Coffee New England Breakfast Blend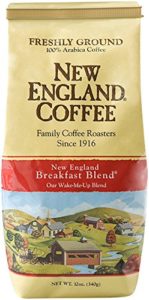 These are 100% Arabica coffee beans, roasted with 100 years long experience. New England Breakfast Blend coffee is something good to start a day with.
The origins of these Arabica coffee beans are from Africa, Central, and South America. Although breakfast blend mostly means light roast, this one is medium roast coffee and with a slightly stronger taste, we can say that this is a perfect wake-me-up cup of coffee. Grown with great care, this is kosher and gluten-free coffee.
A perfect way to start a day is with the hot cup of the rich and smooth taste of this fantastic breakfast blend.


K-cup Breakfast Blend Coffee
If your coffee machine is compatible with K-cups, your morning routine is easy and clean. Just put the K-cup in its place, press the button and enjoy the morning. This will be our choice of Breakfast Blend K-cups.
Green Mountain Coffee Roasters Breakfast Blend Single-Serve Keurig K-Cup Pods, Light Roast Coffee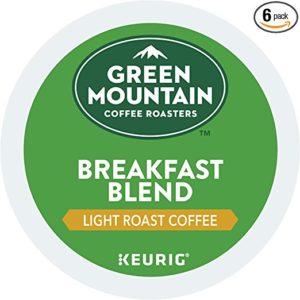 Green Mountain Breakfast Blend Coffee K-cups are made from 100% Arabica coffee beans. With this K-cups, you will start a working day with bright and vibrant taste. All the beans are kosher certified by Orthodox Union, and they are grown without the use of pesticides and chemicals. All the K-cup ingredients are natural. This is light roast and it is caffeinated coffee. Many people think that the light roast means that the coffee is decaffeinated, but that is not true. If you need something with strong and rich taste to lift your energy level, this coffee is right for you. With low acidity and nutty flavor, your day will be shaken up from the start. Enjoy your mornings with eyes wide open.


San Francisco Bay OneCup, Breakfast Blend, Compatible with Keurig K-cup Brewers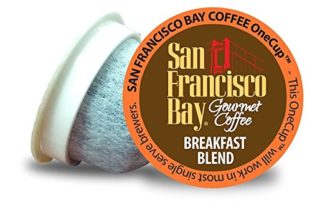 Another 100% Arabica coffee with low acidity. Its rich and bold taste will wake you up in an instant. All coffee beans used in the creation of this K-cups are high altitude, shade grown and handpicked in the coffee farms of Central and South America.
These K-cups are compatible not just with Keurig 1.0 and 2.0 single serve coffee brewers, but with many others like Cuisinart, Bunn etc. Coffee used for breakfast blend k-cups is light roasted and it has smooth and full-bodied flavor. It is a perfect wake-up-cup of coffee since it has lively acidic notes.
San Francisco Bay OneCup Breakfast Blend coffee is packed in biodegradable capsules. These capsules are vacuum sealed in biodegradable bags and once you open this bag it would be good to use all 10 capsules within two weeks or they will lose their freshness. All coffee beans are organic and kosher certified by Orthodox Rabbinical Council of San Francisco.


Also read: Best Organic K-Cup Coffee Brands
Instant coffee
Honestly, we do not drink instant coffee very often. Sometimes when we are lazy, in a hurry or away from home, we are forced to drink this type of coffee. When it comes to Breakfast Blend instant coffee, the best one is Community Coffee Breakfast Blend.
Community Coffee Instant Coffee, Breakfast Blend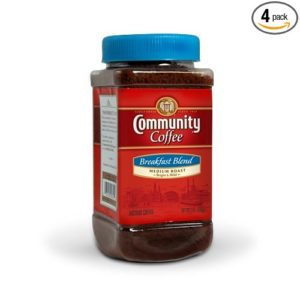 This is medium roast, 100% Arabica, good flavored instant coffee. The reason why we love it this much is because this instant coffee doesn't taste like instant coffee at all. With its rich taste, you can easily describe it by mistake as a fresh ground coffee. Community Coffee is an old and respectful family company founded in 1919. Their coffee products are one of the favorites in the market. As the instant coffee isn't that popular among coffee lovers, this one might change their mind with its smooth and bright taste.


To sum up…
Breakfast Blend or how they also call it, Morning Blend, is an ideal coffee to start a day with. You can find this blend of coffee in every variety of coffee products and compatible with every type of coffee machine. Whether your coffee maker needs whole bean, ground, instant or k-cup coffee, you will be able to find it.
If you want to expand your coffee knowledge website CoffeeSupremacy is always here for you.
The light roast with low acidity and no bitterness is an ideal way to start a day. It will wake you up and leave a pleasant and clear flavor in your mouth. We selected only the best Breakfast Blend products in this article. Based on our experience, these are the ones that could fulfill your desire for a perfect morning cup. Whatever product from this list you choose, we guarantee you won't regret it.