Hamilton Beach 49980a vs 49980z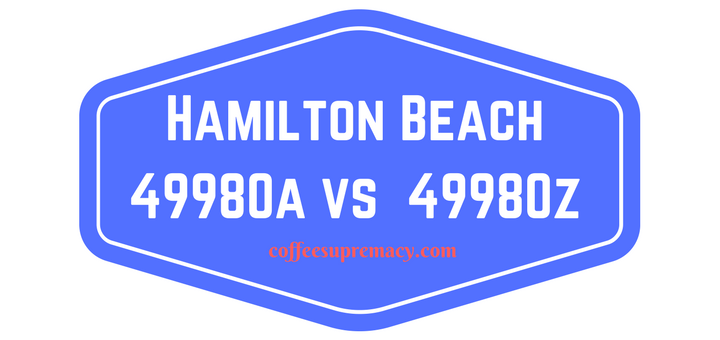 Hamilton Beach is known as a company that produces small home appliances. Of course, among them, there are also coffee machines. Although they belong to one of many home appliances this company produces, their quality does not lack compared to those produced by companies specialized in coffee machines. Here we will compare and review Hamilton Beach models 49980A and 49980Z.
The name of this company is a combination of two names L.H. Hamilton and Chester Beach. Back in 1904, working for the U.S. Standard Electrical Works in Racine, Wisconsin, they came up with the idea to build a small lightweight engine designed for smaller home appliances. This was a really big step because until then the engines were only and exclusively used in the production of cars. In 1990 Hamilton Beach teamed up with another company that manufactured similar home appliances Proctor-Siles, establishing one of the largest manufacturers of small household appliances in America today, with 35 million product sales in a year. Today, this company is known as a company that constantly maintain contact with their consumers through their call-center and social networks in order to improve their production. The Hamilton Beach was founded in 1910 by inventor Frederick J. Osius, combining these two ingenious minds. Although they started as an original American company, their production is now in countries such as India, Brazil, and China.
Like we said before, coffee machines are just one of Hamilton Beach numerous appliances, but they are still ranked as a high quality. Hamilton Beach coffee makers are characterized by a modern look combined with useful features that give you a great choice in preparing morning drinks and and the prices is affordable and they give you great value for money. We include one of Hamilton Beach coffee maker in our top list best coffee makers under $50 of 2017. Usually made of stainless steels and high-quality plastic in black, we can say that their look is very elegant. Along with the appliances created to make house work easy and quick, they also offer a wide range of products designed for making perfect morning coffee like coffee grinders, water filters, espresso machines etc.
| | | |
| --- | --- | --- |
| Image | | |
| Title | Hamilton Beach 49980Z 2-Way Brewer, 12-Cup | Hamilton Beach 49980A Single Serve Coffee Brewer and Full Pot Coffee Maker, 2-Way |
| Color | Black | Black |
| Model | 49980Z | 49980A |
| Height | 15.44 inch | 15.44 inch |
| Weight | 4.76 pound | 10 pounds |
| Width | 11.44 inch | 11.44 inch |
| Length | 13.69 inch | 13.69 inch |
| Link | More Info | More Info |
In the table you can see that Hamilton Beach 49980a and 49980z coffee makers have the same color and size. What's the difference? Full review read below.
Hamilton Beach 49980a vs 49980z Reviews & Model Comparison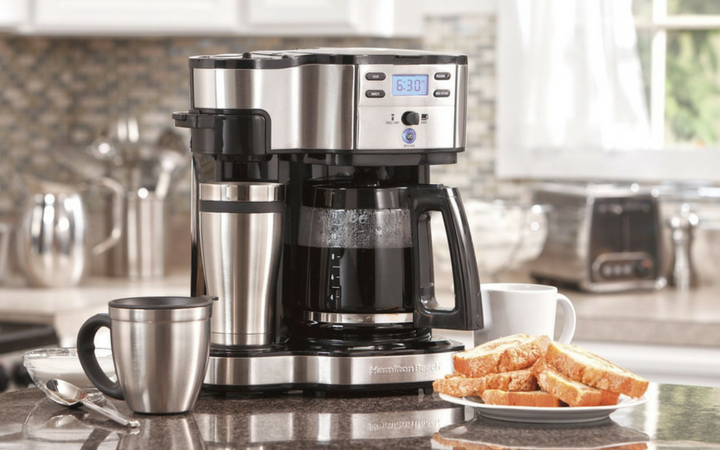 We will start this review with the only difference between these Hamilton Beach 49980a vs 49980z models. The 49980A model does not include a mug when you buy this model of coffee machine. This model was replaced with 49980Z model which included travel mug. Even if you look at the official website of Hamilton Beach company, you will see that they are selling only 49980Z model of coffee maker. Since the difference between these two models is extremely irrelevant, we will generally write about their common characteristics. Of course, in online sales, you can buy both models, it's up to you whether you need a travel mug or not.


Today, drinking coffee in the morning became a part of a culture and it is exclusively tied to a house, there are more people who will buy a good coffee machine for their home than wait in rows in coffee shops early in the morning while they are still sleepy. Therefore, the offer of coffee machines on the market has grown as well as a large number of excellent coffee machines. First, we will start from the esthetic appearance, more precisely what we first notice about the machine. It's not unusual to buy some devices just because they look nice and not because they fulfill all our requirements.
Made of stainless steels and high-quality plastic in black color, this coffee maker will give your kitchen modern and yet simple look. Small screen surrounded by buttons on the frontal side of machine give you an easy way to operate with this coffee maker. On the right side of the appliance there is a place for travel mug, while in the left side there is a carafe. In principle, this model works as a combination of two separate appliances which are attached to a common base.It is really convenient when you can make a single mug before you go to work. On this coffee maker even 12 cups of coffee can be made thanks to the part with carafe, so this is also an ideal office machine where everyone can enjoy coffee in just a few minutes.
Beside the ability to make more coffee or just one, this Hamilton Beach 49980A or 49980Z coffee brewer has a timer that gives you the ability to program your device up to 24 hours in advance to get your warm morning drink at exact hour and minute. Energy saving mode will ensure you that no disaster will occur if you accidentally leave the appliance in on mode. After two hours, the appliance shut off automatically. You can brew your coffee on this coffee maker in two ways, you can use a ground coffee or coffee soft pods of any manufacturer and any taste except the k-cups.
With Hamilton Beach 49980A and 49980Z models, you will receive a scoop which easily determines the amount of coffee you want to put in a brew basket. These coffee machines allow you to choose the strength of a coffee, you can easily make a coffee in your taste, whether it is bold or light. The great advantage of these models is that they are easy to use, easy to maintain and clean, and yet they are extremely durable and long-lasting. Some of the parts of the machine are suitable for cleaning in the dishwasher. Hamilton Beach 49980Z (or A) is the only coffee maker that allows you to make single coffee or 12 cups using one coffee machine. In most cases, you would need two separate coffee makers to do this. One of the cons for this particular machine is that you can not make one cup of coffee in a carafe, however, as this appliance allows you to make one coffee in the single mug part, then we can not count this as any real cons. Another complaint about this device is that they have a weak hot plate for the carafe and there is no hot plate on the single mug part at all, so if you do not drink coffee immediately after brewing, you will surely drink it cold but if you want to to keep coffee hot you can use some of best coffee mug warmer from our list. If you brew it in a travel mug then it will surely stay hot a little longer because the mug is similar to a thermos. These are really negligible disadvantages if you take in consideration that this appliance is not only suitable for making coffee, but also tea or hot chocolate.


Hamilton Beach 49980 models have a built-in filter that is good but not great, and the inability to put paper filters in it is to some extent unsatisfactory for some customers. Yet the quality that this coffee machine offers for its price is far above the average. Preparing coffee on this coffee maker is easy and quickly, for traveler mug it only takes 2 minutes and for the carafe you will need incredible 7 minutes. Since it functions as two separate coffee makers with a single base, this model has two removable water reservoirs, one for a single mug ( 14 oz ) and one for a carafe( 60 oz ).
These are some of the basic characteristics of these two Hamilton Beach 49980a and 49980z models. We hope that our information has been useful to you and that you will choose one of these two fantastic models. Whatever choice you make, we are sure that you will enjoy a wonderful morning coffee for a long time with one of this two fantastic coffee makers.