Nespresso Essenza Mini vs Inissia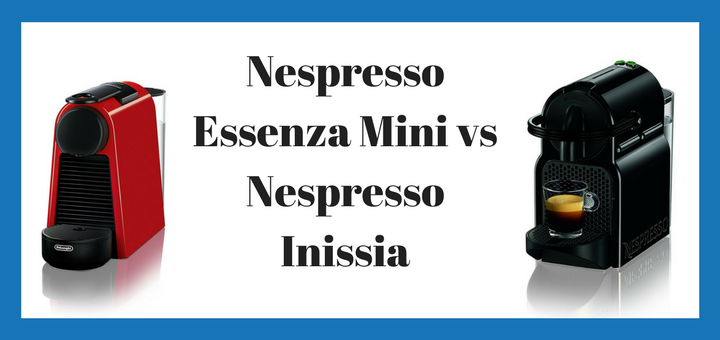 We already wrote so much about the products made by Nespresso. Anyway, we decided to write about one of the most affordable espresso machines produced by this excellent Swiss company. Those are Nespresso Essenza Mini and Nespresso Inissia.
They are special because they are one of the smallest espresso machines produced by Nespresso, and you can find them at a reasonable price. Nespresso Essenza Mini is one of the first espresso makers that Nespresso created, and it is very similar to Nespresso Inissia in most of its characteristics. The Nespresso Inissia is a newer model, it looks modern and it offers a great taste when it comes to nespresso just like the other Nespresso machine.
We will do this review in a simple way and it will be easy for you to decide which one is better for you.
Good to know
Before buying any of these two, you should know that they both work with Nespresso OriginalLine Capsules, they don't include built-in grinders, they don't work with ground coffee and they don't include milk frother but these machines are often bought with Aerocchino (Nespresso milk frother). The only drink you can make with them is espresso and lungo. If you want cappuccino you will have to buy Aerocchino.
Nespresso Essenza Mini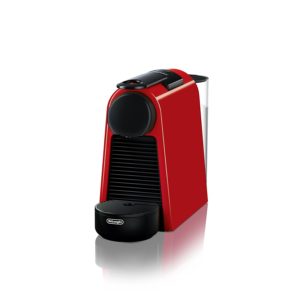 Since this is a older model compared to an Inissia, we will write about it first. The main characteristic is that this Nespresso machine is so tiny that it can fit in any small space on your kitchen counter.
Design: Essenza Mini has two models with different shapes. There is a smaller one which resembles a little box and the other one with a cone shape. They are made in several colors, to be precise in six colors. At the top of an espresso machine, there are a capsules basket and brew buttons.
Brew options: this espresso maker is programmable in the way that you can choose between espresso ( 1.35oz ) and lungo ( 3.72 oz )
Dimensions: dimensions of this Nespresso model are 20,4 cm x 33 cm x 84 cm. or 12.9 x 3.3 x 8 inches.
Water reservoir: the water reservoir capacity is 0.5 liters or 16.9 oz and it is placed on the back of a machine.
It is really simple to remove it and clean. You can just clean it manually with a tap water. You will have to use good quality water if you want a good espresso and if you don't want to do decalcification too often.
Pressure pump: 19 bar pressure pump gives you a perfect cup of coffee every time you press the brew button. Its high pressure guarantees a great taste every single time.
Heat up system: it takes from 15 to 25 seconds to warm up enough for brewing.
Used capsules drawer: it has a container for used capsules and its capacity is 6 capsules.
Drip tray: drip tray is removable and easy to clean. You can remove it in order to place a bigger cup.
Automatic shut off: this espresso maker turns out automatically 9 minutes after coffee brew.
Nespresso Essenza Mini is one of the quietest espresso machines among all other espresso machine that we had tested.
This machine, although it is Nespresso made, have one bad sides. Water tank might be too small for some users. You can make 4 lungo coffees before new refilling.
Anyway, this is not enough to change our opinion that this is still a fantastic little espresso maker.
Nespresso Inissia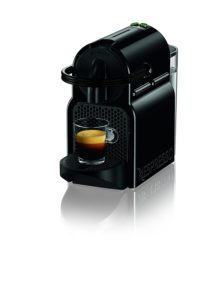 Nespresso Inissia is an newer model in this series of small espresso makers. It is similar to Nespresso Essenza Mini in its features but there are still a few differences. We will do a review of this model in the same way as we did for Nespresso Essenza Mini in order to make it easier for you to choose your favorite Nespresso model.
Design: We honestly believe that you could not get something this perfect and simple at such affordable price. The design is much modern than the Essenza Mini and you can find it in 4 colors: black, red, titan and silver. Its method for putting capsules in capsules basket is simple, just pull the handle up and the basket will be opened.
Brew options: just like the previous one, Inissia has two brewing options one-touch button away: the espresso ( 1.35 oz ) and lungo ( 3.72 oz ).
Dimensions: dimension are 4.7 x 12.6 x 9 inches. This model is a little bigger than the Essenza Mini but it is still one of the smallest espresso makers that does a great job.
Water reservoir: Inissia has a bigger water reservoir, it has 0.7 liters capacity or 24 oz and you can easily prepare up to 9 drinks without refilling the water reservoir. It is placed on the back side of an espresso machine, it is easy to remove and the clean method is simple.
Pressure pump: it has 19 bar pressure pump. Every time you make coffee with this machine you will enjoy in the taste of great quality and rich taste.
Heat up system: Inissia takes only 25 seconds to completely warm up for brewing. It makes a perfectly hot cup of espresso or lungo that will satisfy all your desires.
Used capsules drawer: first we will repeat that this espresso maker uses only Nespresso Original Line capsules. This drawer is a little bigger and it can storage 9-11 used capsules.
Drip tray: this drip tray is easy to remove if you want to clean it, but if you want to use a bigger cup you don't have to remove it, just fold it, and when you move your cup it will unfold by itself before coffee drip on your kitchen counter. Pretty convenient.
Automatic shut off: Inissia turns off 9 minutes after the use.
If you are interested read the comparison between Nespresso Inissia vs Vertuoline Evoluo
Difference between Nespresso Essenza Mini vs Inissia
You can see that these two models are very similar, Inissia is a little bigger in dimensions than Essenza Mini and that is the reason for bigger water reservoir and used capsules container. Essenza Mini is less noisy than the Inissia and it has more efficient energy use. Other features are same, they use same Nespresso capsules and the taste of coffee is same. We don't have to say that the price Nespresso Essenza Mini and Inissia is fairly similar too. You need to know that the production of Inissia is now discontinued, but there should not be any problem in finding spare part if any malfunction occurs. Now you have everything you need to make your decision Essenza mini or Inissia.
It is hard to find any bad side of these two Nespresso models, they are meant for those who don't have enough space in the kitchen and if you want a bigger water reservoir you will have to buy a different espresso maker. You get simplicity, modern look, fantastic coffee quality, a reliable manufacturer with long experience, and you can get all that for an affordable price. It can't get any better than this.