Difference between Keurig K475 and K575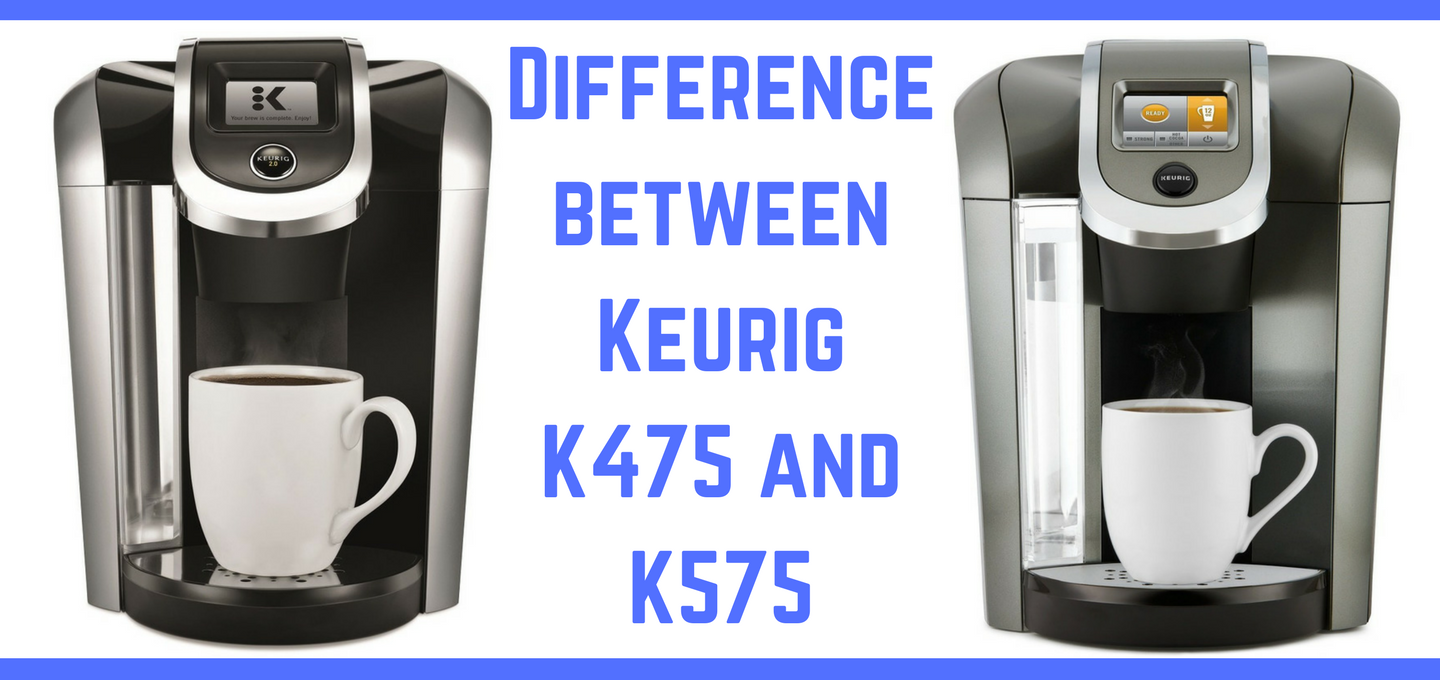 If you're thinking about getting yourself a reliable and convenient coffee machine, it's more than likely a good Keurig machine may be a great solution. It can provide you with both simplified brewing process and a quality cup of coffee. In order for you to find yourself a perfect match, we've been writing about various Keurig models.
In this article, we're presenting you the key features and the most important differences between two pretty similar coffee machines coming from Keurig K475 and K575. Read on and decide which one of these coffee makers suits you better!
Do Keurig K475 and K575 have something in common?
Apart from belonging to the prestigious family of Keurig brewers, these two coffee machine actually are pretty much similar. They both come from Keurig 2.0 product line and their technical specifications are practically the same. Let's take a look.
Both K475 and K575 weigh 13.7 lbs, their dimensions are exactly the same: 10.4 x 13.6 x 16.4 inches, and they both have the same 1470-watt power requirements. The modes in which they can provide you with coffee are K-Cup, K-Mug, Vue-Pod, and K-Carafe, and they are also known for the compatibility with the Keurig 2.0 My K-Cup reusable coffee filter.
In addition, they both come with a great color touch display, strength and temperature control, and high altitude setting, energy saver mode, favorites option, digital clock, and Carafe auto brew.
What about timing?
To get a cup of coffee, you will need no more than 60 seconds, no matter which of these appliances you use. They are both equally efficient when it comes to a carafe – no more than 3 minutes of waiting.

| | | |
| --- | --- | --- |
| Image | | |
| Title | Keurig K475 Single Serve Programmable K- Cup Pod Coffee Maker with 12 oz brew size and temperature control, Black | Keurig K575 Single Serve Programmable K-Cup Coffee Maker with 12 oz Brew Size and Hot Water on Demand, Platinum |
| Color | Black | Platinum |
| Height | 13.45 inch | 13.45 inch |
| Weight | 13.7 pound | 13.7 pound |
| Width | 13.63 inch | 13.63 inch |
| Length | 10.43 inch | 10.43 inch |
| Link | More Info | More Info |
What are the differences, then?
Even though they seem pretty much the same and really do have some major features designed in the same way, there are some differences between Keurig K575 vs K475 that may affect your final decision.
#1 The capacity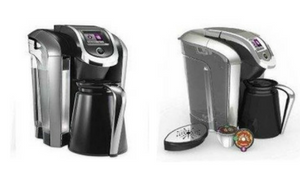 Even though they both offer a large number of brew sizes (4 oz, 6 oz, 8 oz, 10 oz, 12 oz, 14 oz, 16 oz, 22 oz, 26 oz, 30 oz), there is a slight difference in the capacity of these machines and it's about the reservoir. While Keurig K475 offers a decent 70 oz reservoir, K575 comes with a 10 oz larger one.
#2 Hot water availability
If it's important for you to have a coffee machine that can provide you with hot water when you need it, you should definitely go for K575. It's not a secret that the appliances from the K400 series don't offer this feature, unlike the ones from the K500 series, such as K575. If you get a K575, all you have to do is press the button and instantly access the hot water.
#3 Design
Truth be told, at first sight, you probably wouldn't realize there are differences when it comes to the design of these Keurig K475 and K575 models. However, they are not identical. If you care about the visual aspect of your coffee machine, you may want to check out the options offered by K475. This machine is produced in three attractive colors, including vintage red, sandy pearl and simple black, while K575 comes with a premium finish and no alternatives.
#4 Other features
Even though there are no major differences in these two coffee makers, it's a fact that there are pretty nice improvements in some features. If the touchscreen of K575 looks larger to you, it's for a reason – when compared to the screen of K475, it's a bit larger (2.8 and 2.4 inches). It might not be something that will impress you much, it may be a useful improvement if you are heavy-fingered.
Another awesome feature that will take your coffee preparation to a higher level is the awesome night light option offered by K575. In other words, you'll get the possibility of illuminating the machine using neon light, and the best thing about it is the fact it can be easily adapted.
Price Comparison
If you're looking for a coffee machine on a budget, then you should know that K475 is cheaper than K575. Of course, you may have to give up on some classy features but you definitely won't have a poorer experience when compared to the users of K575, at least when it comes to the machine efficiency.




Keurig K475 vs K575: Which is a better solution for you?
As you could see, K575 is a coffee machine that offers a larger water tank, larger display, hot water, and nightlight. However, K475 is obviously a more affordable solution.
In accordance with the given specifications and the price range, on the one hand, we recommend Keurig K475 for those of you looking for the best value and an appliance that can serve both mid-size offices and large families. On the other hand, Keurig K575 may be your way to go if you are looking for the ultimate experience that includes the option of tea preparation, owed to the possibility of getting hot water on demand.