Difference between Keurig K525 vs K575 vs K525C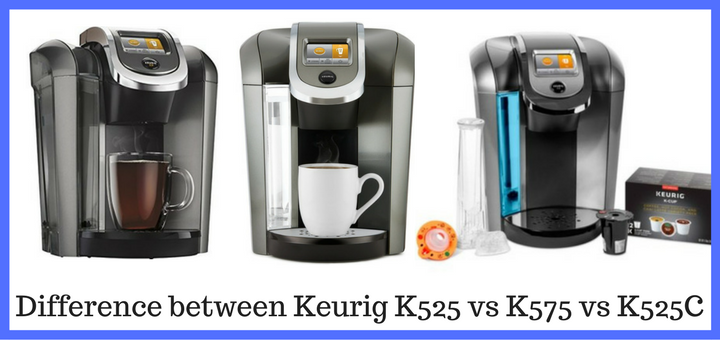 All of us who like to start a day with a good cup of coffee, come to a big dilemma when it comes to deciding which coffee maker to choose. Keurig is one of the most famous brands that makes the perfect coffee makers. However, Keurig has produced a lot of models in which we can not see such a clear difference. How to choose the right model and what it offers more or less compared to other Keurig models. We will specifically discuss about the differences between the K525 and K575 and K525C models. The differences are really minimal, but they still exist. Which one to choose and does it suits your needs?
Comparison Keurig K575 vs K525 vs K525C

| | | | |
| --- | --- | --- | --- |
| Image | | | |
| Title | Keurig K575 Single Serve Programmable K-Cup Coffee Maker with 12 oz Brew Size and Hot Water on Demand, Platinum | Keurig Hot 2.0 K525 Plus Series Single-serve Coffee Maker (Brewer Only) | Keurig K525C Single Serve Coffee Maker, 12 K-Cup Pods and My K-Cup 2.0 |
| Color | Platinum | Silver, Gray | Black/Silver |
| Model | K575 | K525 Plus Series | K525C |
| Height | 13.45 inch | 13.63 inch | 10.4 inch |
| Weight | 13.7 pound | 11.9 pound | 14 pounds |
| Width | 13.63 inch | 13.45 inch | 13.4 inch |
| Length | 10.43 inch | 10.43 inch | 13.6 inch |
| Link | More Info | More Info | More Info |
Note: Before you start reading just to know that we have comparison Keurig coffee maker: K50 vs K55 ; K150 vs B150 ; K45 vs K55 ; K200 vs K250. Find out more about differences between this Keurig models.
Keurig K525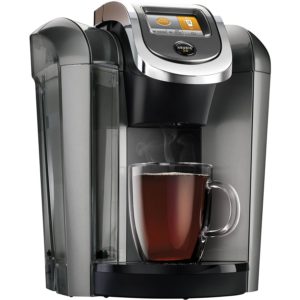 These are some of the basic characteristics:
2.8 " xl Color Touch Display – large display with color adjustment. With it, most of your requirements related to the quality of coffee or some other drink you want to make becomes peace of cake.
80oz. Water Reservoir – the reservoir is not attached to the appliance so it is extremely easy to refill it, it takes a minute to warm the water and it is enough for 10 cups of coffee. This device allows you to use only hot water if you want to make another drink.
Strength and Temperature Control – gives you the ability to choose the strength of your favorite morning ritual as well as the temperature of the drink
Keurig Carafe Sold Seperately – the carafe is purchased separately from the appliance, but allows you to make more cups of coffee at the same time
Programmable Clock – Allows this coffee maker to make coffee at a specific time, and a warm drink waits for you to wake up
In a further review of these two models K525 vs K575 we will see that the only difference is that the K525 does not have a water filter kit which affects the price of this coffee maker. However, you have to buy parts which are produced by Keurig to suit your coffee maker, so the price comes to the same at the end.
Both of the devices that we compared are identical to physical components, even for their appearance we can say they are the same.


Keurig K575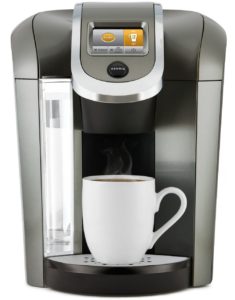 The K575 is one of the latest models that Keurig produced, so it is logical to expect that it has to offer something more than all previous models.
2.8 " xl Color Touch Display
80oz. Water Reservoir
Strength and Temperature Control – allows you to make a drink at will choosing one of five different degrees as beverage temperature
Programmable Clock
Multiple K-cup under brew sizes: (4, 6, 8, 10, 12 oz.). Brews a Carafe (22, 26, or 30oz) carafe comes with special K-pot capsules
Water filter – this is one of the differences, maybe even the only one with the K525 model. The K575 comes with a water filter
Keurig Carafe Sold Seperately (22, 26, or 30oz)
We can see that this Keurig model K575 is same as the K525 model , with the exception of water filter that we also get in the package with other components. This model offers a great variety not only in coffee flavors but also with other drinks such as teas or hot chocolate. Due to the fact that flavors do not interfere you can make more different beverages, in a very short time, even when you make them separately. This is possible because of a large water reservoir that allows you to make as many as ten drinks.
The water is heated up to 160 degrees, and if you do not drink it immediately, it will certainly not be suitable for those who like drinks that "burn their tongues".
K575 is very good because it can offer you a wide range of different drinks in a few minutes, it is easy to use it , energy-saving mode turns it off when it's not in use, it is easy to clean it and maintain, it allows you to use capsules or freshly ground coffee, and all that for not so high price.
On the other hand, this manufacturer requires you to use only its products, all consumable or optional parts of the components must be Keurig in order for your device to function. So you can forget about cheaper options.


Keurig K525C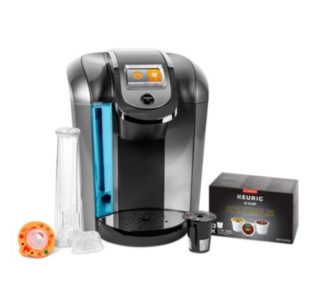 It often happens that people mix the K525 and K525C, the differences are small, but they still exist. Of course, this model is different from the K575 as well.
2.8 " xl Color Touch Display
80oz. Water Reservoir
Strength and Tempeature Control
Programmable Clock
Multiple K-cup under brew sizes: (4, 6, 8, 10, 12 oz.). Brews a Carafe (22, 26, or 30oz)
Water filter
Keurig Carafe Sold Seperately (22, 26, or 30oz)
Comes with Reusable My K-Cup – Only this model has a capsule that allows you not to depend on the products that only Keurig makes. In this way, beside a quite satisfying personal offer, consumers have been given the opportunity to explore other tastes and experiment in finding an ideal cup of coffee.


The differences between these three models are only in the presence of some components and the price. Some package include certain components, while in other package components can be easily purchased as needed or desired. Other features of the devices are identical, they look incredibly similar, and their options are same. Coffee quality is exceptional and does not different from model to model. We can say that Keurig keeps the level when it is about the quality of coffee and other drinks. If you do not like to be limited in coffee choice, the K525C allows you to experiment with other coffee maker products.
Your choice of device will depend only on what you consider necessary to suit your needs. However, if you want to start a day with a good coffee, choose one of Keurig's coffee makers.