Coffee Review: Starbucks Colombia Nariño Supremo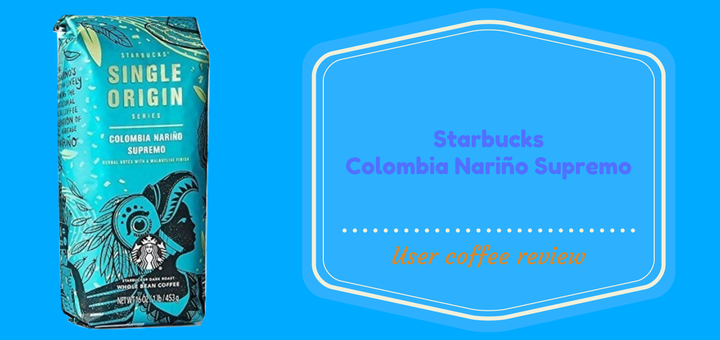 Colombia Narino coffee review
As I enter my local coffee shop, I get an instant whiff of the fresh coffee beans brewing. While standing in line, I begin to hear soft voices having a conversation in the corner. The Starbucks near me has just opened for the day and two familiar faces are praising their decision to grab a cup of Starbucks Colombia Nariño Supremo. Just as I approach the counter, a smiling face greets me. "Would you like to try an espresso made with our Colombia Nariño Supremo coffee", the smiling face asks ( check is working at Starbucks a good job). The, once popular, single-origin coffee had made its way back onto the menus of select stores and today was the perfect opportunity to give it a try.
I take my cup to an isolated table near a large window just out of sight of the gathering morning commuters and immediately notice the rich aroma, which is unexpected considering my normal affection for coffees made with a medium roast . A smooth taste is accompanied by a hint of nut, and there is a sweet harshness as the aftertaste begins to dominate. Dark roasted coffee beans can sometimes produce a harsh taste. You may have heard coffee enthusiasts suggest dark roasted coffee beans for espressos alone, but Starbucks Colombia Nariño Supremo has a balanced flavor. Acidity is slight and enhanced the smooth quality of the coffee. Even more, the taste of walnuts gives the coffee a richness without being overbearing.
Manufacturers didn't remove the popular option as a result poor sales. After the introduction of the single-origin beans, a decision was made to expand the selection available to consumers and manufacturers begin exploring a number of sources to produce more coffee using only beans from a specific locations. This allowed researchers to isolate the flavoring characteristics associated with each source of newly discovered coffee beans, expanding the Starbucks menu.
Why Colombia?
Quality is altered in coffee beans originating in Colombia as a result of a routine preparation and cleaning. Manufactures remove certain elements while the coffee beans are fresh creating a bold and distinct taste that has become associated with coffees of the region. The coffee beans used to make Colombia Nariño Supremo are also larger than the average coffee bean. Larger beans means larger flavor. It is the reason "Supremo" is associated with the naming of this reintroduced option.


Narino Supremo Whole Bean Coffee
Starbucks Colombia Narino Supremo is packaged as whole beans. When coffee beans are roasted and ground, they immediately begin to lose flavor created by the oil in the coffee beans. With whole coffee beans, consumers also have another opportunity to make the perfect cup of coffee. Are you in the mood for an espresso? Finely grind whole beans for use in your espresso machine to create that authentic taste.
The variety of brewing methods associated with whole beans will ensure you receive the desired taste. These particular coffee beans are associated with an enhancing herbal notes quality that is preserved until the beans are ready for use. Whole beans also maintain a level of freshness that last noticeably longer than that of pre-ground beans. If you prefer the ease, Starbucks Colombia Nariño Supremo also comes in espresso pods for use with your espresso maker.
Once you taste this coffee, you'll understand why Starbucks chose to bring back this single-origin coffees. Colombian coffee beans produce a dark roasted flavor consumers can enjoy, minus the harsh aftertaste. It is the perfect choice for a morning cup and could even compliment a evening meal. Starbucks Colombia Nariño Supremo is available at Starbucks coffee shops and online for a limited time.