Best espresso machine under 2000 some under 1500 and under 1300 dollars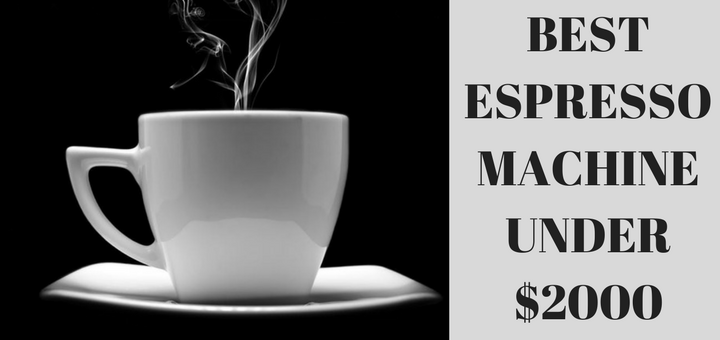 Often the price of a product can tell us a lot about it, especially if we are not sure about its quality. In this buying guide, we selected five best espresso machines under 2000 to buy in 2018, whose quality we can testify on our own experience, but we will also rely on the experience of other users. We will write about espresso maker characteristics, compare them and explain why they are the right choice for you.
People like to start a day with coffee in their own home, they want this coffee to be a great drink at a start of a great day. We tried to select the products of various manufacturers, which are the best in the production of home and commercial espresso machines and which can offer you exactly what you need. We will not write much about prices, but we sorted them for you from the most expensive to the cheapest espresso maker on this list.

Breville BES980XL Oracle -The best espresso machine under 2000 dollars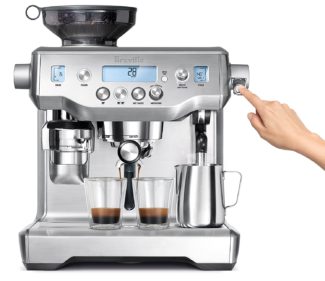 The first model we have selected is the most expensive on this list of best espresso machine under $2000, but there is a reason for that (long story short IT IS THE BEST). This model of an espresso maker, although it is made for home use, looks like a diminished version of a professional espresso machine designed for commercial use. With this machine, you will feel that you have your own barista who prepares coffee just for you. It is completely made of stainless steel, it is extremely durable and its design is high-quality. His modern look fits into every ambiance. This espresso machine is very easy to use as it has automatic grinding, dosing, tamping, and those are the things that make preparing coffee a little difficult but everyone can easily learn how to make the perfect espresso or latte.
Its characteristics will be mentioned and explained gradually:
– Water reservoir – it has 2.5-liter water reservoir, it is easy to remove end refill whenever is needed, it also has a water level indicator. This water reservoir has a built-in filter
– Conical grinder– this is a built-in grinder with a removable coffee bean hopper that can store more coffee. You can choose grind level from fine to coarse.
– Machine type – this is a semi-automatic machine and pretty much everything is easy to do on this espresso machine. You just need to put coffee beans in grinder a press button. Some of the commands are adjustable like temperature and the level of grinding. Other options are predetermined.
How to clean Breville BES980XL Oracle
– Temperature – you can choose between 190 degrees and 205 degrees.
– Auto-shut off – you can program this option. You can set it in 10 min, 30 min, 1hrs, 2hrs, 3 hrs, 4hrs, 5hrs, 6 hrs, 7hras or 8hrs.
– Programmable timer -truth is that if there is a long period between preparing espresso, like you use this machine only in the morning, it needs 2-5 minutes to warm up. If you use it more often it needs less than 2 minutes to be ready for use. You can programme time when you want your espresso machine to start with preparing coffee.
– Programmable milk texturing – you don't have to wait until coffee is done to prepare milk for your morning drink, this espresso machine has dual stainless steel boiler that can prepare coffee and milk at the same time.
– Drink selection – you can choose between one or two espressos or coffee Americano, only this means that the machine will use the amount of coffee for two espressos and add more water on top of that.
– There is a hot plate built in to keep cup warm while preparing coffee and preserving it until you drink it
– LCD display – shows you what are the current settings
– Milk frother – it has a built-in milk frother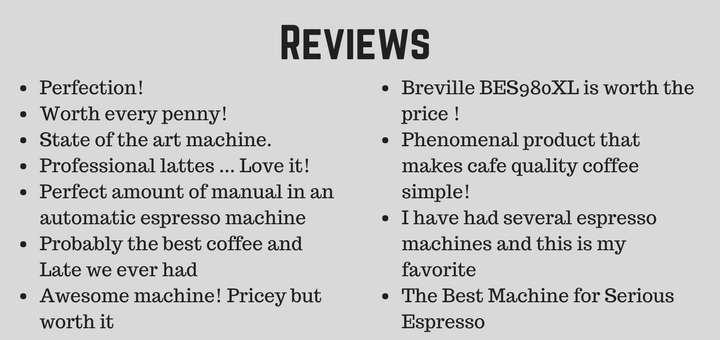 Good to know about Breville espresso machines
Breville company is well-known as a company that does a detailed market research. That is why we can say that they are kings when it comes to a milk frothing system. If you like your espresso barista like milky foam any Breville machine will do a great job. You can learn more about Breville espresso machines and difference between them HERE. Yet our favorite Breville espresso machine is Breville BES980XL Oracle.
According to the Coffee Supremacy team and a large number of satisfied customers, for a price less than $ 2,000 you can not buy a better espresso machine than Breville BES980XL Oracle.


Quickmill Andreja Premium – One of the most highly regarded espresso machine for this budget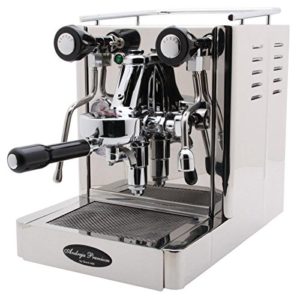 As well as every espresso machine made in Italy, the country of espresso, Quickmill Andreja Premium is exactly what you need to make a perfect espresso in your own home. Although it's not completely programmable like the one we previously talked about, preparing coffee on this machine is not difficult and with the minimum effort, you will get exactly what you want. Made entirely of stainless steels, this espresso machine uses a special type of stainless steel, the so-called # 304 food grade stainless steel. Regardless of the temperature of the water needed for preparing coffee, you will not find traces of metal in it. The reason for that is the T.E.A coated boiler which is installed on this espresso machine. Although it looks like a submarine dashboard, we guarantee you will have the minimum work to do when preparing coffee.
– This appliance has a large 3-liter water reservoir but you can also connect Quickmill Andreja Premium to a water source, you only have to be sure of water quality
– The Copper Heat Exchange Single Boiler is the same type of boiler that is used in Cimbali machines. The capacity of this boiler is 1.6 liter. It has an easy access and you can drain it easily
Andreja Premium video review
– Built-in heat exchanger allows you to prepare your espresso and steam your milk at the same time
– Cup warmer is a very important part of any espresso machine, we believe that the important thing is to keep cup warm while the coffee is still in it, but people don't know that it is also important to pour coffee in warm cup as well, all this in order to preserve the aroma of coffee
– Thermosiphon circulation keeps the brewing temperature at the same level. For this machine, it takes a little longer to heat up, but you can avoid waiting by turning it on a night before. This espresso machine is created to be long-lasting, durable and reliable kitchen appliance.
– Ulka 52 watt vibratory pump produce less noise and it has a built-in thermal overload protection which will protect pump from becoming too hot due to a long time work
– Second Magnetic Sensor gives you a warning that the water is running out but if you do not refill it, espresso machine will just turn off the boiler heater.
– Two complete portafilters with handles (one single and one double) with tamper as a part of machine equipment
-"no burn" steam nozzles
– Dual gauges, one for boiler pressure and one for group pressure. They are located on the front side of the espresso machine
– E-61 brewhead allows you to be dependable when preparing good espresso, by using this machine you can never fail
– Resettable Hi-limit protect the heating system of the machine
– Vacuum Breaker Valve saves you from vapor lock problems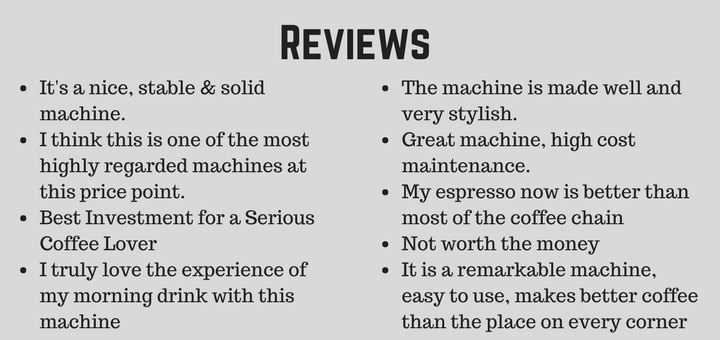 What you should know about Quickmill Andreja Premium espresso machine
This espresso machine gives you a feeling that you can brew your coffee like Italian barista. This is high-quality espresso machine that can serve in your house more than a decade. If you choose this espresso model you will make happy everyone who comes to your house.
What you need to know is that this machine has no built-in grinder, so we recommend you to buy some high- quality grinder in order to get the best from your espresso. Having a milk frother makes latte preparing a piece of cake.


La Pavoni – Espresso machine that can produce some of the finest grade espresso drinks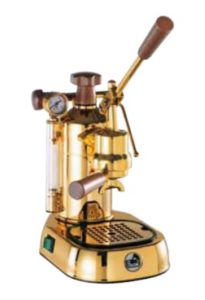 When we talk about espresso machines, it is logical that the Italians will dominate. This is another espresso machine made in Italy that allows you to feel like a real barista while preparing coffee. You should know that this device is manual, so you will need a short period to learn what you need to do to get a real espresso. The physical look resembles a lot on Elektra's espresso machine models, and this model is a real artwork in your home. Made of brass in gold color, this espresso machine looks more than luxurious. Again preparing the coffee with lever gives it a retro look.
-The La Pavoni espresso machine is equipped with a large solid-brass boiler capacity of 38 oz, which allows you to make 16 espressos without refilling the boiler.
– When it comes to materials and construction of a machine, it is made of high-quality materials that enable ist durability. All handles on the espresso machine are made in rosewoods.
– Dual frothing system makes possible to steam milk in both ways, manual and automatic with frothing adapter. This espresso machine has a built-in steam wand. It takes 15 minutes to warm the steam attachment.
– Nickel plated boiler gives you an easy way to regulate temperature. What people find as a disadvantage is that it takes about 5 to 10 minutes to warm up, and with this type of machine you don't have an opportunity to use a timer and set time for morning coffee night before.
– Internal thermostat and Mounted pressure gauge helps you to monitor and regulate pressure
– Varying brewing capacity – although it prepares espresso by pulling a lever you can prepare one or two espressos at the same time
– this model has a pre-infusion that pulls out the maximum of aroma
– it has a portafilter with 1-cup and 2-cups stainless steel filter baskets, 1-cup basket allows you to use both ground coffee or coffee pods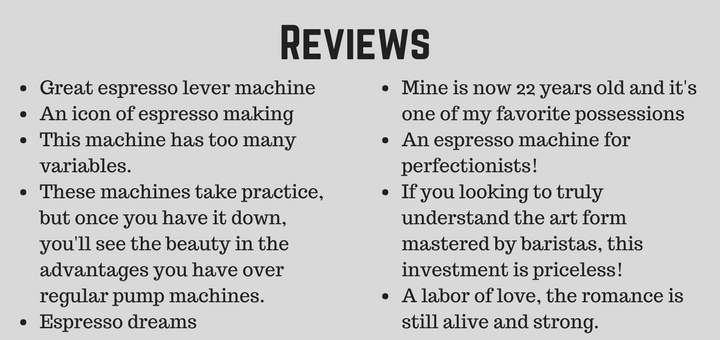 Good to know before purchasing La Pavoni PPG-16 Professional 16-Cup Espresso Machine
Maybe some people will find this as a disadvantage, but it's good to know that this device has some bad sides. Again, everything depends on what the customer wants from his espresso machine.
When working with La Pavoni espresso machine you have to keep an eye on it because the boiler is very hot when it warms up and you can get burned if you don't pay attention to this stuff. Also, the appliance does not have a built-in grinder, so you need to buy a quality grinder that gives you several options with grinding levels. If coffee is too fine-grained the water won't be able to flow through it after the tamping, and if it is too coarse, it will not have the required strength. The tamper you get is plastic and maybe you will need a little better than that.
"All good things require effort". If you want a good espresso effortlessly then this machine is not for you. If you are willing to invest a little effort to enjoy a perfect espresso La Pavoni is best espresso machine to choose.


Nuova Simonelli Oscar II – Simple to use Espresso Machine under $1500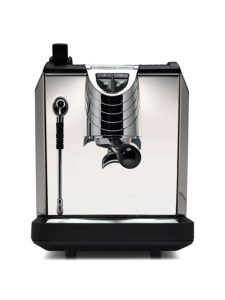 Nuova Simonelli Oscar II is a semi-automatic espresso machine that makes every preparation of an espresso a real fun. Although it has no built-in coffee grinder, a little extra work on coffee and tamping will not diminish the pleasure once you try the espresso prepared with this espresso machine which is currently well below $ 1,500.
This espresso machine is made of a combination of stainless steels and high-quality plastic in black color. A lot of shiny surfaces with a minimum of accessories on the front side of the machine gives it a clean and futuristic look.
The Nuova Simonelli has a large reservoir of 2.3 liters capacity, but it also offers the ability to connect to the water source so that refilling of water does not have to be one of the jobs you have to do to get a good espresso. Again, we emphasize that it is important to be sure of the quality of water because it affects the quality of an espresso. The reservoir has an option to alert you when its running out of water.
Programming options are simple, you can choose one or two espressos.
The steam wand is really long and it makes easy for you to froth your milk in the way you like. You can steam and brew coffee at the same time. This espresso machine has a manual steam lever, so you can not steam by pressing a button.
On the top of the espresso machine, there is a cup warmer and we all know that the coffee tastes better when you pour it on cup warmer.
Copper heat exchange boiler keeps the temperature on the right level. The only bad side is that it takes 7 – 12 minutes to warm up when it is in on-mode. Its capacity is 2 liters.
It has a pre-infusion for a better taste.
Usually, people like to use ground coffee with this type of espresso machine, but with a right adaptation, it can also use pods.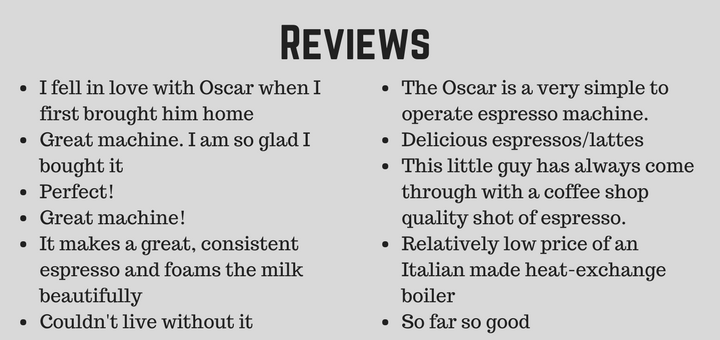 It is hard to name something as a disadvantage when we speak about Nuova Simonelli Oscar II because it has everything that you need. Once it is warmed up it keeps constant temperature so you can brew your coffee anytime at a day. When you find the right amount and right type of coffee you can not fail in preparing espresso. You can pull out up to 20 espressos during a day, so it is perfect for home use, if you search something for office you should choose something more professional. This model has a Boiler protection called Auto-Refill that refills water from reservoir to boiler when it's coming to a minimum level and if the reservoir is also empty the system turns the machine off to prevent any possible damage.
Although it only offers you to prepare one or two espressos, you can easily make a coffee Americano by brewing a double espresso and pouring more water in it. Good thing is that when brewing coffee there are no plastic parts that are in contact with hot water, except drip tray, but that can't affect your coffee taste anyway.


De'Longhi ECAM23460S Digital Super Automatic Machine with Lattecrema System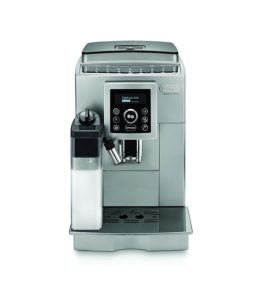 With this model of an espresso machine, we will finish this buying quide of top espresso makers under $2000. Although this is the cheapest on this list of the best espresso machines below 2000, and price for this espresso machine is currently under $1300. This super automatic espresso machine still has something to offer that others did not have. Extremely attractive look, made entirely of stainless steels De'Longhi ECAM 23460S looks sophisticated and modern. This model is different because it is completely automatic and you do not have to do much work when preparing your coffee, all you have to do is to press the button. You can completely customize your drink by using the control panel on the front side of the espresso machine. The control panel offers options such as the strength of drinks, the choice between two or one espressos, cappuccino, steam button and hot water for tea and hot chocolate.
This espresso maker is equipped with high-quality grinder made of stainless steels. Its grinder has as many as 13 settings. However, besides the whole bean coffee option, there is another basket for ground coffee where you can choose that one that you love the most.
The water reservoir can be easily removed and refilled with water, its capacity is 60 oz or 1,8 liters. It has an indicator that gives you the information about the amount of water in the reservoir.
Milk frothing – this espresso machine has an easy way to froth milk, on the right side of the machine there is a milk container that can be easily removed so you can storage that milk in the refrigerator when not preparing coffee. It makes a rich and dense milky foam ideal for your latte or cappucchino. It can pour foam directly in your cup. Milk container is dishwasher safe so it is easy to clean.
Dual thermoblock makes it possible to have ideal temperature for preparing cappuccino and espresso, those are actually two separate thermoblocks one for coffee and one for milk.
This espresso machine has a warm plate where you can storage and keeps your coffee cups warm before use.
It also has an automatic decalcification indicator which informs you when it is a time for you to clean your machine.
15 bar pump gives you rich and aroma-full coffee every time you turn your espresso machine in on mode.
Its brewing unit is easy to clean and maintain, you can simply wash it with a tap water.
Just like every automatic espresso machines this one also has an option to automatically turn-off after use and save energy that would be wasted and automatic cleaning which provides a long life of a machine.
Water hardness can be also set on the machine, water can impact the taste of coffee but it can also damage your espresso machine so this option is one of the most important when it comes to the machine maintaining.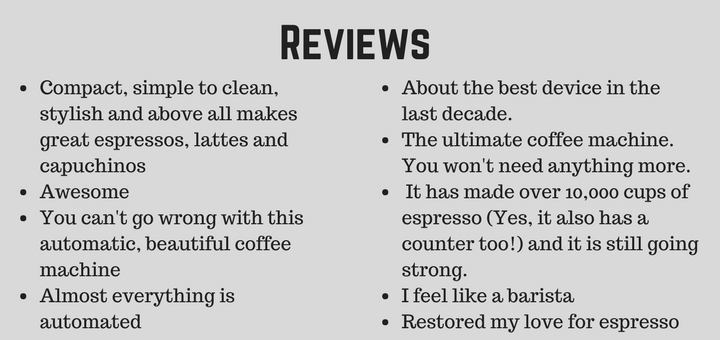 De'Longhi ECAM23460S is the cheapest on our top list but many will agree that it has a lot to offer when it comes to a great espresso without too much effort.



Think carefully about what you need the most in your cup of morning happiness. Maybe some will say that 2000 dollars for an espresso machine is too much, but if you want a real quality you will have to pay more. You can also check our article about best espresso maker under 300 but wise people once said " I am not rich enough to buy cheap things" and that is true. We are positive that you will find a perfect one on this list. It is ok to treat yourself from time to time with nice things, why not with some of these great espresso machines. It will bring you the warm moments in cold mornings. Chears!