Best coffee maker with hot water dispenser built-in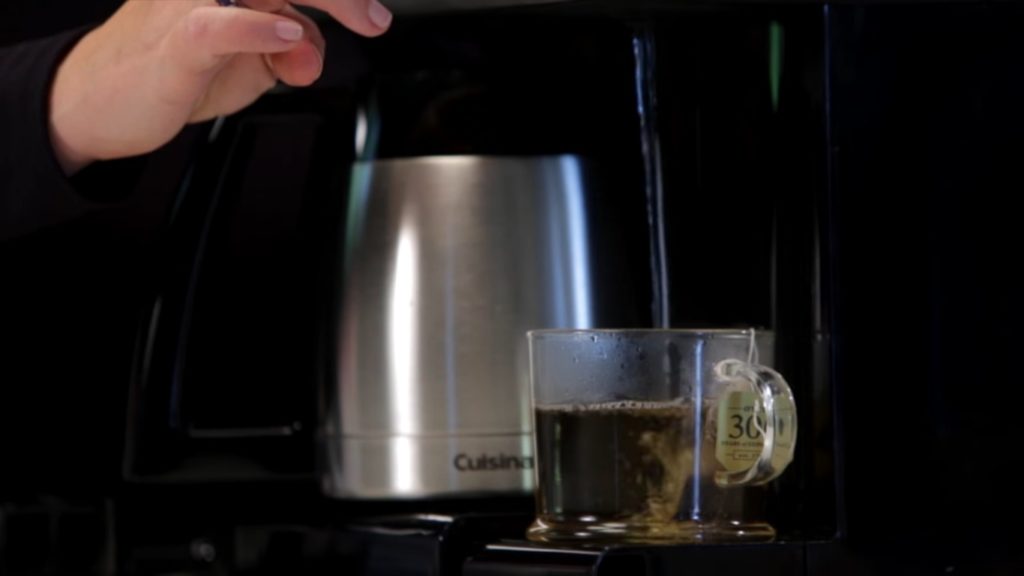 Nowadays, a good coffee maker is an essential in every household. People are busy and they want to devote to important things, yet still have their favorite coffee. Because of that, manufacturers had produced coffee makers that will make everyday routine an easy work without a struggle. Coffee makers with hot water dispenser are one of those products. The possibility to have hot water on demand, not just for coffee, but for tea, hot chocolate or instant noddles makes life much easier. Only a few coffee makers have that possibility to dispense just hot water, so it is important to know which one are those. Here we give you our choice.

Why is it good to have a coffee maker with hot water system?
 Saves you time.
No more running up and down the stairs to put the water on the stove, to check did the water boil and to mix up your coffee. This machine will already have the hot water prepared for you so you can just pour some into a cup and continue with your routine.
It's safer.
People with small children are especially aware of the fact that leaving the stove unsupervised is very dangerous. Not only hazardous for previously mentioned, but also for others who may forget about the water boiling. That's why programmed coffee machines with hot water dispenser are always a better choice.
It saves you money.
Manufacturers put some extra work into these machines when it comes to economics. They make them practical and make sure you'll get smaller bills throughout the year.
If you think that you do not need hot water and this feature on your coffee maker, you are making a big mistake because everyone use hot water daily so many times.
Which is the best coffee machine with built-in hot water dispenser?
Now that you're intrigued, we'll show you some of the top-rated coffee makers with hot water dispenser. We will tell you more about each one of them.
Cuisinart 12-Cup Programmable Coffeemaker with Hot Water System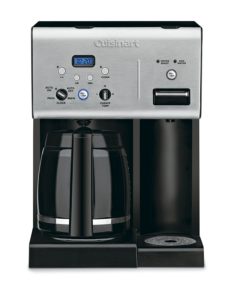 We're starting off with everyone's favorite. This Cuisinart coffeemaker is fully automatic and this means that you'll have to spend minimum time worrying about your coffee. It is programmable (24h ahead) and it has a self-clean function.
The '1-4' cup setting is related to brewing and it gives you the possibility to brew less than 5 cups of coffee. There is also a Brew Pause feature for those who like to steal one cup before the brew cycle is over and for those who are picky about coffee temperature, there are three settings for temperature control (high, medium, low).
The glass carafe will ensure about 12 cups of coffee because the machine was made with a 1,5 L water reservoir. You can use Charcoal Water Filter and Gold Tone Filters to keep your beverages clean and healthy.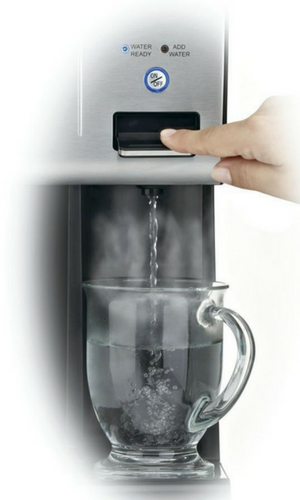 This coffeemaker has indicator lights that let you know when the water is ready and when you need to refill it. The use of hot water system is easy and safe and separately from coffee maker. Dispenser heats water to 187 degrees but on coffee maker side heats water to 200 degrees and this is the ideal temperature for making great coffee.
Learn more about this Cuisinart coffee and hot water maker, check price, read the customer reviews and buy it.
Did you know that a coffee machine with hot water system can be used for noodles, soups, and tea? Think outside of the box!
Many thoughts went into the design too, and the manufacturers focused on making the design ergonomic. It is BPA free so it's entirely healthy. You can put a mug into the machine for a quick solution and you don't have to worry about dripping, the design took care of it.
This coffee maker is the best one on the list, and it's favored among coffee (and tea) enthusiasts who need a great programmable drip coffee maker and hot water dispenser.


Best Keurig coffee maker with hot water on demand feature
Now we're introducing you to the Keurig K575 Single Serve K-Cup Pod Coffe Maker with 12oz Bew Size. It has many functions you will surely enjoy. You will also get filters to help your beverages be healthier and tastier.
This coffee maker has five temperature settings which provide you a lot of control over what you're drinking. However, the brewing process is something that doesn't usually come with a lot of functions. Well, here it does. You can choose between the low, low/medium, medium, medium/high and high option.
Keurig K575 has a water reservoir that contains up to 2,4 L of water! This means you will barely have to refill it manually. We already wrote about Keurig K575 as a Keurig coffee maker with the largest water reservoir. It'll save you time and make your morning routine much more efficient. You can always remove the reservoir for easy use.
Click here to check Keurig K575 price and buy it.
The manufacturers took care of the design and they decided to give you several options with highlight colors which will illuminate your kitchen.
This coffee maker gives you choice between multiple cup sizes (4,6,8,10,12 oz) and you can also choose what strength you want to use. There are five temperature settings to make sure you get exactly what you want.
However, the proudest feature of Keurig K575 machine is the "hot water on demand" feature where you can just get hot water, instantly. You can decide will you use it for tea, hot chocolate or something else.
The extra large color touchscreen with a digital clock will help you even if you're new to the world of coffee machines and will get you a fresh cup of coffee in under a minute. Programme it, drink it, enjoy it.
When you're not there, it will turn off automatically to conserve energy and make your bills smaller.


Cuisinart SS-700 Single Serve Brewing System
This model, being able to hold a capacity of almost 2,4 L, is perfect for those who just can't get enough of coffee. No more frequent refills!
There are 5 cup sizes you can choose, and the manufacturer also thought about tall travel mugs which you can also put in the place of a removable drip tray.
The iced beverage setting will let you enjoy the machine in the summer too, making it super interesting for the kids.
The temperature can be adjusted and it is fully programmable. The LCD screen shows time and helps you when changing settings on the easily usable menu.
When buying, you will also get the My K-Cup Reusable Coffe Filter (which will save you some money), a charcoal water filter, a 12 K-Cup Portion Pack and instruction book.
It has an automatic on/off function to save your money and your time! It has been built with a special focus on the design. Cuisinart SS-700 Single Serve Brewing System coffee maker works perfectly with all K-Cup products too!

If you looking K-cup coffee maker with hot water on demand feature I find that Keurig K575 is much better choice than this coffee maker which is discontinued by manufacturer.


Mr. Coffee BVMC-DMX85 – 12-Cup Programmable Coffee Maker with Integrated Hot Water Dispenser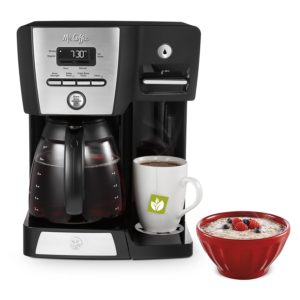 This coffeemaker is unique for it's Dual Water Reservoir function. One is made for brewing coffee and the other one can contain hot water, up to 16 ounces.
Hot water dispenser in this coffee maker does not produce warm enough water. If you compare this coffee maker with first mentioned and best on the list Cuisinart 12-Cup coffeemaker you will see that the difference in water temperature is more than 20 degrees.
If you're not into waking up early to make your coffee (which you need to get up early), you can set the Delay Brew timer ahead. This way you'll wake up to fresh-brewed coffee and won't have to worry about it.
The Freshness Timer is also important since it keeps an eye on your health and monitors how long has the coffee been stored.
Click here to find out more about best 12-cup coffee makers of 2018, read full reviews and find right for you.
If you are into stronger coffee, you'll love the Brew Strenght Selector which will make your coffee's flavor bolder if you wish so.
You can use it to heat water on one side while you are pouring coffee on the other and it's great for multitasking.
The sleek black design will surely keep you interested, but the most popular feature of this product is the "clean" function which saves your time.


Final Thoughts about Coffee Machines with Hot Water on Demand Feature
There are no many options out there related to coffee makers with a built-in hot water dispenser. Our definitive choice is Cuisinart CHW-12 (or CHW-14) and Keurig K575. Why? This is very quality coffee machines and they can be used on multiple different occasions too, not just for coffee. Coffee maker with hot water system seems ideal solution from my point of view for families where is equal number of tea and coffee lovers.