CISNO Battery Powered Portable Espresso Maker Review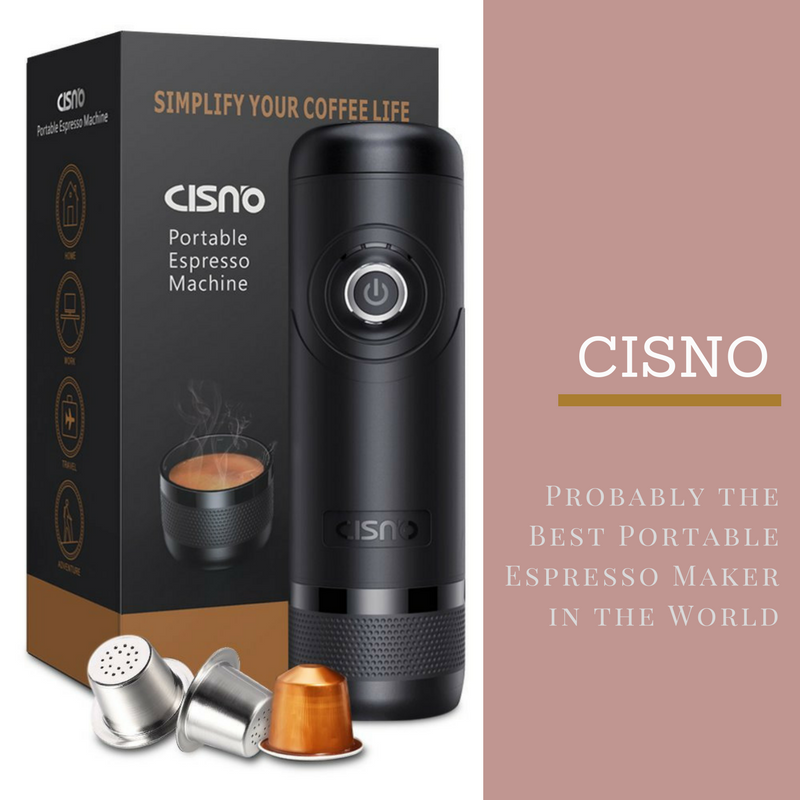 If you want to enjoy freshly prepared espresso wherever you are, a handy portable espresso maker should be one of the essential things to pack in your bag. Having in mind that the market abounds with a large number of the different portable espresso machines, it may seem difficult for you to find the right one.
In this article, we'll review CISNO electric portable espresso maker, to help you determine if this appliance may suit your needs. Read on and find out why this appliance is listed as one of the Amazon's Choice products.


Technical Overview Of CISNO Electric Portable Espresso Maker
First of all, let's briefly summarize the technical details of Cisno espresso maker.
Its dimensions are 3.1 x 9.9 x 3.3 inches, and it weighs a bit more than 3.5 pounds.
While you can pour up to 50 ml of water in it, the maximum espresso shot capacity is 40 to 45 ml.
These characteristics definitely make it pretty convenient and easy to transport.
Can Easily Fit In Your Backpack
Apart from being a handy solution for all kind of outdoor activities since it can be easily packed in the bottle holder of your backpack, it also looks pretty awesome – it has a lovely minimalistic design in black color which makes it seem pretty elegant.
Make your trips go smoother and without caffeine crisis with these small and cool travel gadgets designed for coffee on-the-go.
Battery and charging
When it comes to charging and durability, it's good to know that this maker comes with a Lithium-ion battery, a 12v car charger and an AC adapter which allows you recharge it not only at home but also in your car, on the go. The average charging time is about 5 hours.
One charge cycle is  enough to make 4 espresso shots per charge. If you use boiled water than you can make much more espresso shots. I never counted exactly how many espresso shots, but probably 80+
First portable espresso maker that can boil water
Probably the best thing about this coffee maker is the fact that it can heat up your water which is not the case when it comes to a large number of average portable coffee makers. This means that you won't have to stress out trying to find alternative solutions to boil your water and, therefore, you'll reduce the time needed for your coffee to be prepared.
Pump
Another great feature of CISNO portable coffee maker is its high-pressure pump (providing the pressure of up to 15 bar), that improves the quality of your espresso by providing a full aroma and dense, high-quality crema and, therefore, bringing the most of your coffee capsule.
Click here to learn more about Cisno, read other reviews, to check price or buy it. 
More about battery and coffee preparation
Finally, to let you know if you can prepare your coffee without having your battery drained in the middle of the process, this appliance comes with three separated light fields located above the power button, and they indicate your battery status. On one hand, if all of the lights are turned on, it means that your battery is fully charged. On the other hand, if only one indicator is active, you may want to consider:
charging your appliance to avoid the risk of its turning off before your espresso is prepared
preparing your coffee with already boiled water, since the process won't last as long as it would if you were using cold water.
The best part about the battery of CISNO electric portable coffee maker is the fact that it's easily removable which means that you can buy and pack more than one battery, which is especially awesome in cases when you have no possibility of recharging the battery, such as when you're hiking or camping somewhere where you have no access to electricity.


How To Use CISNO Battery Operated Portable (N)espresso Maker?
CISNO coffee maker can provide you with freshly prepared coffee in practically several minutes. All you have to do is place the coffee capsule into the section located at the bottom part of your appliance, make sure that it's well locked in, and start the process using the power button after you've poured the water into the section located at the upper part of the appliance. Once you pour the water in your appliance, you should make sure to keep the coffee maker stable and straight, otherwise, you may end up spilling it.
If you are using cold or room temperature water, you should hold the button for about two seconds to warm it up and wait for about 9 minutes until your coffee is ready. However, if you're preparing your espresso using boiled water, you should hold the button for about five seconds, which will pump your coffee directly, significantly reducing the brewing process – it will take you less than two minutes to get your coffee done.
Capsule Compatibility:
Great thing about this coffee maker is the fact that you can use not only the original Nespresso capsule but also the reusable stainless steel capsules. I use Sealpods and work great with CISNO. I did not try other compatible pods. Here you can buy Sealpod Stainless Steel Refillable Pods for Nespresso Machines
Additionally, you can also choose the Nespresso pods, to provide the extraordinary quality of your coffee to go.
CISNO or Minipresso GR?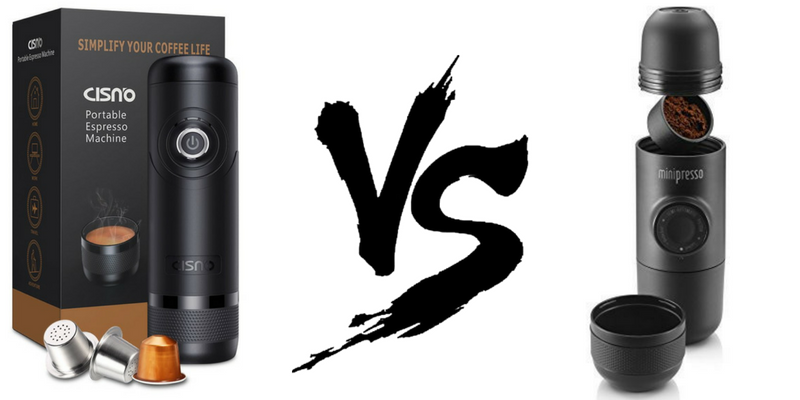 If you're having second thoughts and you're not sure whether you should choose CISNO or Minipresso GR portable espresso maker, there are some things you should consider when making your decision:
There is an important difference in the pumps of these appliances – while CISNO pump can provide the pressure of up to 15 bars, Minipresso can offer the maximum of 8 bars.
While CISNO weighs about 3.5 pounds, Minipresso is dramatically lighter weighing only 1 pound.
If buying the appliance on a budget is your top priority, you should know that Minipresso GR is a more affordable option. As you know, cheaper is rarely better
While they are both portable and can work without the electricity, CISNO appliance uses Lithium-ion battery that comes with the coffee maker, while Minipresso GR uses your power to make pressure and brew espresso.
Cisno is very well built, much better than the Minipresso GR
The Cisno is better rated by users than the Minipresso GR
Finally, while CISNO uses coffee capsules (and ground coffee if you have reusable Nespresso pods), Minipresso GR requires the use of ground coffee providing you more control over the preparation of your coffee. However, if you are interested in a Minipresso appliance that uses Nespresso capsules, you may want to check out Minipresso NS.
Although Minipresso GR is one of the best-selling portable espresso makers and worth every penny our vote go to CISNO. The biggest difference between these two devices is that CISNO can boil water and has the same automatic pressure all the time and therefore better and creamier espresso.


Additional answers about CISNO portable espresso machine
Can K-cups and Dolce Gusto cups be used in a Cisno espresso maker?
K-Cup pods and Dolce Gusto cups are not compatible with CISNO. The good news is that they are telling us that they plan to produce K-cups compatible portable machine. Until then you can check our article about Small K-cup coffee makers and there we are listed currently the best manual and electric portable K-cup brewers.
How to buy a travel case for Cisno?
If you have decided to buy a travel case for your Cisno, you have to be patient again 🙂 they plan to sell it in July, 2018.
What reusable Nespresso capsules to use?
There are many types of Nespreso compatible capsules offered on Amazon. I use Sealpod, for other reusable Nespresso pods I can not guarantee it will fit.
Is this machine produced by Nespresso or Nespresso official partners (Breville or Delonghi)?
No. This product was produced by the company USA Okeba Industries Inc.
Coffee temperature right after brewing?
No one likes the lukewarm coffee. The pouring temperature is 185℉ and that is an ideal coffee temperature according to Ncausa.org
Summing Up
The truth is, you can definitely find more affordable appliances than CISNO electric portable coffee maker.
Is there any better portable espresso machine on the market now? No, without any doubt at all.
However, one of its biggest advantages is the fact that it's one of the rare appliances that also boils the water for you in only several minutes and it also functions with reusable Nespresso capsules and the original Nespresso ones.
So, if you are not too worried about your budget yet you want to simplify your coffee preparation, you may want to give a try to this handy portable espresso maker.