Small K-cup Brewers That Don't Occupy Too Much Space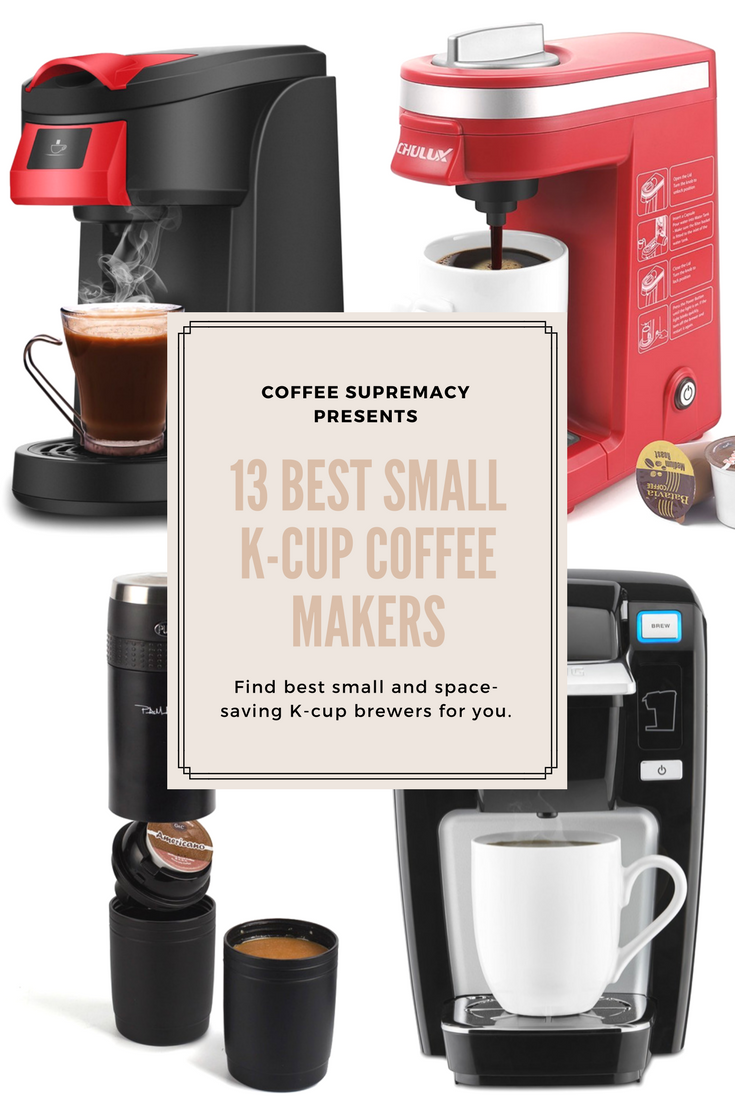 Living space becomes luxury nowadays, and people like to use small appliances to save some space on their kitchen counter. To create more workspace in the kitchen, it is important to use appliances that do not take too much space. That is why manufacturers create small K-cup brewers that won't disturb your kitchen organization.
Another reason why we all need a small coffee maker is that when travel we can always take it with us and drink our favorite coffee anywhere in World.
If you are someone who doesn't like to put too much effort in preparing coffee, you will most certainly choose some coffee makers that use capsules or pods. In order to meet these two necessities, Keurig created small coffee machines with great performances that use K-cups. Other manufacturers also created a great number of small coffee brewers that use K-cups. We selected only the best compact ones for you in this article.

Which Keurig Machine Is The Smallest?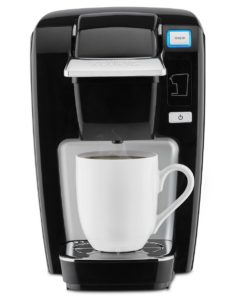 Keurig K15 is the smallest K-cup coffee maker produced by Keurig company. It has a small water reservoir and the maximum of its capacity is 10 oz. This coffee maker can prepare three brew sizes, 6, 8 and 10 oz. You can choose between great K-cup flavor choice or you can use your favorite ground coffee in My K-cup reusable coffee filters.
This small reservoir is the reason why the dimensions of K15 coffee maker are only 11.1" H 7.5" W x 10.5" D, so it is perfect for tiny kitchens, offices, and cars. It is created for K-cup, so you can enjoy coffee, tea, hot chocolate and other beverages created in K-cups. The simple way of use makes this coffee machine perfect for everyone.
The power and brew buttons make the managing of this coffee machine a piece of cake, and the LED indicator informs you about the water level in the reservoir. Drip tray also has a red light indicator to alarm you that it is time for cleaning. This drip tray is removable and the tallest cup that can fit can be 5.2 inches tall. Created to save space in your kitchen it also saves energy with its auto shut-off after 90 seconds in a state of inactivity.
Pros
Small and comes in several different colors
Fresh coffee one touch away
It takes only 2 minutes to get a rich taste coffee
Cons
Frequently water refiling
It can brew only hot beverages

Difference between Keurig K15 and K10
The first small coffee maker that Keurig manufactured was K10, but its production has been discontinued. The replacement for K10 is Keurig K15 coffee maker. These two coffee makers are practically the same. The only difference is that the dimensions of K10 are 10.8″H x 6.9″W x 10.7″ D, and it can prepare iced beverages as well. Other options are the same, even their appearance. Here you can check Keurig K10 price and reviews
Other small K-cup coffee brewers
K-cup coffee makers are perfect for people who like to get their coffee quick without grinding and measuring. If you add a small size of a coffee machine to this simplicity in preparing coffee, you get yourself a jackpot. Many other manufacturers produce coffee machines that use K-cups. Here are some of those.
CHULUX Coffee Maker for K Cups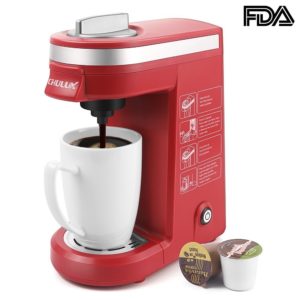 Chulux coffee maker is perfect for small kitchens, campers or dorm rooms. With dimensions of just 4.3 W x 7.5D x 9.8 H inches and excellent price, good features and great reviews this is one of the best small Keurig alternatives.  You can see that apart from the much cheaper prices Chulux has much smaller dimensions than the smallest Keurig coffee maker K15.
Chulux will not take a lot of counter space. It has water reservoir that can receive 12 oz of water. Newer Keurig machine won't work with the older design K-Cups and with Chulux you will not have these problems because you can use any K-cups in this brewer. Work with all K-cups and it gives you the possibility to enjoy in many different flavors, or you can just use your favorite ground coffee with Chulux reusable filter.
All you have to do is to pour water in the reservoir, put k-cup in a basket and press the button, within 3 minutes, the magic will start. The removable drip tray can accommodate cup up to 5.5 inches tall. It is made of BPA free plastic in several different colors, so you can fit it into your interior design. One of its good features is that it turns off automatically right after the brew cycle. According to your K-cup choice, this little coffee maker can brew two cup sizes, 3.5 oz, and 12 oz beverages. with very good grades of users, with our huge recommendation and a very affordable price, this Chulux might be your favorite. You can also find Chulux in our article Best cheap coffee makers that use K-cups
Not only us, others have recognized value and quality that CHULUX has. All what you need from one K-CUPs machine is there: low price, good quality and compact size. Chulux is the best small K cup machine you can buy and a fantastic choice for most travelers, for your RV or to add more counter space to your kitchen.

SOWTECH Classic Single Serve Coffee Maker
SOWTECH Single Serve coffee maker is compatible with most K-cups, or many other capsules and pods (not work with nespresso capsules). You can also brew your favorite ground coffee by using the refillable K-cup empty coffee capsules.
It has a small footprint with dimensions 5.9 x 11 x 10.2 inches. The capacity of the water tank is 12oz, so you can choose three cup sizes that fit in this 12 oz of water. It turns automatically after the brew is over, and it has Cool Touch Exteriorit that assure you that the surface of the coffee machine won't be hot. Good feature if you have kids at home. With SOWTECH coffee maker you will get your beverage under 3 minutes and prepared at mellow 85 degrees. The removable tray makes easy the use of taller mugs. Made of food grade plastic and with the choice of black and red color, this can be the perfect gift that won't harm your wallet too much.
This lightweight little machine is very good choose for desk, small office or travel.

Chefman 

Small Footprint Single Serve 

K-Cup Brewer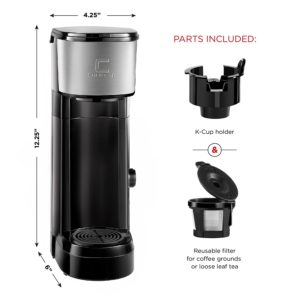 Chefman coffee maker Insta Brew Brewer leaves an impression of a big coffee maker, but actually, it is just tall in order to accommodate tall travel mugs. Its dimensions are 13 x 6.8 x 5.3 inches and the water reservoir can receive 16 oz of water.
This coffee maker is compatible with all k-cup capsules and you can brew your favorite ground coffee or tea with a reusable coffee filter which is included as well as the K-cup holder. It takes only 2 minutes to get a rich and tasty cup of coffee with just one press of a brew button. Made in a combination of BPA black plastic and stainless steel it has a refined appearance.
Very compact and convenient. Its cheap and good quality . This K-cup coffee machine occupies extremely small space and provides excellent quality for the price.

Mr. Coffee K-Cup Coffee Maker System with Reusable Grounds Filter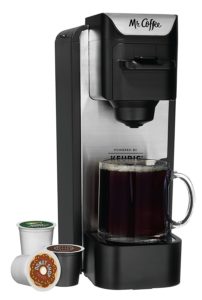 Like the previous coffee maker, Mr. Coffee K-Cup Coffee Maker System is a little tall, but all that to create a possibility to accommodate all types of travel mugs.
Its dimensions are 5.75 x 9.9 x 13 inches, and the water reservoir has the capacity of 10 oz. it is compatible with K-cup capsules and the package includes My Grounds reusable filter. Removable drip tray can accommodate tall travel mugs and the pullout drawer is dishwasher safe, so the cleaning won't be a problem. Auto shut-off right after brew cycle is over assures you that there won't be any type of hazards if you forget to turn it off. Its modern look is built with the help of high-quality plastic and stainless steel and unique design. You will most certainly enjoy it.
This Mr. Coffee  is comparable with Keurig K15 and K10 because is powered by Keurig brewing technology. In our opinion, a better choice is this brewer than similar Keurig machine.

Litchi Coffee Machine for Most Single Cups,Pods, Ground Coffee wit Hot Water System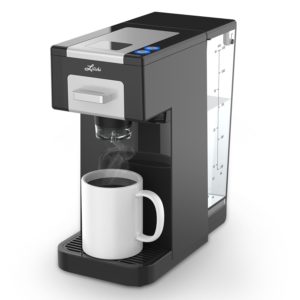 Litchi Single Serve Coffee Maker has the water reservoir with the 40 oz capacity. Although its reservoir is huge, its dimensions still define it as a small coffee maker.
The dimensions are only 4.72 x 10 x 9.72 inches. At the top of this little coffee machine you can choose between two brew buttons, one is for 4 oz beverages and the other is for the 8 oz beverages, and if you hold the button a little longer you can customize your drink when it comes to size. It is compatible with K-cups, and you can use your ground coffee in the reusable coffee filter. All the parts that are in contact with the coffee, like drip trey and k-cup holder are removable and easy to clean.
If you want your coffee maker has the option of hot water on demand this is machine for you. No other machine on our list has this feature. We already write about best coffee machines with hot water system. This coffee machines is great not just for coffee. Hot water dispenser can provide you hot water for soup, tea…
Its preheating time is less than 30 seconds and the auto shut-off is 15 minutes after the brew is over. The fact that you don't need to refill the water reservoir that frequently is a little attractive, isn't it?

HiBREW Compact Travel Size K Cup Brewing System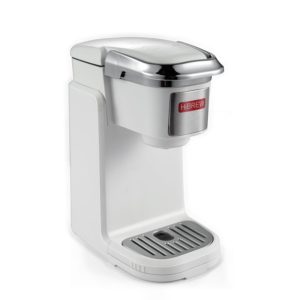 This small K-cup brewer has the water capacity of 10 oz and it can accommodate travel mugs with the height of 4.2 inches.
With the dimensions of 4 x 8.3 x 9.4 inches, this is one of the smallest in this article and it is perfect for small kitchens and dorm rooms. It is compatible with K-cups and other single cup pods.
The brew can be stopped by opening the lid, and it also automatically turns off after the brew is over. All parts connected with the coffee can be removed and cleaned. It takes only 3 minutes to get a tasty cup of coffee. With an affordable price, this new space-saving product on the market can become your number one.

Smallest Portable K-cup Coffee Makers
Coffee maker manufacturers started with the production of small portable coffee makers for K-cups as the demand for "always available coffee" among the customers increased. Now you can buy two types of portable coffee makers, the manual ones and those who work thanks to the batteries. Whether you are in a car or on a picnic, you will be able to get fresh cup of coffee. With K-cups, this job has become really easy, no additional boxes with ground coffee, scoops, and measurement, everything that you need is in one small capsule.
Manual portable K-cup coffee makers
MyJo K Cup Coffee Maker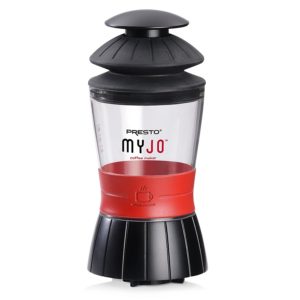 This little coffee maker is a fantasy since you only need hot water and K-cup to get a tasteful cup of your favorite morning drink. With the dimensions of 4.1 x 4.1 x 9 inches, you can carry it in your handbag. It can serve three cup sizes 6, 8 and 10 oz, and the water reservoir can be warmed up in a microwave.
The coffee maker has a silicone grip that makes it easy to prepare coffee while the hot water is in it. Put your coffee maker on the top of your mug and start to pump. In a few seconds, you will enjoy a rich coffee.
It is compatible with the most of single-serve capsules and the package includes a refillable MyJo cup for your favorite ground coffee. This portable manual K-cup coffee maker is the cheapest in this list.

Gourmia GKCP135 Manual Single Serve K-Cup French Press Coffee Maker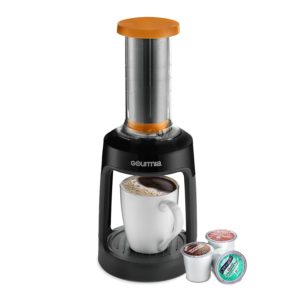 Every manual portable coffee maker works in the same way, you have three steps to get a perfect coffee, place the K-cup, fill the reservoir with hot water and pump.
This portable coffee maker is a little bigger than the previous one, its dimensions are 6 x 6 x 14.5 inches, and it can accommodate most of a single serve mugs. You can choose between three cup sizes 6, 8 and 10 oz.
Every part of this coffee maker is dishwasher safe and for all the people who look after their health, the plastic is BPA free. You can also use a refillable cup for favorite ground coffee, tea or hot chocolate. The plunger has a removable lid and it can store three K-cup capsules. Convenience, isn't it?

1Z Maker Portable Manual Espresso Coffee Machine

This is the smallest manual portable coffee maker in this article, its dimensions are 6.7 x 3.4 x 3.4 inches, and the water reservoir can receive only 7.2 oz of water.
Just place the k-cup, fill the hot water and pump. It can reach the pressure of 25 bars. It is made of food grade plastic and the maintaining is simple, just wash the parts with water.
You can use either K-cups or refillable ground coffee capsules. With compact 1Z Maker Portable Manual Espresso Coffee Machine you can drink tasteful coffee wherever you are.  You can read our article about the best portable espresso machines to find more great solution for your espresso on the go.
This space-saving manual coffee maker is great for espresso and K-cup coffee anywhere.

Electric Portable K-cup Coffee Maker
It is important to know that electric portable coffee maker doesn't have the possibility to heat up the water, you will have to pour hot water in the reservoir if you want a hot drink. The batteries only mean that you won't pump the water through the K-cup, the batteries will do that for you.  As well as the above mentioned machines and these have extremely small dimensions.
Pamapic Portable Travel Coffee Maker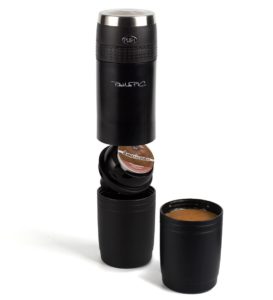 When it comes to the small electric portable K-cup coffee makers the work method is the same, only the pumping is changed with the press of a button.
You will need the batteries in order to make coffee with this type of a portable coffee maker. This particular one uses two AAA batteries.
The rest is easy, put the K-cup in, fill the reservoir with hot water and press the button. You can disassemble this coffee maker and clean every part of it. Using K-cups makes preparing coffee a clean job. No more spiling the ground coffee all over the place.
Its dimensions are 12.3 x 4.6 x 4.4 inches and you can carry it in your backpack. You can use the refillable cup for some other ground coffee, hot chocolate or tea. We have to say that this one has the highest price.

Battery Operated 

Portable K-Cup Coffee Maker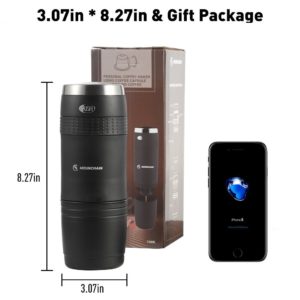 This coffee maker works with two AAA batteries, and the working principle is the same as for the previous one.
Put the K-cup, fill the hot water and press the button. This portable coffee maker has the water reservoir capacity of 150 ml, and the dimensions of the whole coffee maker are 3.1 x 8.3 x 3.1 inches.
Beside K-cup you can use reusable capsule for your favorite ground coffee, but the reusable capsule is not included in the package. It is made of food grade plastic and every part is easy to clean.
For people who are always in a move, this little coffee maker will be perfect.

Small K-cup Brewers and Portable K-cup machines Conclusion
Everyone who has the problem with extra living space, small home appliances are worth of gold. If you have small kitchen and you are a great K-cup coffee lover, you will need a small K-cup coffee maker. The same goes for people who like coffee but also like to spend their free time in nature, everything you will need in any of these two situations is listed in this article. The only thing you have to do is to find the best match for yourself.