Ninja Coffee Bar CF091 vs CF097 vs CF112 – Difference and Comparison
In this article we will speak about an American coffee machine CF091 and CF097 and CF112 which is made by Shark Ninja company located In United States of America. Company also has offices in Canada, United Kingdom and China. Machines of this company are produced and assembled in China.
To briefly explain how things work, this company has two different industry products, the Shark dedicated for house cleaning products and the Ninja for kitchen appliances products that includes producing coffee machines.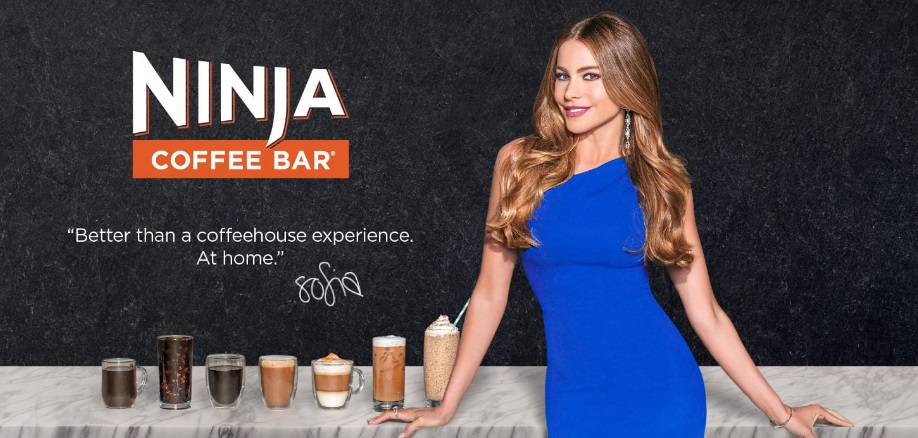 Before giving the details of each machine we have to start this article by explaining things which are worth to be mentioned and the following are the common features for all the Ninja Coffee Bar machines:
Ninja coffee bar machines is the second generation for producing the coffee machines which is using a new technology which is called advanced thermal for extracting the flavor technology with Auto IQ which means auto identification which automatically allow the machine to know the exact amount to use from water that is reserved in the water tank during the brewing process and pour it in the cup based on the brew size selected option.
Their machines are characterized by serving only all kind of grounded coffee brands with its different flavors, capsules usage is not available.
Providing multi choice brewing system based on many factors; type of the machine as the choices varies from one machine to another, serving cup size and the desired coffee brewing strength.
The Ninja machines are specialized in making coffee more than making any other hot drinks.
The three types of machines serving hot and cold frothers by using an electric milk frother stick, in case you need it hot, you need to heat up the milk first before the process which takes less than a minute to froth.
The company is providing in their machines two new brewing techniques; first one is called special brewing option which is giving a small cup size of concentrated coffee for the purpose of making iced coffee or milk with coffee. Second one is called cafe forte which is giving double amount of coffee than the special brew for the purpose of serving it plain for those who love strong black full bodied coffee.
Products are BPA free which is very important for human health
In general, the machines got some common negative points which are as follow;
The machines don't use coffee capsules.
They don't grind beans so you need already grinded coffee
There is no option of heating the milk, you need to heat the milk first if you need hot milk frothers
Their machines don't have varieties of color options which are essential for those clients who like to have a piece of product that could match with their decoration and style taste.
The three machine CF091, CF097 and CF112 are coming from the same generation, the second generation which is using the Auto IQ and the advanced thermal for extracting the flavor; however they got clear differences which will be shown here in details.
Ninja Coffee Bar CF091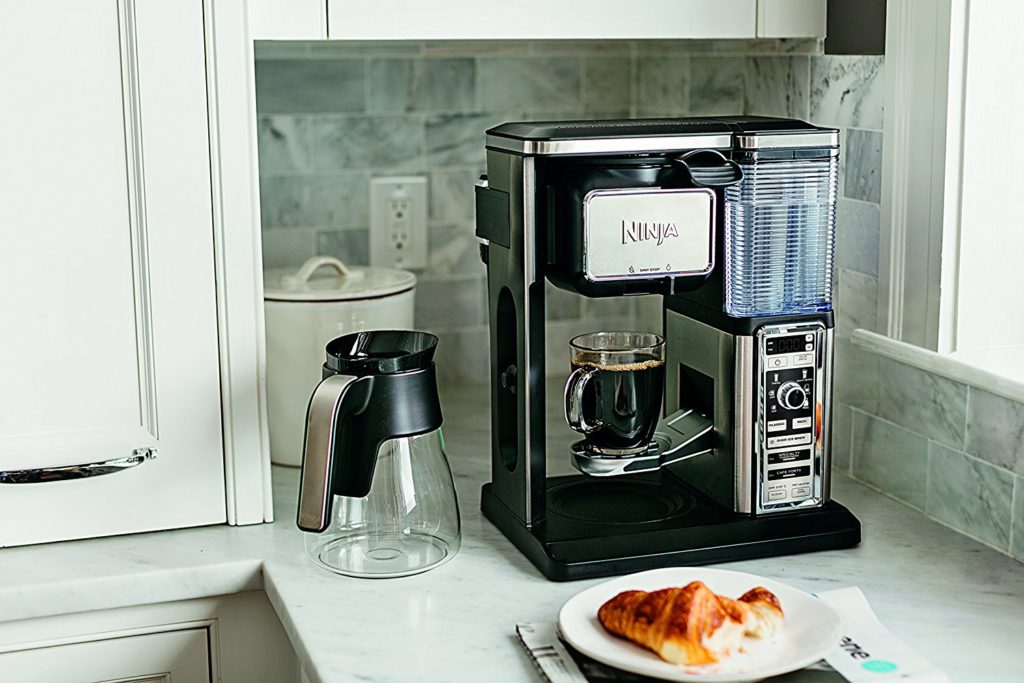 This machine got plenty of features which includes; an electric milk frother, six different brew options, small digital screen in the bottom of the machine, customizing clock timer in order to brew your coffee in the time that you need it.
The machine is serving both; single cups and the carafe in order to serve more cups in the same time, There is a special stand in the machine which is used to hold different cup sizes during the pour process in order to avoid spilling the coffee outside of the cup.
The machine is equipped with a plate holder to keep the drinks warm for couple of hours and could be adjusted to last up to four hours; it is featured with a plate warm warning light indicator in order to avoid the customer from touching or cleaning it, besides the machine has a cleaning alarm sensor.
Saving energy as the machine is automatically shutting off after couple of hours from each operation.
Manufacturer warranty is for one year.
The machine comes in a package that includes; Double size spoon for coffee measuring purposes, permanent filter which is reusable and you can use a paper filter instead if you want, large water tank with a capacity of 1.5 Litre and it is removable for the purpose of easy refilling or cleaning, a booklet consist of twenty different recipes as a guide besides glass carafe.If you have questions about this coffee maker you can ask us or check on official page here
Note: XL Multiservice cup is separately purchased.

CF097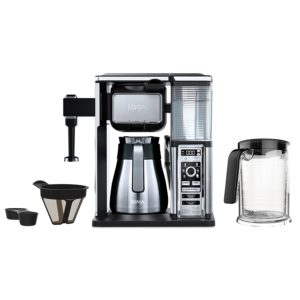 This machine is the updated machine, has the same functions and operation techniques like CF091, however it has three main differences:
The machine comes with a thermal carafe made of stainless steel instead of the glass one like in CF091 in addition 1.5 Litre Ninja over ice jar for making the iced coffee besides there is no warming plate as the thermal is keeping the drinks warm inside it for couple of hours besides it is for safety measurements as it is dangerous to use stainless steel product with a heated plate that is why it doesn't exist in this type of machine.
The machine comes in a package that includes; double size spoon for coffee measuring purposes, a permanent filter which is reusable, removable water tank with the same capacity like in CF091, a booklet consist of twenty different recipes, moreover the thermal carafe and Ninja over ice jar.
Note: Thermal carafe is not applicable to wash it in the dishwasher and it has to be hand washed.
XL Multiservice cup is separately purchased.

CF112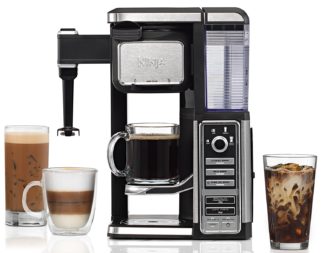 The idea of this machine is providing the basics of Ninja new technology for single customer user needs with the same features and operation techniques of the above mentioned two types of machines, on the other hand meeting limited budget customers without coming near the quality or the standard of the machine, this machine is sold nearly half price comparing to CF097.
This machine is serving a single cup only, doesn't have a carafe, smaller in dimensions and has four choices for brewing, doesn't have a digital screen and no clock timer.
The machine comes in a package that includes; measuring spoon, a permanent filter which is reusable, removable water tank but much smaller in capacity, only 1.3 Litre, a booklet consist of forty different recipes besides XL multiserve cup.

Ninja Coffee Bar CF091 vs. CF097 vs. CF112
Comparison
CF091
CF097
CF112
Price
Average
Expensive
Cheapest
Brew options offered
6
6
4
Compatible capsules
N/A
N/A
N/A
Water storage tank capacity
1.5 Litre
1.5 Litre
1.3 Litre
Operation time for heating
4 min

8 min

4 min

8 min

4 min

N/A

Type of operation
Automatic
Automatic
Automatic
Level of complication to use
Easy to use
Easy to use
Easy to use
Foam/ frothing
Yes
Yes
Yes
Water filter kit
No
No
No
Can use different grounded coffee brands
Yes
Yes
Yes
Available colors in the market
Black
Black
Black
Supports Carafe
Yes
Yes
No
Heating plate
Yes
No
Yes
Electricity power
1400 watt
1400 watt
1400 watt
Dimensions
Medium
Medium
Smallest
Weight
Medium in weight
Heavier in weight
Lighter in weight
Power saving button
Yes
Yes
Yes
Clock timer
Yes
Yes
No
Warranty period
01 year
01 year
01 year
Customer review rating
4.3
4.2
4.3
Buy at Amazon
Differences
According to the above comparison we made, we can see that the three Ninja coffee bar machine types have the same new technology same operation method and both are serving; single cups and carafe as well, however the differences here is about; the package that is offered with each machine specially when we are comparing between CF097 & CF091.
We can see some clear differences here between CF112 comparing to the other two machines as it is single cup serve only which has a clear impact on the number of brewing choices which is less by two choices than the other machines as it doesn't serve carafe and the water tank capacity size is smaller.
Which one is best for you?
If you are a single user customer and have a limited budget, then CF112 can meet your needs.
However if we are looking for the best machine from these three types, it will be between CF091 which is cheaper than CF097, got a carafe made of glass with a heated plate that could keep the drinks hot up to 4 hours in it but yet more electricity will be used in general and carafe could be washed in the dishwasher.
CF097 is the updated machine, it has the most completed package, Thermal stainless steel carafe that doesn't need the warm plate which allows you to carry it out and keep it right next to you or simply keep it in the machine besides it offers large Ninja over ice jar for making the iced coffee inside it.
Accordingly, if you are looking for relaxation and to enjoy a tasty cup of coffee while having the completed package without any worries of buying any additional components to your machine disregarding the price, then definitely CF097 will be your best choice.