Best Italian coffee machines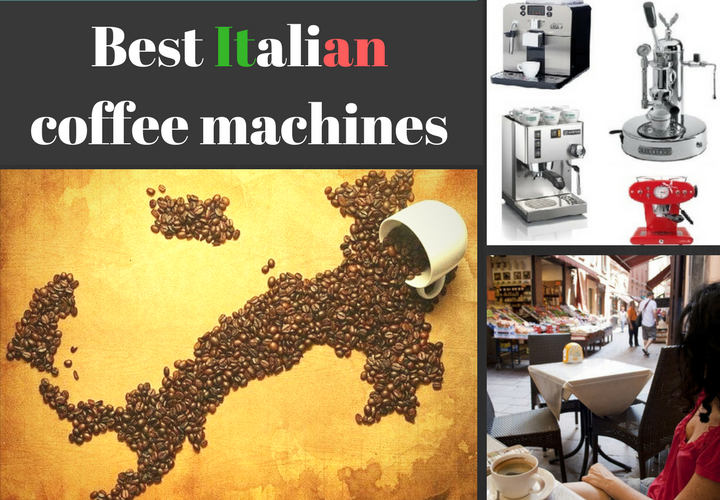 Italy is known as the country that created the culture of drinking coffee. All those fine drinks that we start a good day with, have their roots in this beautiful country. We all know that Italy is not famous for coffee cultivation, but you probably didn't know that the first coffee shop ever was opened in Italy, it is the first country that came up with espresso, the first country that invented the espresso machine. Today, some of the best coffee machines are made in Italy. Espresso, macchiato, cappuccino, these are all the names of warm beverages that the Italians invented, and which became every morning routine for people all over the world. Of course, in order for coffee to be extremely good, everything connected with it must go in the right way, from choosing coffee bean to their roasting, grinding and preparing. Italian coffee is far from those that we use to drink in Starbucks. This is one of the reasons why it took so long for Starbucks to open in Italy.
Even the way of drinking coffee in Italy is special if you compare it to other countries. In Italy, there is a habit of drinking coffee in just a few sips without getting a table to sit and rest while drinking. The Espresso itself is a short and warm drink. It is a combination of Arabica and Robusta. The way of roasting is special, and beside bold and strong taste, you won't find unnecessary bitterness. To make a good espresso, you will need a good espresso machine and if any country know to made a quality coffee machine that is Italy. In this article we will write reviews and interesting facts about Italian coffee machines brands.
We give you best of the Best Italian Coffee Machines
Chek our list with the top coffee machines made in Italy and made by Italian companies that have a long tradition in producing excellent coffee machines.
GAGGIA
Gaggia is a well-known Italian company that manufactures espresso and coffee machines. Definitely Gaggia produce one of the best Italian coffee machine for home and commercial use. Its experience older than one hundred years makes it one of the best companies in the world. This company from Milan manufactures everything connected with coffee, from small home-made espresso machines to incredibly big restaurant machines. We wrote earlier Gaggia Anima Prestige Review and now we give you the most popular Gaggia Espresso machine – Gaggia Brera.


Gaggia Brera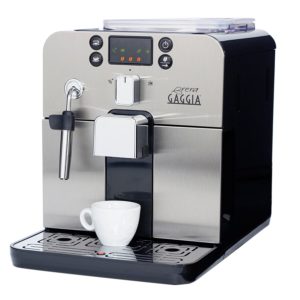 Gaggia Brera is one of the most popular Gaggia espresso machine model and it is ideal for home use. Its basic features are:
Automatic cleaning – allows you to have an excellent drink every day, without any effort in cleaning the appliance after each use.
Energy-saving Stand-by mode – an hour after use, the appliance switches off to save energy. Ceramic Grinder is characteristic for all
Gaggia appliances. The ceramic grinder preserves the fresh taste of coffee.
Ground Coffee Compartment – allows you to use ground coffee without cleaning the grinder in which there is another type of coffee.
Stainless Steel Body – bring out its modern look, allows this appliance to last longer without any major damage.
The Digital Display for Navigation – makes it easy to operate your device.
15 Bars Pressure – Ensures that every time you make an espresso you can enjoy its unique taste.
This Italian espresso machine has its own water reservoir in which you can install the Gaggia filter. This is important because water usually affects the quality of the coffee. Also, pay attention to what type of coffee you use in a grinder. If coffee is too much covered in oil it can lead to the blockade of the container in which the coffee goes after grinding. The coffee grinder has a special part in which you can pour ground coffee. You should not exaggerate in the amount of coffee in such appliances as it can cause locking and blocking. On the left and right side of the display, there are buttons that allow you to determine what kind of drink you want.
Gaggia Brera espresso machine is made in Italy. Note: Some customers claim that their Gaggia Brera was not manufactured in Italy than that was made in Romania.
ELEKTRA
Elektra is Italian company famous in making coffee machines. Tradition and experience dated from 1947 put this company at the very top. Despite the fact that this company keeps up in manufacturing modern coffee machines, it is known for its attractive and unique design. Their production can be classified into two large groups of appliances: the Bar Division for Commercial Use and the Casa Division for Home Use. We will mention some of them.


Elektra – Microcasa a leva Espresso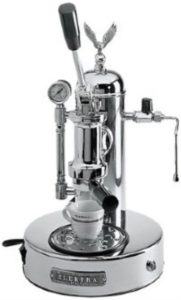 First of all, we will mention that Microcasa a leva Espresso machine does not have its own grinder, so you will have to get one if you do not have it. The amount of foam you get in espresso will be determined by the grinder. The preparation itself is different because the appliance is created like old espresso machines. You get your beverage by pulling the lever, one pull of the lever will get you one espresso. The water boiler can be enough for eight espresso drinks. The internal pressure regulator determines the water temperature. The appliance has its own built-in thermostat, so if the appliance runs out of the water, some unwanted damage will be avoided. This Italian espresso machine is one of the best when it comes to noise during the preparation. In this case, we can say that machine is soundless. Although the device is retro-looking, the chrome finish makes it ideal for your modern kitchen. However, this coffee machine itself requires skills to be managed. The appliance itself functions like the antique ones, it warms up during preparation and therefore it is not good for those without experience to use it. This device is something you will be proud of because it makes an espresso at the level of Italian masters. If you are truly a fan of Italian coffee Elektra Microcasa a leva Espresso will be your best friend.


Microcasa a Leva Espresso Machine Finish: Chrome and Brass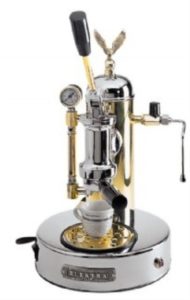 All coffee machines that are produced by Elektra are similar in their basic features. This is another model that is completely made of chrome. With similar characteristics as the previous one, it represents Ferrari among all espresso machines. The only defect of these coffee machines is that the water boiler cannot be directly connected to a water tap, so you have to refill it over and over again. The glass on the boiler allows you to monitor the level of water in it. The pressure gauge shows the level of steam pressure in the boiler, and when it is in the green field that means that the temperature is ideal for espresso. From personal experience, I would recommend this coffee machine to anyone who appreciates a cup of real espresso. We no longer drink espresso only in the morning hours, it is so delicious and creamy, that sometimes we make it four to five times a day. Whatever Elektra Microcasa espresso machine decide to buy you will not make mistake with this Italian brands because Microcasa is for sure one of the best Italian coffee machines.


illy Italian Espresso Machines
illy is a company that has remained genuine Italian but went a step further in the design and appearance of the coffee makers. Although they are more popular in coffee production rather than coffee machines, they have always been in the top five Italian espresso machine brands. The coffee machines they produce mostly come with different flavor capsules. Their modern look makes them a perfect decoration for your kitchen. When it comes to the coffee machines appearance, they moved from the vintage look and turn to the future. This company produced a large series of great home coffee makers so far. We can not call this particular espresso a traditional one, but it certainly belongs to those you want to start a day with. The advantage of these coffee makers is that you do not need to have your coffee grinder since the illy use only its capsules. Anyway, they still can treat you with one of the best espresso coffees.


illy Francis Francis Y3 iperEspresso Machine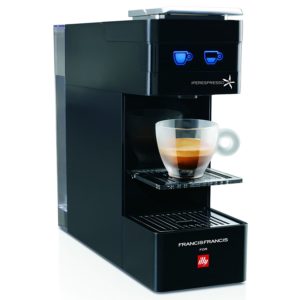 This illy Francis Francis Y3 espresso machine only uses IperEspresso Capsules, so it is certain that you will become one of the loyal buyers of this companies products if you use this particular machine. Preparing espresso is really easy because you make you wish come true by one touch command. This modern look machine is the ideal coffee maker for those who want to drink a fantastic espresso without putting much effort in it. The one-liter water reservoir gives you an easy way to make many drinks without frequent refilling. The controls on the machine allow you to easily request the type of drink you want, as well as the size. After every use, the device automatically disposal used capsules in the drawer for used capsules. The temperature control pump is 19 bar. This Italian coffee maker only use espresso capsules, however by choosing the quantity of water you can easily make this into American coffee or cappuccino by adding milk. The coffee machine itself is made of high-quality plastic, in order to guarantee the top quality of the espresso that it makes. It does not receive any other capsules other than illy's. Always keep in mind that when purchasing this machine you will not get capsules with it, you have to buy it separately.


Francis Francis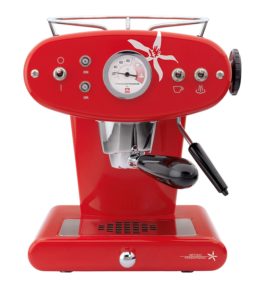 We are not writing about this device just because of an exceptional espresso. Its retro look is something that attracts attention. It is a look that will take you back to 1950s Italian bar. This great Italian made espresso machine has an 18bar pump. The whole body is made of metal and you can purchase it in two colors, red and black. You probably know what color we will choose, the one that looks more vintage. This espresso maker also requires exclusively illy's iperEspesso capsules, which means that there is no torture with coffee grinding or determining the amount of coffee and water to get a premium espresso. With only one touch command you get superior espresso in the warmth of your home. Do not let this vintage look to deceive you. The old model of this appliance used both, capsules and ground coffee, but the new model we are currently talking about only use illy's capsules. Francis Francis X-1 is a model that could use capsules and ground coffee. If a malfunction occurs, it is very difficult to find spare parts for this coffee maker, so many decide to take this new model.


Lavazza Coffee Machines
This is a Turin company, known for producing home premium machines for espresso at extremely affordable prices. They have been described as an extremely good company by many customers because their appliances can use pods as well as ground coffee. Another advantage of the coffee machines is that it is very easy to use. These machines for espresso include milk frothing and water and steam capacities. Just like the one we mentioned before, Lavazza is also known for coffee production as well as for production of home coffee machines.


Lavazza A Modo Mio Magia Coffee Machine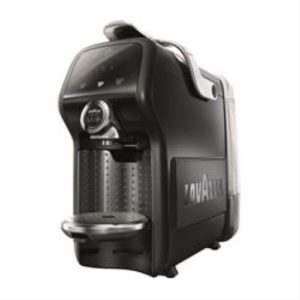 If you want quality but at an affordable price, then you must definitely choose this model of Lavazza coffee maker. Made from high-quality plastic, the look of this device can be described as modern. The drip tray is made of stainless steel and is easy to adjust to fit different cups size, it is also easy to clean which makes this coffee maker a better choice over the others models. This coffee machine allows you to make an excellent espresso in few minutes. The water reservoir is a one-liter capacity, and it is removable in order to refill it in a simple way. This espresso machine turns off automatically if it is not in use for more than 9 minutes, so you don't have to worry about possible disasters. It also has installed Thermoblock Technology that allows you to choose between two coffee-making temperatures. Besides espresso, you can also make a fantastic espresso lungo and coffee cream with this coffee machine. It also has 15bar pressure pump, as well as a drawer for used capsules. This machine is very easy to use and maintain, and therefore it is very attractive to those who want to easily get a premium espresso in the early morning hours. Lavazza is known for its production of various flavors capsules, its capsules are created for Keurig appliances as well, the K–cups.


Lavazza Blue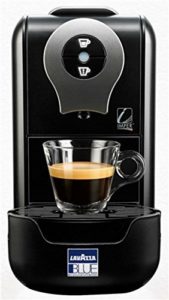 This model of coffee maker only makes an espresso. The only option left behind, beside espresso coffee, is American coffee. It actually gives you the choice of two cup sizes, the 2oz and 4.5oz. If you do not like a short drink in the morning, this is the only option that is left. Lavazza Blue Lb 910 only uses Lavazza Blue Capsules that can be made in many different flavors. The removable water reservoir is 1200cc, and it has an alarm that alerts you if the water level is at a minimum. As well as the other Lavazza coffee makers, this one also automatically ejects used capsules. The drawer for used capsules is sufficient for eight of them. Besides the alarm that alerts you to an almost empty water reservoir, it also has alarms for a drawer full with used capsules and for high temperature. This great italian coffee machine also has an energy saving function, which turns off the heating system after 20 minutes, but the coffee machine still remains in on mode. The temperature of the heated water goes up to 175 degrees and Lavazza Blue Lb 910 has a 15bar pressure pump. It is important to know that this coffee maker only receives Lavazza Blue capsules, and no other, even though they are made by Lavazza. When purchasing Lavazza Blue it does not include capsules, they are something that you will need to buy separately.


Saeco – well-known Italian espresso machine manufacturer
Saeko has been producing automatic coffee machines since 1985. Thirty years of experience and modernization in the world of coffee machines brought them to the very top of best Italian coffee machines brands. Today, with Saeko coffee machines you can get delicious Italian coffee in your own home. Saeko company, through the 110 gadget it created, came to the perfect coffee machine, which is distinguished from the others by high quality and top-notch Italian coffee that can be made only by experienced Italian baristas. Trying to achieve a traditional taste of espresso, they made fantastic modern and a stylish coffee machine that fits with every kitchen style. Saeko is also a pioneer in making an app for your tablet or smartphone. In this way, you can make coffee as you wish, without touching the coffee machine. Nice, right? With a headquarters in Bologna, Italy, this company represents the future in making a premium espresso in your own home.


Saeco Philips Intelia Deluxe Espresso Machine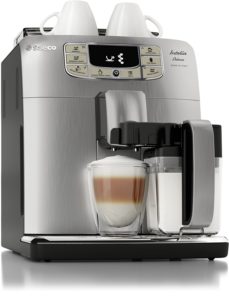 Saeco Intelia is one of those machines that, besides the fact that it makes the perfect espresso, also makes your kitchen look more beautiful and stylish. In silver color made of stainless steel, it represents the last word in the world of modern coffee machines. The front side of the appliance is decorated with small screen and buttons that give you a fantastic selection of hot drinks from espresso to cappuccino. Just one touch away from fantastic coffee. The appliance has a special reservoir designed for milk that will do double frothing before the milk is added to the coffee. This guarantees a fantastic cappuccino with a fantastic dense and creamy foam. The coffee grinder is ceramic and it allows you to quickly and easily make your coffee in the finest powder. One of the best things is that it is practically silent in its work. This coffee machine also has a Quick Heat Boiler that allows water to warm in only a few minutes so you do not have to wait too long between the shots. Removable brewing group allows the appliance to do most of the work itself, so you can just sit and enjoy your espresso. This device gives a lot of versatility when it comes to making coffee, from the desired temperature and the size of a drink to as many as 5 different strengths of the coffee. Even the grinder of this coffee maker offers as many as 10 different levels of grinding, from the finest powder to coarsest. The biggest advantage of this appliance is that it has everything you need for a good coffee, and again it is very simple and easy to use. Intelia Deluxe is in our opinion the best Super-Automatic espresso machine for home and small coffee shops.


Saeco X-Small Vapore Espresso Machine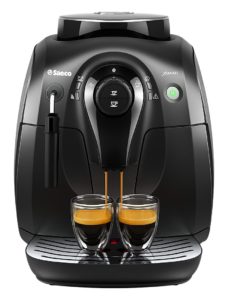 We will now present to you another beauty made by Saeco, great Italian coffee maker brand. Keeping its quality at a high stage Saeco Xsmall Vapore has a ceramic grinder that grinds coffee in five different levels. Milk frother gives you the opportunity to drink your favorite drink with smooth and creamy milky foam. The device has auto-cleaning which certainly prolongs its lifetime. Just like the previous model, this one also has removable brewing group, classic milk frother, quick heat boiler, and you can customize your coffee to your preference. Saeco X-Small Vapore Espresso Machine also features the Automatic Circuit Cleaning Line which cleans the appliance after each use. This makes every cup of coffee a new experience of pleasure. Another great advantage of this model is that you can make two drinks at the same time. This coffee maker only uses whole beans, you will not be able to use any coffee that is already grounded.


Rancilio – Italian leading brand for coffee grinder and espresso machines
Since 1927 this company gives its best to preserve and promote Italian culture in grinding, making and drinking coffee. Of course, they are not only doing its best to preserve this coffee culture they even brought it to your homes through extraordinary coffee machines. Years of experience have brought them to the top.


Rancilio Silvia Espresso Machine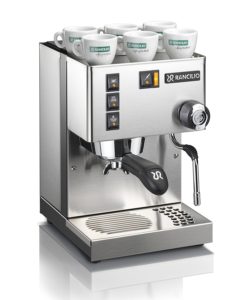 Rancilio Silvia coffee machine is made of stainless steel panels and iron frame, which makes it extraordinary durable. This coffee maker itself has only basic functions for making a superior espresso. If you are someone who likes to explore what is needed to make an excellent espresso then this is a real one for yours. With this coffee machine, Rancilio offers separate coffee grinder. A simple way of managing machine through the switch system makes the use of this machine a children's game. Of course, if you do not like to work too hard to get a good espresso, then you can easily buy a capsules and pods adaptor kit and upgrade this excellent machine. Rancilio Silvia is great because it allows you to make two coffees at the same time. What makes this coffee maker different from the others is that you can refill water reservoir at any time, even during operation. Its reservoir belongs to larger ones ( 12oz), and the time between making two espressos is negligibly short. The steam wand makes the finest milk foam for your cappuccino. Rancilio Silvia makes only espresso, but since you can determine the size of the drink yourself, you can also make American coffee. If the mug does not fit the machine you can easily take out the cup tray. People describe Rancilio Silvia semi-automatic machine as one of the best that is currently offered on the market.


Conclusion
We hope that we gave you a good information in this best Italian coffee machine reviews. If you are a true lover of espresso and good Italian coffee machines, we are sure that you will find the right one for you in this list.