Gaggia Anima vs Gaggia Anima Deluxe vs Gaggia Anima Prestigio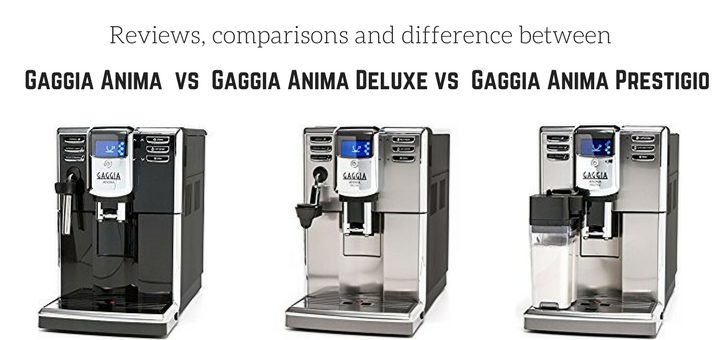 You will make a good decision if you decide to buy Gaggia coffee machine but which model is right for you?
Before you buy it, read our reviews, comparisons and difference between Anima, Anima Deluxe and Anima Prestigio. First let us tell you more about Gaggia brand.
The Gaggia Company was founded in 1948 in Milan, Italy. Ten years after Mr. Achille Gaggia registered his patent in 1938 for a machine that can make an espresso coffee in just 15 seconds thanks to a piston mechanism that forces water through the coffee grounds at high pressure, Mr. And Mrs. Gaggia have founded this company. This first coffee machine was designed exclusively for bars, and a few years after the grand opening of Gaggia Company, the machine started to export to Britain, America, and Africa. Although Gaggia started with machines that looked remarkably similar to today's models of Elektra, this Italian company made progress in producing fantastic coffee machines, which are characterized by a modern and sophisticated look. Quality put Gaggia into one of the best Italian coffee machine brands. Mostly made of stainless steels and plastics these coffee makers are very durable. They also give you the opportunity to prepare several different beverages. Gaggia has begun the production of the Gaggia Anima series, fully automatic machines which are very popular among coffee lovers. Here we present Gaggia Anima, Gaggia Anima Deluxe, and Gaggia Anima Prestigio. Firs let see difference between Gaggia Anima models in size weight and color.

| | | | |
| --- | --- | --- | --- |
| Image | | | |
| Title | Gaggia Anima Coffee and Espresso Machine, Includes Steam Wand for Manual Frothing for Lattes and Cappuccinos with Programmable Options | Gaggia Anima Prestige Automatic Coffee Machine, Super Automatic Frothing for Latte, Macchiato, Cappuccino and Espresso Drinks with Programmable Options | Gaggia Anima Deluxe Coffee and Espresso Machine, Includes Auto Frother for Lattes and Cappuccinos with Programmable Options |
| Color | Black | Silver | Silver |
| Height | 13.38 inch | 13.38 inch | 13.38 inch |
| Weight | 16 pound | 16 pound | 16 pound |
| Width | 8.7 inch | 8.7 inch | 8.7 inch |
| Length | 16.93 inch | 16.93 inch | 16.93 inch |
| Link | More Info | More Info | More Info |
You can see in this comparison chart that there are absolutely no difference in size and weight between Gaggia Anima ws Deluxe vs Prestigio. Now read reviews, check key features and differences you need to know before choose righ Gaggia model.
Gaggia Anima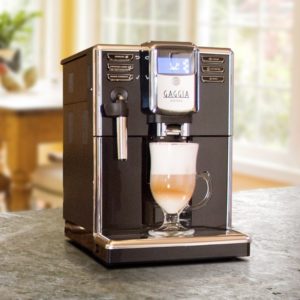 This is the first Gaggia model made in the Anima series. Designed for home use, just like the other two Anima models, it will allow you to prepare espresso as a true Italian barista. Made in black color with stainless steel silver frame, this is a very durable machine. This is a fully automatic espresso machine that gives you the ability to handle everything with one touch command. On the front side of the appliance, there is a led display surrounded by buttons that allow you to determine the type of beverage, temperature, and strength. On the same side, there is Pannarello steam wand for frothing milk manually. Panarello steamer is specific because it injects the air directly into the milk and it makes fantastic foam milk. Beside milk frothing, Panarello steamer is used for making other hot beverages like hot tea or coffee Americano.
The removable water reservoir of 80 oz, as well as a brewing basket of 8.8 oz for whole bean coffee, are refined with a ceramic grinder that keeps the true flavors of fresh coffee and it has five different levels of grinding. Also, removable brewing group allows you to easily clean everything that is in contact with coffee and water. With this espresso maker, you can also use ground coffee by extracting it in a special brew basket so that it does not mix with the whole bean coffee that is already in the grinder.
The Gaggia Anima gives you the ability to prepare espresso and espresso lungo, and you can choose between three beverage temperatures (Min / 177.5 ° F, Med / 182.9 ° F, Max / 184.5 ° F) It also has energy saving mode which uses the minimum of energy. Other coffee machines do not have a pre-infusion that allows coffee to be moisten just before preparing. This makes the coffee flavor stronger. You can always remember the measures for your ideal morning drink with the help of the programmable dispensing system. Gaggia Anima has an option called the optiorama. With this option, this espresso maker remembers the dose of coffee you need for a perfect morning beverage. Optiorama gives you an opportunity to choose between 5 different levels of beverage strength. Each espresso you make will be flavored rich thanks to a 15-bar pump. You should not use flavored and oily coffee beans with this coffee maker because oily coffee will clog the pipes and it will surely lead to machine failure.
Gaggia Anima Deluxe Coffee and Espresso Machine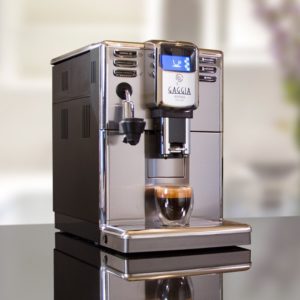 If we compare the Gaggia Anima model and Gaggia Deluxe model, we will see that the only difference between them is the way of milk frothing. The Gaggia Deluxe is made of a silver stainless steel front panel and plastic sides in black color. The command buttons around the led screen have the same commands as the Gaggia Anima. This model has an auto-frothing for milk based drinks. This is a so-called Cappuccinotore, which turns the milk from a dispenser into a wonderful milky foam. In order not to repeat ourselves, we will briefly summarize the other characteristics that are common for Gaggia Anima and Gaggia Deluxe models:
– It has temperature control with the possibility of choosing between three temperatures (Min / 177.5 ° F, Med / 182.9 ° F, Max / 184.5 ° F)
– Removable water reservoir of 60 oz.
– An 8.8 oz brew basket for whole bean coffee and a special basket for ground coffee.
– Programmable brewing options that allow the machine to remember your parameters for ideal coffee.
– A 15-bar pump that gives coffee bold taste and strength.
– Removable brewing group allows the device to do everything as an experienced barista.
– Optiorama – a choice between 5 levels of coffee strength.
– Pre-infusion that enhances the taste of coffee by moisturizing it before brewing.
– A ceramic grinder which grinds coffee into the finest grounds and preserves coffee flavors.


Gaggia Anima Prestigio Super Automatic Coffee Machine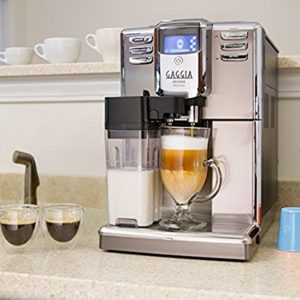 The third model from Anima series that we will review is Anima Prestigio. We've already written deep Gaggia Anima Prestigio review but we are not in that review compare Anima Prestigio with Anima and Anima Deluxe. Again with very similar characteristics as the previous two models, this model has few changes in the control buttons and the milk frothing part. In Anima Prestigio, the so-called Cappucinotore has its own integrated milk carafe which fits perfectly with the aesthetic appearance of the coffee maker. The coffee maker is made of silver stainless steel front panel and plastic sides in black color with a small change around the led display. At the command buttons in the selection between espresso and espresso lungo, we now have a cappuccino and a latte macchiato.
Of course, this model offers us the possibility for programming and storing the parameters for our ideal coffee, a possibility to choose between five levels of strength of the beverage (6.5 to 11.5 gr), as well as the ability to choose the temperature (Min / 177.5 ° F, Med / 182.9 ° F, Max / 184.5 ° F). The Gaggia Prestigio also has a 60 oz water reservoir that can be easily removed and refilled. The brew basket is 8.8 oz capacity and has a ceramic grinder which grinds coffee in 5 different levels. The handling of this coffee maker is simplified because by pressing one button you can get a cappuccino with a fantastic creamy foam. The Removable Brew Group allows the appliance to prepare fantastic drinks and it is very easy to remove this part from a machine in order to clean it. If we remove milk carafe, this part becomes a source of hot water for preparing hot beverages like tea and coffee Americano. Low- energy standby mode allows the machine to use a minimum of energy when it is in standby mode. This is a fantastic coffee machine that makes hot beverages in only 30 seconds.
The Gaggia Prestigio also has the optiorama where you can choose the strength of a drink, as well as a pre-infusion that allows you to make coffee taste bolder and stronger. The 15-bar pump pushes water through the coffee at high pressure to make the coffee flavor stronger. This Anima model gives you the opportunity to use ground coffee as well as the whole bean coffee. The brew basket for ground coffee is separated so you do not have to clean grinder if you already have coffee in it.
You will notice throughout this review that the Anima series of Gaggia coffee makers has progressed mostly through its aesthetic look, the control buttons part and milk frothing part, moving in the direction of preparing your favorite drink as easy as possible. Anima series is very popular among coffee lovers who do not have much time for preparation of a drink. The easy maintenance and cleaning is what makes this models very attractive.