Comparison between Cuisinart DCC-3000, DCC-3200, DCC-3400 and DCC-3750
Deciding on one product over the other becomes easy when you can compare them. This article looks at four Cuisinart coffee maker models, DCC-3000, DCC-3200, DCC-3400 and DCC-3750 the aim being to tell their differences. Cuisinart is a trusted brand when it comes to household appliances, and these are just a few of the coffee maker models in their line.
The outline of the article will be a short review for each of the model followed by the pros and cons then finally a verdict of each. I'm going to keep it short and to the point.
Cuisinart DCC-3000, 12-cup Programmable Coffee Maker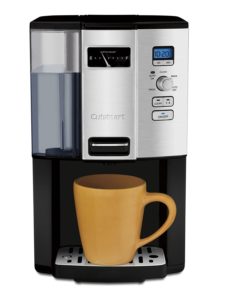 The Cuisinart DCC-3000 is a single-serve, fully programmable and 12-cups reservoir capacity coffee maker. As such, it is great for people who take more than one cup of coffee or a family. Again, it keeps the coffee hot for a long time, and it features a gauge to help you measure the number of cups.
The fully programmable feature comes in handy for most people as it enables you to have your coffee exactly when you want it. Included in the package is a removable permanent filter that makes cleaning bliss. And, important to note is that you are not restricted to making 12 cups of coffee. You can make any between 1-4 then 12.
Pros
It's a well-built machine
Fully programmable coffee maker
Super easy to clean
Has a charcoal filter thus you can make coffee from tap water
Clean feature that alerts you on when to clean it
Very affordable
Cons
I have come across several leaking complaints about this machine, but the issue seems to be as a result of grounds and other debris falling in the actuator valve thus preventing proper locking. To avoid this, ensure that you clean it thoroughly, especially under the faucet then push the spring down severally to dislodge any grounds or debris there.
If you are searching for a small and lightweight coffee maker, this might not be the best choice. This is not really a con because neither the weight nor the size affects its performance, but you might be disappointed if you have small counter space.
Again, the machine only makes coffee, and this too is not a con if you are buying it for this purpose only.
Verdict: the DCC-3000 coffee maker is not only affordable but also a big enough to make enough coffee for you and your visitors in a single serve. It doesn't have a carafe or a thermal carafe as you will see with the below models but the actuator is easy to use when dispensing one cup at a time and has a drip tray to catch the excess coffee. Also, the coffee reservoir and the drip tray are removable thus easy to clean. If you are not taking all the coffee at once, the removable coffee reservoir will keep it hot for several hours as it is double walled. It is definitely worth the price.


Cuisinart DCC-3200 14-Cup PerfectTemp Programmable Coffee Maker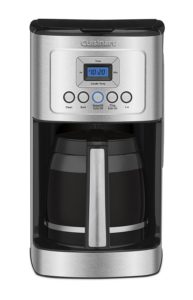 This is another mid-priced and big coffee maker by Cuisinart with a 14-cups reservoir capacity that's tailored to meet your coffee needs perfectly. The biggest improvement from the DCC-3000 is the addition of a carafe. It is glass made but dishwasher safe, and it helps keep your coffee hot for hours. It features brew strength control to enable you to go with either bold or regular flavor plus a brew pause feature to allow you pause the process to get a cup of coffee then proceed with brewing.
Again, just like the DCC-3000, the DCC-3200 has the 1-4 cup selector for when you don't need 14 cups. Also, programming the machine is easy, and the cone-shaped filter plays a huge role in getting great tasting coffee. It also has a durable build.
Pros
200°F temp and lengthier extraction time for a richer brew (auto-program to allow delayed brewing)
Durable and attractive construction with stainless steel exterior
Auto-off feature (after 2 hours and 4 hours)
Allows smaller servings, 1-4 cups
Short brew time for 14 cups (8mins)
In-machine charcoal filters
Easy view push buttons
Showerhead design for percolation
Cons
The biggest for me is where the steam comes out, top-back, and this can potentially stain cabinets. To avoid this, find a strategic place to use it from.
No thermal carafe but you can set the hotplate to either low, medium or high setting and get your cup of coffee just as you like it. However, the hotplate will automatically shut off after 2 hours (default setting) or 4 hours (your setting). Again, the carafe is glass made so it keeps the coffee hotter longer and you can always transfer it to a thermal carafe if need be.
The brewing temperature is not adjustable.
Verdict: Despite the few downsides of this coffee model, it has what various coffee lovers would consider being the most important features to brew great coffee, and as such, it's worth your money. It brews really hot coffee, and if you love it bold, this machine has the feature to deliver that. The showerhead design is a plus not forgetting the charcoal filtration system.


Cuisinart DCC-3400, programmable 12-cup thermal coffeemaker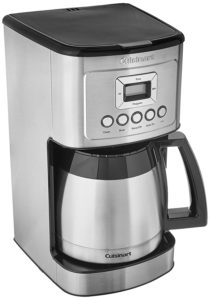 The Cuisinart DCC-3400 is an improvement from DCC-3200, and the best-added feature is the double-walled thermal carafe. It has a 12-cup capacity which is 2 cups less the previous model but its carafe performs better in maintaining the flavor and keeping your coffee hot than the glass container in the DCC-3200.
Most of the other features are similar to the DCC-3200 such as the brew strength control, a shower head style spigot, charcoal filters, simple controls, etc. However, it has no pause feature so you can't sneak-a-cup and the brewing temperature is not adjustable. Overall, this is a great coffee maker machine, and for the price, it's worth purchasing.
Pros
Has a double-walled thermal carafe that keeps your coffee hot for 4 hours
Very affordable
24-hour programmable
Richer coffee flavor with the bold setting
Durable construction
Has reusable filter
Stylish carafe handle
Cons
The double walled thermal carafe is heavy, and it requires some vertical positioning to get the last cup of coffee. This is not really a deal breaker, but it would help if everything were smooth.
The brewing temperatures are not adjustable and no pre-infusion or blooming.
Verdict: what stands out in the DCC-3400 coffee maker is it double walled carafe. However, overall, it's a great coffee maker to invest in given its price and performance. With it, you are guaranteed a hot cup of coffee for a few hours, and the flavor remains the same as the first cup. The thermal carafe is however heavy, but it's not a big concern since you will only need to lift it a few times.


Cuisinart DCC-3750 Elite 10-Cup Thermal Coffeemaker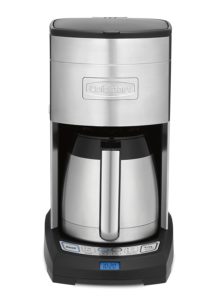 The main difference between the DCC-3750 and the DCC-3200 & DCC-3400 is that this coffee maker has an improved heating system with more advanced temperature control. Also, it has a smaller thermal carafe, 10-cups, but it performs better at keeping the coffee hot for 2 hours without losing the flavor.
The temperature settings range from regular, hot, and x-hot. As such, you have more options based on how you like your coffee. The X-hot setting allows you to go for an extreme brew which basically refers to a brewing process where you use a quarter less the normal time you use to get the same cup of coffee. It's a good setting for when the time is not on your side.
Pros
Unique internal heating system
Best coffee maker for use when at high altitude
Best for faster brewing (extreme brew setting)
Has a thermal carafe
Self-clean mode
Bold & regular brew strength setting
Comes with a reusable filter
Auto-shutoff feature (0-4hrs)
Charcoal water filter and Gold-tone filter
Cons
No exterior indicator of the water level and the only way to tell is by opening the top and peer inside. Alternatively, you can just use the carafe to fill the machine because it's easier to tell the level this way.
The machine's top lid is made of plastic, and being the conduit of the steaming hot water, this means it might warp over time.
Verdict: compared to the rest of coffee makers above, this machine tops the list with its improved heating system and settings that allow you to customize your coffee to your liking easily. There is no big difference in prices despite the improved features, and you might find the extreme brew technology helpful. Despite the few hiccups as mentioned in the cons section, this is a great buy as long as you maintain it accordingly.


Wrapping up
Cuisinart coffee makers are very affordable yet durable with great performance. Over time, they have come up with various models, and today we just compared the DCC-3000, DCC-3200, DCC-3400, and DCC-3750. Each has a unique feature that sets it apart, but the good thing is that they all perform as promised.
However, to have it easy with any coffee maker, you must be keen on maintenance, and this will largely involve cleaning. Most leaking problems starts with coffee grounds getting stuck where they shouldn't, and you should also ensure that the programmable options plus the bold & regular strength settings are right to customize your coffee to your preference.