Nespresso Citiz C111 Review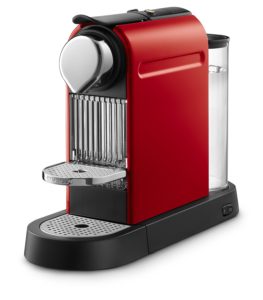 The Nespresso Citiz C111 Espresso Maker is a high-end espresso maker designed for use with Nespresso premium capsules. It uses a thermo-block heating system to achieve 25 seconds preheating time. It offers top-class extraction mechanism of the coffee ingredients for a beverage with fantastic flavor and aroma. We include this Nespresso model as one of the Best espresso machine under 300 dollars to buy for your office or home. For us this is great solution for everybody who want to enjoy in coffee easy and fast. Nespresso Citiz is sexy (have award for that (for design)), does not take a lot of time to brew and not need a lot of space, do not make a mess, no grinding coffee, no problems with storage… Counting all mentioned maybe no excessive need to write a review but we will write just for you.

Nespresso Citiz C111
Design
This model of Citiz manifests the integration of retro-modern design and high-tech inspirations. It is sleek and has a reinforced body for a long life. Owing to a small footprint, the C111 Citiz espresso maker fits well in all settings, including contemporary urban kitchens and office spaces with constricted countertops.
The red espresso maker weighs 7.5 pounds and measures approximately 10.9 by 5.1 by 14.6 inches. Its power rates at 1200 Watts. With a pivoting cup tray, the device accommodates tall recipe glasses. The machine does not come with a frother, but you can order one alongside the package if you are a fan of milk-based coffee drinks. It works with Nespresso single-serve capsules.



Water Tank
The C111 Citiz's water tank has a generous capacity of 34 ounces. It is removable, hence, refilling and washing it is quite easy.
Brewing Process on Nespresso C111 Citiz
Making espresso with the Nespresso C111 Citiz Espresso Maker is hassle-free. All you need to do is fill the reservoir with water to the desired level, install a Nespresso capsule into the cartridge, and let the machine take over. It automatically perforates the capsules and pounds the coffee with a massive 19 bar pressure to extract the aroma exhaustively.
The machine takes 25 seconds only to reach the optimum brewing temperatures. Nespresso offers particular grinding and roasting profiles for best outcomes with high precision. The powerful compression force of the pump and optimal conditions for brewing results in high-quality espresso with a thick, delicious golden layer of crema on the top. Although you have to use Nespresso capsules, the company offers you a wide variety of flavors to choose from, all of them ranging from good to excellent.
The machine dispenses coffee in either of the two default measures of Espresso or Lungo. If you wish for different capacities, you can reprogram the buttons to coffee volumes of your choice. You can rotate the cup tray to accommodate various cup sizes.
Ease of Use
The Nespresso C111 Citiz Espresso Maker has a simple On/Off switch as well as programmable Espresso and Lungo buttons for selecting the cup sizes. It has a LED indicator to show the status of the device. If the machine stays idle for up to nine minutes, it shuts down automatically.
It is fully automatic, unlike earlier espresso machines that required the skills of an experienced barista to control the brewing temperatures and tampering pressure. Your part in the brewing process is just to insert the capsules and to place a cup under the spout.
The espresso maker has an inbuilt catch basin for used pods which stores about ten pods. They drop into the removable container automatically.



Cleaning and Descaling Nespresso Citiz
This Citiz espresso machine features a smooth wipe clean exterior. Extended brewing in any espresso maker results in the collection of lime and calcium deposits from water. These impurities can adversely affect the taste of your coffee and cause untold damage to the machine.
Fortunately, the Nespresso C111 Citiz Espresso Maker offers a clear descaling procedure. To descale it, remove the capsule and close the lever. Next, remove the used capsules container and the drip tray. Then pour a solution of 17 ounces (500ml) water and Nespresso descaling agent into the tank.
To start descaling, press the Lungo and Espresso buttons simultaneously for three seconds till both LEDs light. Press the Lungo button and collect the fluid that oozes in a container under the spout. You can repeat the process with the accumulated liquid, and then run it with clean water for rinsing.
You will need to press the Lungo and Espresso buttons concurrently once again for you to exit the descaling mode. This short process should revive the unit to the state of a new one. You can descale the machine twice a year or on a need basis.
Taste and Quality of Espresso from Nespresso Citiz
As a coffee aficionado, you will enjoy Italian barista class coffee with this espresso maker. Nespresso has more than 25 years' experience in the manufacture of espresso machines focusing on the perfect cup with an enticing aroma, exquisite crema, and a full-bodied taste.
The unit is programmed to optimize the brewing process, and the hermetically sealed Nespresso capsules preserve the spectacular flavors of espresso. With milk foam, you can use the high-quality espresso produced by the Nespresso C111 Citiz Espresso Maker to prepare a range of cappuccinos and lattes.
Verdict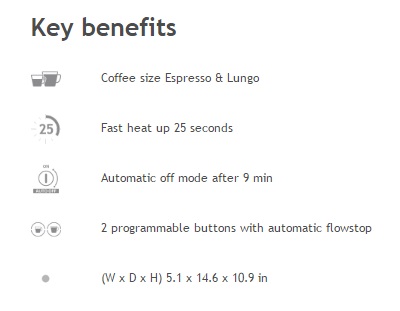 The C111 Citiz is an incredible espresso machine which suits any enthusiastic fan of espresso based beverages. With cutting edge performance, excellent espresso, easy maintenance, sleek body, and power saving functions, the Nespresso C111 Citiz Espresso Maker provides the best value for your money. With proper care, the machine can last for years without underperforming or breaking down.
More information
How to use Nespresso Citiz Machine?
Where to buy Nespresso Citiz C111?
Cheapest place to buy Nespresso Citiz iz Amazon. We are check all places and Amazon have the lowest price, even lower than in the Nespresso webshop.
Nespresso models C111 C121 C122 D120 D121 D122 comparison table with reviews
| | | | | | | |
| --- | --- | --- | --- | --- | --- | --- |
| Image | | | | | | |
| Color | Black | Cherry Red | White | Red | Black | Red |
| Model | D121-US4-BK-NE1 | C122-US-CR-NE | D122-US-WH-NE | C121-US-RE-NE1 | D120-US-BK-NE | C111-US-RE-NE1 |
| Height | 15.94 inch | 10.75 inch | 10.75 inch | 10.9 inch | 16.7 inch | 10.9 inch |
| Weight | 13.56 pound | 8.93 pound | 8.93 pound | 10 pound | 25 pounds | 7.5 pound |
| Width | 15.16 inch | 8.61 inch | 8.61 inch | 9.3 inch | 11.7 inch | 5 inch |
| Reviews | Read Reviews | Read Reviews | Read Reviews | Read Reviews | Read Reviews | Read Reviews |
You can see and compare Nespresso models in our table. Here are the most important details about the models and reviews for all models.