Nescafe Dolce Gusto vs Nespresso: Comparison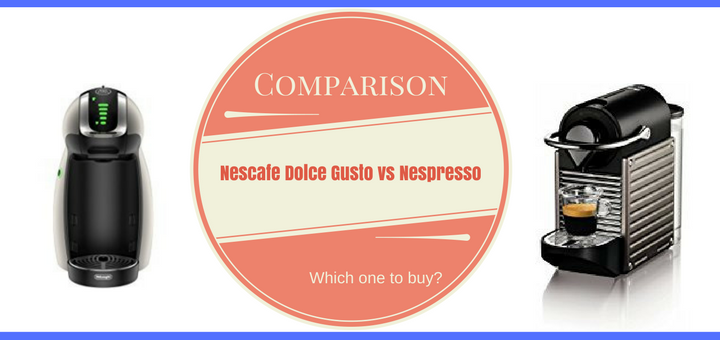 If you've been thinking about buying yourself a good single-serve coffee maker, you have probably found yourself in a situation of choosing between two great appliances.
Nescafe Dolce Gusto or Nespresso?
Each of them has its own advantages and that's what we're going to talk about in this post. First of all, we'll introduce some of the most specific characteristics of both machines, and then we'll compare the benefits that each of them brings to you.
Stay with us until the end of this post and make sure to make a smart investment.


Dolce Gusto Coffee Makers
There is a wide variety of Dolce Gusto coffee systems and all of them use only the original Nescafe Dolce Gusto capsules. They can come in different sizes and diverse designs and capacities, while on the other hand, they all work pretty much in the same way.
What's important to emphasize is that there are practically no limits when it comes to the type of coffee drink that you want to make with a Dolce Gusto machine, and it is a great option when it comes to preparing both hot and cold drinks. For example, this machine can provide you with regular coffee, cappuccino, espresso, latte, and flavored coffee, as well as tea drinks, iced drinks, and hot chocolate, in no time.
Note: If you decide to buy a Dolce Gusto machine, you should know that none of them comes with a milk frother. However, in a large number of cases, Dolce Gusto coffee drinks are prepared with the powdered milk capsules that are included. If you still insist on getting a frother, you can easily buy one that suits your needs best. Depending on the drink, Dolce Gusto boxes come with 8 to 16 capsules.
Useful information about drink preparation with Dolce Gusto Coffee Makers
If you want to prepare a drink without milk (such as espresso), you can easily do so by inserting the capsule in the specified area, adjusting the water volume and pressing the brew button.
On the other hand, if you are looking forward to preparing drinks with milk, you should pay attention to the two types of capsules provided in Dolce Gusto packs. In every pack, you'll find a coffee capsule and a milk capsule. First of all, make sure to brew the capsule filled with coffee. Only after you've done so and removed the used capsule, you should proceed to brew the capsule that's filled with milk.


Nespresso Coffee Makers
If you're thinking about buying a Nespresso coffee maker, you should know that Nespresso offers two different lines: Nespresso OriginalLine and Nespresso VertuoLine.
Nespresso OriginalLine machines are Inissia, Pixie, Prodigio, Citiz, and Lattissima, and they prepare all kinds of specialty coffee drinks, as well as espresso, cappuccino, latte, and macchiato. These machines can only work with Nespresso OriginalLine capsules and the ones produced by the brands that are compatible with Nespresso.
VertuoLine is the series of machines that can provide you with both espresso and coffee and they can only be used with the original VertuoLine capsules (even the OriginalLine capsules don't work with them). There are three different machines in this series:
Useful information about drink preparation with Nespresso Coffee Makers
To prepare your favorite drink using Nespresso machines, all you have to do is to insert a capsule and push the button. An important thing about Nespresso capsules is the fact they don't come with powdered milk, flavors, or sugar – they only provide you with ground coffee. In other words, if you want to prepare a cappuccino or similar drink that includes milk, you should use a milk frother. Some of Nespresso models have a built-in frother but you can also buy one yourself.
If you are an environmentally responsible person, you'll be happy to know that Nespresso capsules are recyclable since they are made of aluminum. Additionally, Nespresso capsules for both series of these machines offer a wide variety of blends and intensities. Nespresso packs come with 10 capsules.


The moment of truth: Which one to buy? Nespresso or Dolce Gusto
When it comes to the coffee freshness, it's important to emphasize the fact that Dolce Gusto appliances use a coffee capsule and a powdered milk capsule (that may come with sugar or some flavors), while Nespresso combines a coffee capsule with fresh milk of your choice, that should be frothed just before drinking it.
Additionally, while Dolce Gusto requires more effort in order for you to prepare a drink (especially if we talk about a specialty coffee drink), Nespresso's procedure is simplified and it automatically ejects a used capsule into a container for used capsules, which makes the process cleaner.

Finally, when we put all of the advantages and disadvantages into a single table, we can say that Nespresso provides a more automatized process and a fresher drink. Additionally, Nespresso capsules are eco-friendly, so even though you may have to pay a bit higher prize – it is absolutely worth it.