Best coffee grinders for different budgets: under $20, $50, $100, $150, $200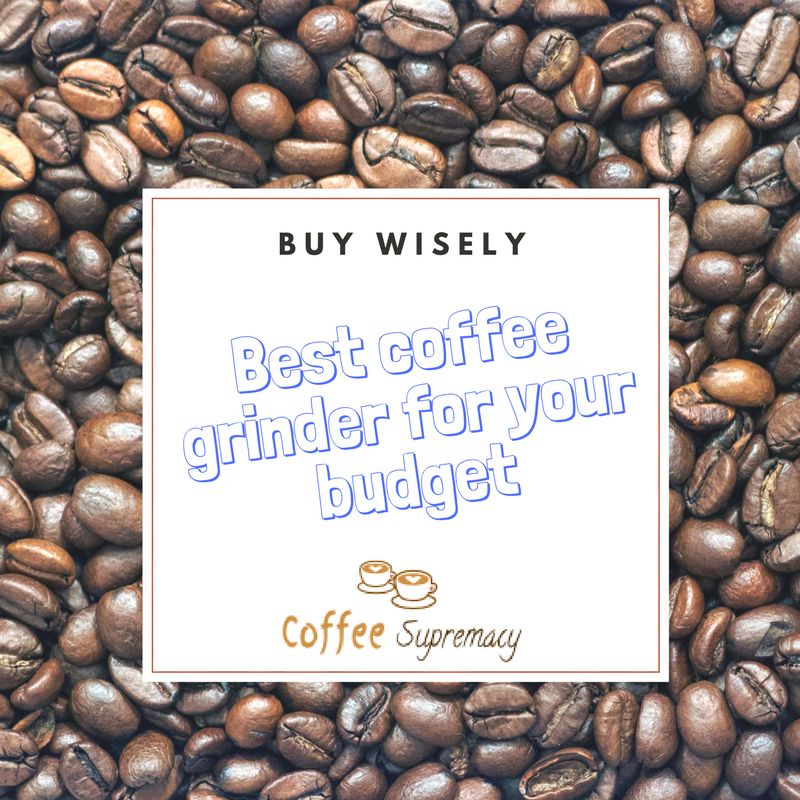 Find the best coffee grinder that meet your needs and your budget
People have a different amount of money, but everyone always wants the best for themselves, regardless of their budget. All true coffee lovers know the importance of a coffee grinder for good and tasty coffee. We very rarely buy ground coffee, because we know how much freshly ground coffee is better than pre-ground coffee. Even if you don't have a generous budget to buy the best coffee beans you can, you can still choose wisely some of the great and cheap whole bean coffees, so you can make a great cup of coffee at your home. Of course, before you're able to do it, you need to have a coffee grinder to grind the coffee beans. Coffee connoisseurs always emphasize the importance of a good coffee grinder, as badly grind can ruin the taste of your coffee.
We don't know how big your budget is and how much money you have at your disposal. Maybe your coffee needs aren't big and, for you, coffee is just a habit; on the other hand, you may be a coffee snob who just loves grinding and brewing coffee, as well as every sip of it. This is why we've made a list for all budgets with the focus on value for money. We'll show you which coffee grinders are the best options for different price ranges: from under $20 to up to $200. We cover all possible budgets and all types: Electric Blade, Burr and Manual Coffee Grinders.
Note: PRICE CAN BE CHANGED
Best coffee grinder under $20
If you have a 20-dollar budget, you can't expect too much from the coffee grinders. For under $20, you can't find an electric burr coffee grinder, but you can find some decent electric blade coffee grinders and some very good manual coffee grinders.
5 Best Electric Blade Coffee Grinders under $20
Serious coffee drinkers prefer burr over blade grinders, because burr coffee grinders give you equal size ground coffee, which is difficult to achieve with the blade grinder. The biggest advantage the blade grinders have over burr grinders is the price. You can find electric blade grinders cheaper than $20, but you can't find an electric burr grinder for the same amount of money. We will show you some solid (we can't say "great") inexpensive solutions, which are the best ones from the category of electric blade grinders cheaper than $20.

We won't waste too much of both your and our time analyzing each particular grinder. In the table above, you can see the best-rated and best-selling electric blade coffee grinders cheaper than 20 dollars. There, you can find reviews and more information about these coffee grinders.
Top 5 manual coffee grinders under $20
Like we've said before, for under $20 you can find great manual and portable coffee grinders for yourself or for someone as a great and affordable gift. These grinders are ideal for travelers, campers, hikers, as they are small in size so you can always carry them with you. There is something beautiful and nostalgic about grinding coffee beans manually. I find that hand-grinding is very calming. Although many people don't like it, I love the sound produced by my portable coffee grinder.

| | | | | | |
| --- | --- | --- | --- | --- | --- |
| Image | | | | | |
| Title | Zingy Portable Manual Coffee Grinder with Non-Slip Silicone Grip, Storage Bag, Measuring Spoon and Cleaning Brush | Premium Manual Coffee Grinder - Cutting-Edge Conical Ceramic Burr for Precision Brewing Every Time - Guaranteed Consistent Grind - Great for Travelling - Makes the Perfect Gift by Culinary Prestige | Most Consistent Hand Coffee Grinder & Coffee Press - Ceramic Burr Manual Coffee Grinder fits in Aeropress | Premium Quality Stainless Steel Manual Coffee Grinder - Portable Burr Coffee Grinder - Conical Ceramic Burr for Precision Brewing - Silicon Lid to Keep Coffee in Container - Lightweight Grinding | Norpro Coffee Grinder |
| Reviews | Read Reviews | Read Reviews | Read Reviews | Read Reviews | Read Reviews |
| Link | More Info | More Info | More Info | More Info | More Info |
The budget of $20 should be enough for you to buy an excellent hand coffee grinder. In addition to what we mentioned above, there are many other really good manual grinders in this price range. By using the best ones of these cheap coffee grinders, you reduce your electricity consumption, save the planet, you calm your nerves and do some arm exercise.
Best coffee grinder under $50
This budget allows us to buy a better grinder with better features and performances. In the category of under $50, you can find some very good electric burr coffee grinders, many different blade grinders, and many great manual coffee grinders. As earlier, we give you a table with the top 5 from each category.
Top 5 Electric Burr Coffee Grinders under $50
We hope that you realized by now that our favorite type of grinders is the electric burr coffee grinder, because it produces equal size ground coffee. What exactly can you expect for a budget under $50? Expect a good and solid grinder, which could easily meet your needs if you're not a coffee snob. Of course, we always recommend buying burr instead of blade grinders, but everyone's entitled to their opinion. Check out 5 of the best electric burr coffee grinders under $50 that are good for every brewing method, for French Press, Drip, Espresso…

We highly recommend Cuisinart DBM-8 Supreme Automatic Burr Grinder and Krups gx5000. You can also read our
Krups gx5000 review
. If you buy one of these, you get great value for money. It's difficult (impossible) to find a better coffee grinder for under $50. You should know that the grinders in the table are not conical burr grinders. Those are a lot more expensive than these in the table, which are disk burr grinders. If you want to find out more about these grinders, you can find more information and reviews in our best 5 table.
5 Best Electric Blade Coffee Grinders under $50
A larger budget means a better quality grinder. This is a list of good electric blade grinders with positive user reviews. Some of these are best-selling and have a bunch of good reviews.

| | | | | | |
| --- | --- | --- | --- | --- | --- |
| Image | | | | | |
| Title | Secura Electric Coffee Grinder & Spice Grinder with 2 Stainless-Steel Blades Removable Bowl (1-year warranty) | KRUPS GX4100 Electric Spice Herbs and Coffee Grinder with Stainless Steel Blades and Housing, 3-Ounce, Gray | Coffee Grinder Electric 200W KingTop Fresh-Grind Coffee Bean Grinder with Stainless Steel Blade for Bean Seed Nut Spice Herb Pepper [2 Years Warranty] | Westinghouse WCG21SSA Select Series Stainless Steel Electric Coffee and Spice Grinder - Amazon Exclusive | Melitta Coffee Grinder |
| Reviews | Read Reviews | Read Reviews | Read Reviews | Read Reviews | Read Reviews |
| Link | More Info | More Info | More Info | More Info | More Info |
We won't lie and say that we've tested and used all these blade grinders. We've investigated and read customer reviews and ratings, so, based on those, we've reached conclusions that may not be correct.
5 Best manual coffee grinders under $50
For under $50, you can buy a top quality manual coffee grinder. Some of the very well-known and highly reputable are on this list. However, we must single out one – our favorite: the JavaPresse Conical Burr Mill. This portable grinder costs just a little over $20, like most manual grinders from our top 5 list.

When I was little, my grandmother used to make me grind her coffee with her Turkish hand coffee grinder, and I hated that. Today, whenever I grind coffee beans manually, I always remember my dear grandma, her old grinder and all the beautiful moments spent with her.
Best coffee grinder under $100
Serious coffee lovers spend serious money on a more enjoyable coffee drinking experience. For less than $100, you can find coffee grinders that could be great for you, but that may not meet your needs if you have top expectations. You should know that your budget greatly determines the quality of the grinders you buy, as well as your coffee. As always, in this category we'll sort the coffee grinders that give back the most for the money you're willing to spend.
5 Best Electric Burr Coffee Grinders under $100
On this list, you can find the Capresso Infinity, the Gourmia GCG165, the Secura SCG-903B, the Bodum Bistro and the Cuisinart CBM-18N. We've tested and used all of them, and those are very good coffee grinders for this amount of money, much better than other electric burr grinders for the same price.

Which grinder is our favorite? The Capresso Infinity and the Bodum Bistro are great choices. By purchasing these grinders, you get a good burr grinder that's still very affordable. It may be tough for you to find a decent grinder cheaper than $100, so you certainly won't go wrong if you buy one of the ones we recommended.
Best Electric Blade Coffee Grinders under $100
There's not much point in mentioning coffee grinders in this price range. The only two grinders that we can suggest (again we prefer burr coffee grinders) is Bodum Blade Grinder and Secura coffee grinder

Top 5 manual coffee grinders under $100
Yes, we love manual and portable grinders, and yes, paying over 50 dollars for these grinders is too much for most people, but it's worth paying a little more for great things, and all the portable grinders on our list are great. You shouldn't think that they're too expensive, as they will provide a lot of enjoyment and satisfaction for any coffee lover. Of course, you could survive without these grinders, but why not enjoy this sophisticated coffee equipment.

The Porlex Mini is our No.1 manual coffee grinder and we're huge fans of it. There are 12 people who work on our website, Coffee Supremacy, and only one of us doesn't have a Porlex Mini ( but he knows that he's a loser 😉 ). You may not even need to check out other grinders, but you should just get the Porlex Mini. You can take it anywhere with you – just put it in your backpack, so you don't have to leave it even when you go traveling. It's the best hand mill we've ever used. The whole Coffee Supremacy team strongly recommends this grinder. If you buy the Porlex hand coffee grinder, you won't regret it.
Best coffee grinder under $150
Coffee beans and a coffee grinder (which is even more important than the coffee maker itself) are essential for preparing good coffee. For less than $150, you can find some very high quality coffee grinders.

The Capresso 565.05 Infinity is under 150 dollars and is now on discount. This machine is even worth paying the full price. Its amazing stainless steel will surely enable long-term use. I've seen it in many coffee shops. It's a machine that can make fine coffee grind for perfect espresso.
We don't want to write anything else about manual coffee grinders, because we think that it's too much for anybody to pay more than $100 for a hand coffee mill. For most, even paying more than $50 is too much.
Best coffee grinder under $200
Now we've come to coffee grinders under $200. Freshly ground coffee is the most important part of every great coffee cup. Fresh is better, as ground coffee loses its aroma fast. You need to have good beans and a good coffee grinder to be a real coffee snob. When you do become a coffee snob, the price won't be too important to you – all you'll want is perfect coffee. You won't even check whether the price is 200 or 500, you will do everything you can to meet your coffee needs. DO NOT GO DOWN THAT ROAD! I've been there and it costs so much… 🙂
Top coffee grinder under $200
200 dollars is a budget required to afford an excellent grinder. We think it's an upper limit to what you should pay, and everything higher than that is too pricey. Breville dominates this price range with two great machines: the Breville BCG820BSSXL – The Smart Grinder Pro and the Breville BCG600SIL – The Dose Control Pro. We've already written a
Breville bcg600sil review
and we can strongly recommend this coffee grinder to everyone. This machine could compete with much more expensive ones. We thought there couldn't be a better grinder for this amount of money, but we then tried the Breville BCG820BSSXL and we were amazed. The Breville BCG820BSSXL is definitely the best coffee grinder under $200.
Breville Smart Grinder video – How does it look and how to use