Cosori 24 WAT Stainless steel coffee mug warmer
We love real user reviews and we try to give you just tested and honest reviews. Today our friend Adam Carrick will tell you about his experience with Cosori mug warmer. We've already added this brilliant coffee mug heater in our list best coffee cup warmer.
Cosori coffee warmer review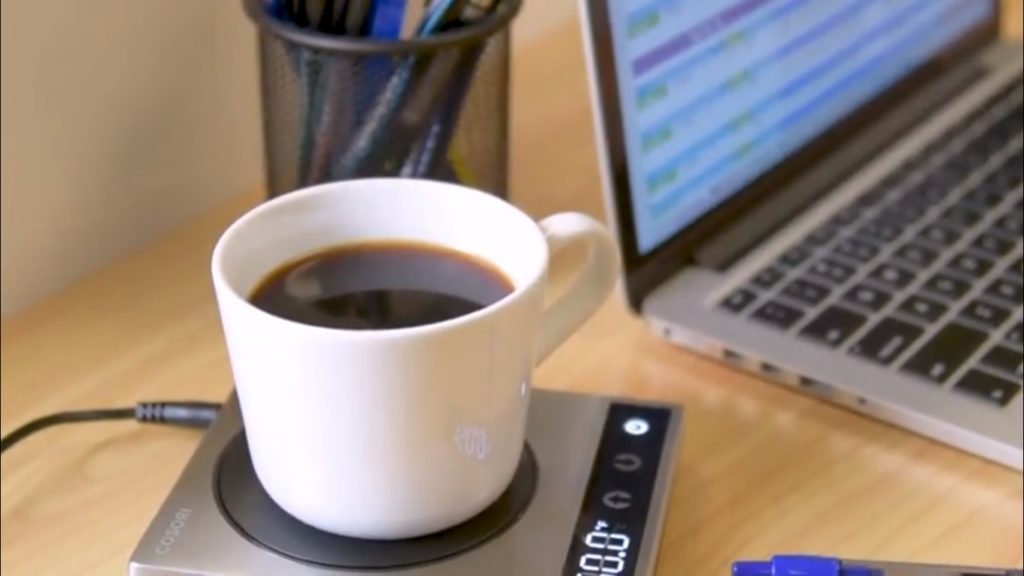 As a person who likes to drink lots of coffee, it is extremely important to me that my beverage is fresh, tasty and warm. It often happens that I prepare my drink and then wander off for a half an hour or so, only to get back and find my brew cold and almost undrinkable. Since this kind of stuff happens a lot, I have decided to finally find a solution. I needed something that it could warm up my brew wherever I am, be it in the office or my living room. After some well-spent time on the internet, I finally found Cosori 24 Wat Stainless steel coffee mug warmer.


You can always prepare a nice, warm cup of coffee at home. If you decide to drink it immediately or after a few minutes, everything will be fine. But what if you are (like me) always in a hurry? What if you always need to go somewhere or do something that will take at least 30 minutes of your precious time? You know that when your coffee gets cold it is good for nothing. You need to make another one. Well, this is where you are wrong. You need to try Cosori coffee mug warmer.
Keep up the heat of my coffee
When I bought this little miracle coffee cup warmer, I kept it near my laptop in my room. Since there are like, two or three rooms to go through (plus the stairs) before I reach my kitchen, this sounded like a practical thing to do. When I work, I am usually so focused that I forget about my surroundings (and that includes the temperature of my beverage). So at first, I usually used Cosori coffee mug warmer to keep up the heat of my coffee. It worked like a charm. Then I decided to do the same with some other drinks, such as tea or hot chocolate. It turned out that this little appliance is much handier than it looks.
Other must-know details about this cup warmer
First of all (and for someone who always goes back and forth from home to the office this is important to me), Cosori stainless steel coffee mug warmer is very small. I sometimes carry it to my office, when I know that I am going to spend the entire day there. It is also very easy to use, all you need to do is to touch the button and set the temperature (it goes from 77℉ up to 230℉).This little thing is not designed for only one type of coffee cup, it can also warm up glass, ceramic and steel mugs. If you decide to use a glass mug, just be careful. If you suddenly place a cold glass mug on a hot surface, it could shatter.
Cosori 24 WAT coffee mug warmer has "brains" too. It will remember you last time target temperature and display it when you turn it on next time. Since I can be really clumsy sometimes, I was very surprised to find out that this little appliance is very sturdy and resistant. Made from a high-end brushed stainless steel, it can really endure some "shock" (I find that out when I accidentally knocked it off my table). It can also tolerate "accidental spills" (yeah, I spilled some drinks on it too). I have heard that most of other coffee mug warmers are made of plastic and I believe that most of those wouldn't last long in my hands.
Another great thing is that this Cosori coffee mug warmer will never overheat. As soon as it detects that it will reach dangerously high temperature, it will shut down. I must admit that the guys who made this really thought about the user's safety.


In the end, this slick little appliance is a neat thing to have. I don't need to use the microwave (and run to my kitchen and back every few hours) to warm my drinks. It is also very easy to clean. As I mentioned before it is built to last too. Another thing that I learned when I bought this is that Cosori coffee cup warmer has a 2-year warranty. And if that is not enough, there is a lifetime support from Cosori. My advice is to give it a try. Although it might seem bit expensive, you won't be disappointed. You will buy a reliable little tool that will keep your brew always warm. As it should be.