The Best Single Serve Coffee Maker Reviews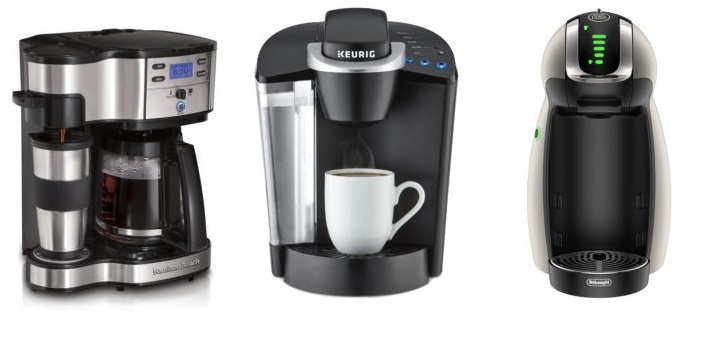 Top 14 Of The Best Single Serve Coffee Maker
Having a refreshing coffee when feeling tired will help in providing you with the power to carry out your daily tasks efficiently. The caffeine in the coffee is said to help in boosting the mental capabilities of a person. Brewing a coffee when you are working at home or sitting in your office cabin will refresh you and make you active once again. Drinking a freshly brewed coffee will instantly spruce you up. Hence, having a single serve coffee maker handy in your office or home is an ideal option. These coffee machines help in making tasty and flavor rich coffee within minutes.
The single serve coffee machines are offered in a wide variety of style, designs and sizes. There are some that come with advanced features like having control over the flavor of the coffee and others that can prepare a coffee instantly and offer easy and quick cleanup options. As there are plenty of choices and varieties of machines, it is important to choose the best single serve coffee maker depending on your budget, functions, purpose and need. With the right kind of ingredients and coffee machine, you can craft the perfect cup of fresh coffee every time.
Best single cup coffee maker for your home or office
This is the list top rated and best selling single serve coffee maker. We do reviews for you but after all you must decide which is the best coffee maker for you and your budget, home or office.
Hamilton Beach 49980A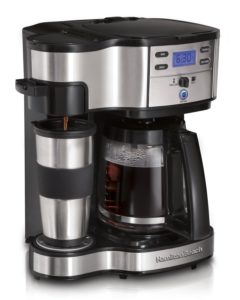 This is a multipurpose coffee brewing machine as it can brew a single cup coffee or can fill a 14-Oz travel mug. As there are two cup options on offer, there is a single serve water reservoir option on one side of the machine for quick one cup water filling and there is also a carafe side water reservoir with an additional water storage capacity along with markings on the coffee brewer. The cup rest that you find on the single serve side can be adjusted to fit cups and mugs of all sizes. The brew basket on the single serve side has a mesh filter for holding the ground coffee and the soft pod coffee packs. The Hamilton Beach 49980A single serve and full pot coffee maker is offered with a unique control panel and display that can be used to program the brewing time for about 24 hours beforehand. There are hours and minute buttons to set the brewing time. The programmable timer shuts off automatically after 24 hours.



BUNN MCU single cup multi-use home coffee brewer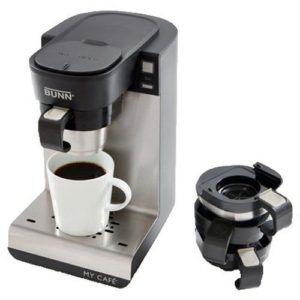 The BUNN MCU single cup multi-use home coffee brewer offers you complete coffee brewing solutions for all your moods. This multi-tasking coffee brewer can brew tea pods, tea bags, ground coffee, K-cup packs and more. The machine has the capacity to brew 4 to 14 ounce servings and you can brew your favorite coffee or tea in just a minute's time. The ground coffee drawer can hold more coffee grounds than the traditional single ground coffee brewing machines. The pulse brew feature ensures that you extract more flavors out of the ground coffee. This way you get to enjoy bolder and stronger tasting coffee every time you use the machine. The pod drawer is capable of holding any soft pod sizes. The water drawer will dispense hot water whenever needed to prepare hot coffee. The drip tray of this machine can be easily removed and this helps to accommodate travel mugs as well.



Keurig K55 black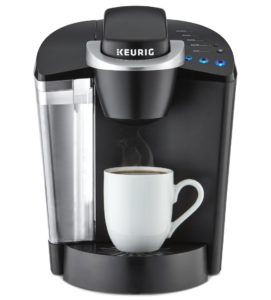 The Keurig K55 single serve K-cup pod coffee maker is an attractive looking and compact coffee maker that fits your office kitchen. It is the best single serve coffee maker, you can think of for K-cup pods. This classic single cup coffee brewer has a 48 Oz water reservoir that will allow you to make many cups of coffee without worrying about regular refills. The drip tray is removable and this allows users to use their travel mugs or larger coffee cups. There are three convenient brew sizes that you can choose: 6, 8 and 10 ounces and this can be done with the touch of a button. There are indicator lights in the button panel that will guide you through the brewing process. The unit also features an auto shut-off option to save power. It brews K-cup pods at the right pressure and temperature level so that you get to drink a perfect coffee every time. This is the ideal machine to use to brew all leading coffee brands of America.



BLACK+DECKER DCM18S with travel mug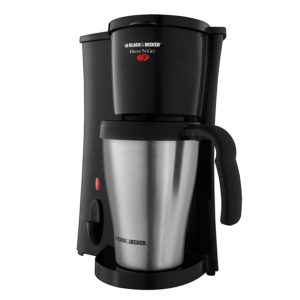 If you are a person who loves to drink coffee in a travel mug, then DCM18S Brew 'n Go personal coffeemaker from Black+Decker is a very good choice. This personal coffee maker comes with a stainless steel 15-ounce travel mug that sits well with the machine. The cup has a tapered look so that it fits most of the car cup holders. The unit comes with a permanent filter that will eliminate the need for using paper filters. There is no need to buy paper filters anymore. The filter, filter basket and the mug along with its lid are all dishwasher-safe. You can brew coffee using pods or coffee grounds. The machine has an easy on/off switch for quick and hassle free option. The unit will auto shut off when not in use to save power. This is a perfect system for coffee lovers who are always on the go.



Aicok single serve k-cup coffee maker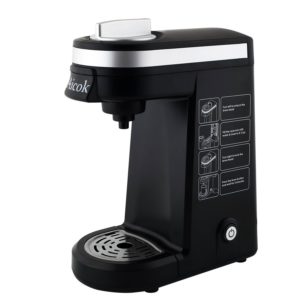 The Aicok compact K-cup coffee maker is a very handy and the best single serve coffee maker machine to have in small offices as it can brew fresh and flavor rich coffee within 3 minutes. The unit is very compact in size and hence can be carried when you travel. The machine comes with a K-cup design and therefore it will suit most of the K-cups. It has a removable drip tray that allows room for your favorite coffee or travel mug. The coffee machine has an auto shut off feature to save power. The machine will be shut off once it senses that there is no water in the water reservoir. The unit will boil water very quickly. The unit is safe to touch as it comes with a cool touch exterior feature that is not prone to skin burning hazard. The Aicok single serve coffee maker comes with a two year warranty and is perfectly suited for K-cup coffee capsules.



Cuisinart DCC-3000 12-cup programmable coffeemaker

If you are looking to have the best brewed and perfect tasting coffee every time, then Cuisinart DCC-3000 Coffee-on-Demand 12-cup programmable coffeemaker is an ideal one. It will dispense one cup of coffee at a given time through an easy to use actuator. The unit has a double wall coffee tank that holds up to 12 cups of coffee. A coffee gauge lets you know how many more cups of coffee are left in the reservoir. The machine is fully programmable and can be programmed for 24 hours. It also features an auto-shut option that saves power. The water and the coffee tanks can be easily removed for cleaning. The drip tray is removable and has a grate to catch the excess coffee from spilling over. There is a charcoal water filter to remove all bad odors and chlorine from the water. There is a clean setting feature of the machine that will indicate when it's time to clean the machine.



Nespresso Inissia Espresso Maker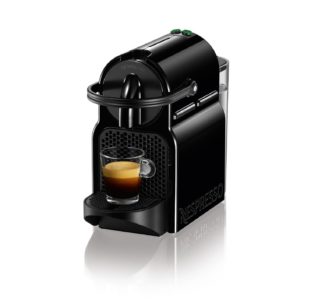 If you are a fan of Espresso coffee, then the Nespresso Inissia Espresso Maker is the best single serve coffee maker machine for you. This machine can be used with Nespresso coffee capsules only. The unit is lightweight and compact and hence can perfectly match the interiors of any office or home kitchen. The water gets boiled to the ideal temperature for making coffee within 25 seconds with the touch of a button. The water tank is provided in the machine can hold 23.8 Oz of water and hence you can make 9 cups of coffee with one refill. There are two programmable buttons offered on the machine to make Espresso and Lungo. The extraction system in the Nespresso Inissia offers you barista-style coffee very tine as it delivers about 19 bar pressure. Each machine is sold with a set of 16 capsules that contains different aromas and coffee flavors. It is offered in a wide range of colors.



BELLA BLA14485 One Scoop Coffee Maker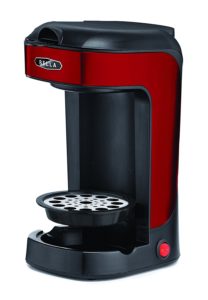 The One Scoop Single Serve coffee maker from BELLA is an ideal coffee machine to have in smaller office kitchens, apartments, homes and dorm rooms. The machine has a very compact and streamlined design that will easily add value to your kitchen and will need less space. The unit has a permanent filter and therefore you will not need to look out for paper filters again. The used coffee grounds are neatly collected in the removable brew basket in the permanent filter and can be easily disposed of. There is an on/off switch at the side of the coffee machine for carrying out the smooth operation. An illuminated switch can be used to turn off the brewing process. The drip tray is adjustable and this will allow you to use various sized mugs. All the removable parts of the coffee machine are dishwasher safe.  There are no clocks or programs in this machine and hence is very simple and easy to operate.



Mega Cocina Coffee maker, Red

This is a single serve brewing system that can be used to make tasty coffee, hot chocolate and tea in a matter of few minutes. The unit consists of a multidirectional brewing system that will help in brewing the perfect and flavorful coffee every single time. The water reservoir used in the machine can store 12 ounces for one refill. This tank is BPA free.  The drip tray of this machine can be removed so that you can brew the coffee into your favorite mug or the travel mug. The machine is very compact and portable and comes in attractive body colors to suit your kitchen décor. The machine weighs just 2.4 pounds and hence can be taken along while traveling. The Mega Cocina K-cup coffee maker can brew the best gourmet coffee every single time. There will be no messy work or wastage when you use this single cup coffee brewing machine. It makes use of K-cup pods to brew a wide variety of coffee.



Kitchen Selectives CM-688 1-cup drip coffee maker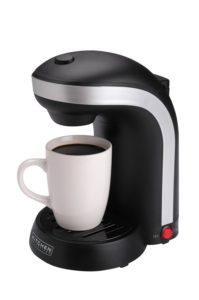 The Kitchen Selectives CM-688 1-cup single serve drip coffee maker is a very good coffee brewer you can use in your office or homes to brew fresh and tasty coffee every single time. The unit weighs 2.6 pounds and hence can be easily carried with you when you are traveling. The drip tray of this single serve coffee maker can be removed and this allows you to use your favorite cups or travel mug. There is a 12 Oz mug offered with this machine. The power light of the machine is illuminated to aid easy operation. The machine is very simple to use and clean. The lid has a push button that has to be fully actuated so that the lid opens properly. For safety reasons, the lid has to be fixed in its position tightly. It will easily fit any kitchen cabinet and is a space saver.



Mr. Coffee BVMC-KG5-001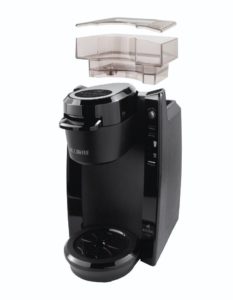 The BVMC-KG5-001 single serve coffee maker from Mr. Coffee is one of the best single serve coffee maker machines you can use in your office or home to brew rich and tasty coffee. The main advantage of this coffee maker is the 24-ounce water tank that ensures that you get multiple brews without needing to refill the tank regularly. The drip tray of this machine is removable and hence it can easily hold the larger cup sizes as well as the travel mug to the size of 7 inches. This machine is powered by the Keurig brewed technology and you get quality and tasty Keurig K-cup packs coffee every time. The machine offers two coffee brewing options: 6 ounces and 10 ounces. The machine is offered with five ready to use K-cups to make instant tasty coffee as soon as you open the pack.



Gourmia GC-150 2-in-1 k-cup, ground coffee single serve coffee maker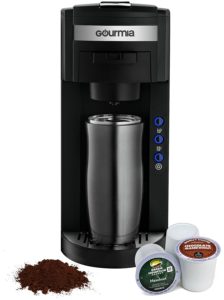 This coffee machine ensures that you get quality K-cup coffee every time you brew coffee. You can be assured of enjoying fresh and rich coffee every time you blend coffee in this machine. The slim design of the machine makes it a favorite for small home or office environment. It comes with a massive 40 ounce water reservoir along with a water level indicator so that you will know how much of water is left in the reservoir. The drip tray of the machine can be adjusted so that standard sized cups to travel mugs can be easily sited. The unit features a safety plus technology that helps in preventing the machine from overheating. The machine is very easy to use and is also very convenient. There is a reusable and water filter offered for coffee grounds and a filter that can be used for the K-cups.



Chefman RJ14-SKG Versa Brew k-cup & coffee ground brewer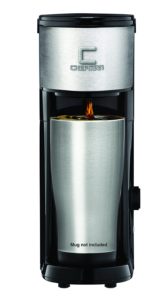 The Chefman RJ14-SKG Versa brew K-cup & coffee ground brewer is a machine that will accept both the coffee grounds and the K-cups. The unit comes with a permanent coffee filter to take care of the coffee grounds. The machine is a super quick one that makes coffee within minutes. Just press the button and your cup of coffee is ready. This unit is ideal for home or office use and can make a 14 ounce coffee at one time. The machine is not complicated to use and its narrow profile makes it an easy fit in tight spaces as well. The stainless steel body gives it a sophisticated and refined look and is a machine that will stand out in the crowd of coffee brewers. The unit just weighs 2.2 pounds and hence can also be carried when you are traveling.



De'Longhi NESCAFÉ Dolce Gusto Genio coffee maker/Espresso Machine – 21 Oz capacity

This De'Longhi Dolce Gusto Genio single serve coffee maker is an attractive looking and compact machine that is in the form of a capsule. It is exclusively made for the Dolce Gusto capsules from Nescafe. This Genio machine employs a professional pressure grade system to take out the flavor and aroma, full from the coffee to deliver the best tasting and aroma filed coffee every single time. The size and the darkness and intensity of the coffee can be controlled fully by you, thanks to the wheel interface and the 7-level LED display. Matching the LED bars with the bars of the Nescafe Dolce Gusto coffee will help in brewing the perfect tasting coffee. The unit features a thermo-block heating system that ensures that the brewing time is very short and you can make your coffee within a minute.  This machine can be used to prepare cappuccinos, lattes, iced coffee and hot coffees.



Conclusion about best single serve coffee maker in 2017
As you can see from the list above that there are plenty of good quality single cup coffee makers to offer. Each one of the machine has a different feature and design to it. The idea is to choose the best single serve coffee maker depending on its purpose, the capacity of the water tank, the filters used in the machine, the look and feel of the machine, the ease of operation, the time taken to brew a cup of coffee and of course the cost of the machine. By keeping all these tips in mind, you will be able to find the most suited coffee machine for you office or home.