4-cup coffee makers: Top six in 2018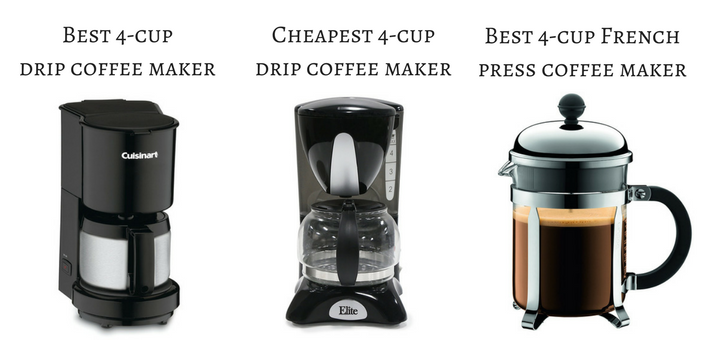 If you are a true coffee lover family, but only you and your partner drink coffee, and of course, two cups are not enough, and more than 5 is already too much, than these 4-cup coffee makers are perfect for your household. Taking only a few minutes to prepare small carafe of tasteful and fresh coffee is everything that anyone could wish for. Before deciding to buy one of these coffee makers, you should know that it is important to choose one with good hot-plate or quality thermal carafe. Other important features are to have gold-tone filter and if its possible water filter. We already wrote about 12-cup coffee makers with an option for 1-4 cup which is an expensive alternative for this. But if you often have guests then you should find one for your home from this list:
Anyway, back to the best 4-cup coffee makers that we have carefully chosen for you:

Cuisinart DCC-450BK 4-Cup Coffeemaker with Stainless-Steel Carafe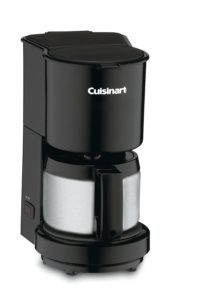 Cuisinart DCC-450BK Coffeemaker is a great 4-cup coffee maker for almost every household. Simple in use and with an affordable price, its a perfect coffee maker that everyone can get. Its made of plastic in black color but its carafe is made of stainless steel. It comes only with brew basket and you will have to buy a permanent filter or disposable cone shaped paper filters number 2. This little coffee maker prepares coffee at 180 degrees , and it will keep it warm up to one hour. It has one option beside light indicator for ON mode and it is auto shut-off after 30 minutes. This option is always a good feature especially if you always leave your house in a hurry. The fact that its dimensions are only 10 x 8 x 5.2 inches assure you that it can fit in very small kitchens with no problem. Every previous model had a brew pause, so it is natural that this one also has the same option. It is good to steal one cup before the brew is over, and enjoy coffee before everyone else. Its water reservoir is 20 oz capacity, 5 oz per cup. Hot plate has black, nonstick coating to save you from unnecessary cleaning. A lot for a reasonable price would be the best description for this the best 4-cup coffee maker on our list.

Elite Cuisine EHC-2022 Maxi-Matic 4 Cup Coffee Maker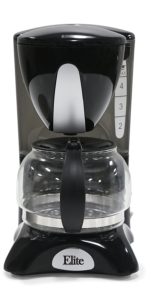 This coffee machine has to be on our list of the best 4-cup coffee maker. One of the most important reasons why this machine is on the list of the best is extremely low price and quite solid quality. Pretty similar to previous models, Elite Cuisine EHC-2022 Maxi-Matic 4-cup coffee maker has a few simple options. ON mode light indicator and brew pause would be the only option when it comes to this coffee maker model. Its water reservoir is transparent so you can easily control the amount of water in it. Its lid is removable so the refiling won't be any problem. This model comes with reusable built-in filter, but since it is not gold-tone one, many recommend to use the disposable paper filters. The filter that comes with coffee maker is removable and it is simple to keep it clean. The carafe has a wide entry so the cleaning is easy. This model can be bought in two different colors, black and silver, it is made of plastic and only carafe is glass made. Since the carafe is not thermal one, the coffee maker is equipped with a hot plate which keeps coffee warm up to one hour after preparation. It is small kitchen appliance and can fit in any kitchen counter with only 7.8 x 10.4 x 6 inches dimensions. In just few minutes you will enjoy in tasteful coffee with this great and extremely cheap little 4-cup coffee maker.

Mr. Coffee 4-Cup Programmable Coffee Maker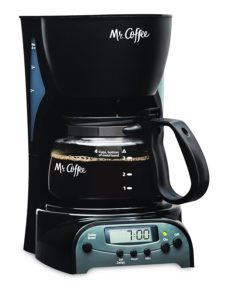 This Mr. Coffee 4-cup Programmable Coffee Maker is a very simple coffee maker. Although it is described as a programmable coffee maker, it actually has only brew delay option. With this option you can set a precise time when you want your coffee to be ready 24 hours in advance. Beside this option you have some advantages when it comes to this coffee maker, you have grab-a-cup pause where you can have your cup of coffee before the brew is over, cleaning is simple since the brew basket is removable, it is equipped with a non-stick hotplate, and glass carafe. This coffee maker is made to prepare only 4-cups of coffee so it is not a big coffee machine, its dimensions are only 9.6 x 7.1 x 10.7 inches. If you are a forgettable person, don't worry, the machine has its auto shut off after one hour and a light indicator for on/off mode. It is not equipped with permanent coffee filter of any type, so you will have to use basket shaped paper filters. Also, its water reservoir has double window and its capacity is 20 oz, 5 oz per cup. For its reasonable price, this 4-cup model of Mr. Coffees' coffee maker has a lot to offer.
Mr. Coffee 4-Cup Switch Coffee Maker with Gold Tone Filter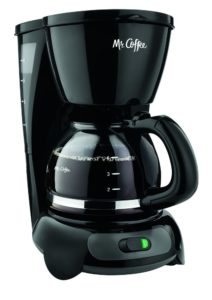 We had decide to write about this model of Mr. Coffee's coffee maker as well, because it is actually a non-programmable model and its price is higher than the price of previous one. You might think, why is that? Simple, this model comes with permanent gold-tone filter. It doesn't have any option except brew pause, and the light indicator for on/off mode. You shouldn't forget to turn this one off, since it doesn't have auto shut-down. This model is similar to a previous one in its appearance. Its dimensions are 10.7 x 9.2 x 7.5 inches, and it is made in black color plastic with glass carafe. It comes with permanent filter but you can always use a basket shaped paper filter as well, especially if you don't like sludge in your coffee. Water reservoir has a double window and capacity of 20 oz. Its options are pretty modest, but you will get a perfect 4 cups of coffee every time you turn this coffee maker on, and that is the only thing that matters early in the morning.

Braun KF12WH Aromaster 4-Cup Coffee Maker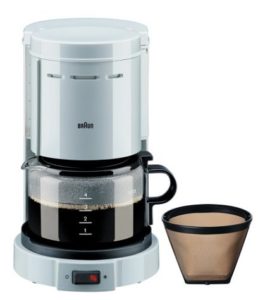 This is the most expensive 4-cup  coffee machine on this list. Made by Braun, its basic characteristics are that it is made in high-quality plastic in white color, its carafe is made of durable glass, its not thermal and you can wash it in a dishwasher. What is important for everyone who uses a coffee maker that makes a lot of coffee at once is that it is simple for cleaning, and this one is. Its not programmable at all, and the only button on it is on/off button. You can easily control the amount of water in reservoir since it has a little red ball in it which shows you how much water is left. The built-in hotplate keeps the coffee warm, although it is not as hot as it is just after brewing ( 175 degrees ). You can grab a cup before the brew cycle is over, and the drip-stop function will save you from unnecessary mess. This model comes with a permanent gold-screen filter, but you can also use disposable paper filters as well. Although it is a coffee maker with carafe, it is very small and its dimensions are 5,5 x 9 x 9,5 inches. This little devil is pretty fast, you can get your favorite morning drink in just 5-7 minutes. While exploring about this little machine, we found out that it is one of the most praised coffee makers, you won't be sorry if you choose it.
Bodum Chambord 4 Cup French Press Coffee Maker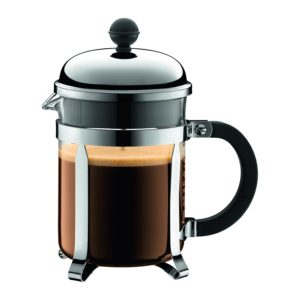 We will finish this list with something completely different. It is Bodum Chambord 4-cup French Pres Coffee Maker. With a similar price, this one guaranties high-quality materials and tasteful coffee every time. This coffee maker is completely manual but you don't need any strength to prepare coffee with it, and it takes only 4 minutes to get a 4 cups of fantastic coffee. It is made in combination of borosilicate glass, BPA free plastic and stainless steel. All these materials assure you that there will never be any strange taste in your coffee that comes from coffee maker. This model has a 17 oz borosilicate glass beaker which is also a dishwasher safe. The main characteristics of this type of glass are that its light, thin and yet very strong, and it is also heat resistant. All plastic parts are BPA free and they don't come in direct contact with hot water. The frame and other parts that are in direct contact with water and coffee are made of stainless steel. All you need to get a fantastic cup of coffee are your favorite ground coffee, hot water and 4 minutes.

If you like our 4-cup than check and top 5-cup coffee maker list:
We hope that our list of the best 4-cup coffee makers has helped you decide which machine is ideal for you. For French press we would like to recommend last model, the Bodum Chambord 4-cup Coffee Maker. Its different, its easy to use, and it will give you exactly what you need. If you've only got a small budget to spent than you go for cheapest on list Elite Cuisine. If you looking for good quality drip coffee maker choose Cuisinart.
If you are not familiar with how to make coffee with Bodum French press coffee maker, watch simple instructions