What goes good with coffee?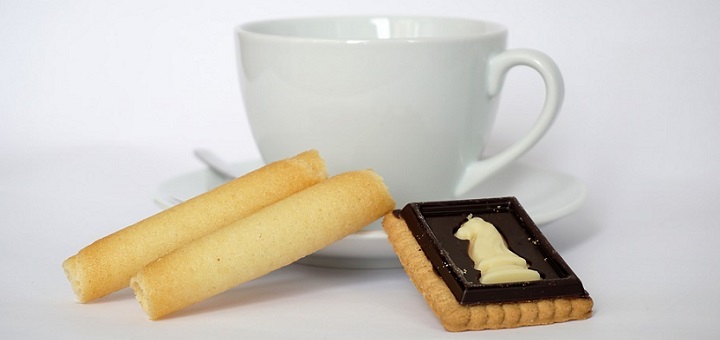 What goes well with coffee?
One coffee connoisseurs take on its perfect match
Peanut butter and jelly. Cheese and crackers. Burgers and fries. These are just a few things that seem to go hand-in-hand when it comes to food couplings. But what food is the perfect match with coffee? As someone who has had their fair share of food and coffee mixtures, I can say that it's imperative that the food not take away from the coffee flavor, but add to it.
I certainly have a decent understanding of which foods enrich the heavenly taste of coffee and which ones make you want to spit it back out. I am believer that most sweetened goods (mainly carbs) such as muffins, donuts and any form of cake is the perfect match to a good cup of coffee. I will explain my reasoning for this, as well as why I don't prefer to sip coffee while eating something like pizza.
Not such a good fit with coffee
I will admit that when I go out to dinner I do enjoy a cup of warm coffee with a glass of water alongside my meal. Most restaurants I go to make a decent cup of coffee, whose robust flavor can be a nice addition to many of the meals I enjoy to eat. The water assists in quenching my thirst when I am eating my main course.
Foods such as pizza, hot wings and Chinese takeout are not good companions to a cup of coffee. I am not sure if it's the salt or the spicy seasoning on the hot wings or Chinese food, but drinking coffee only leaves me with a bad taste in my mouth. It actually takes away from the meal, as opposed to adding any value to it. I usually just stick to drinking water or sweet tea if I know that we are having an extra salty or fried meal to eat.
A good partner in crime (food that goes well with coffee)
I shouldn't use the word 'crime' to describe a food that goes well with coffee, but for some people, eating donuts, muffins or other sweets may be a crime to their diet.
I find that coffee is the best drink to have alongside a sweet confection. My favorite donut flavor (and one I highly recommend trying) is the sourdough flavor. Its light coating of sugar is just the right amount should you choose to dip it in your coffee. Glazed and sugar covered donuts are also wonderful flavors to dip in your favorite morning brew too.
Some donuts that carry a lot of icing or are cream filled, may make more of a mess and could make your coffee a little more sugary than you may want it to be. It's all personal preference, but I find the less that's on the donut, the better fit it is.
Muffins also go very well with coffee. I consider them a cousin of the donut, so of course their sweet makeup would make them an ideal partner to a morning cup of coffee. While I don't prefer to dip a muffin in my cup of joe, by just adding a little butter to the muffin seems to be all takes to make it a delectable partner to our beloved beverage. It must be the balance of sweet and salty that enhances the flavor of the muffin and coffee mix.
One final food to make note of is cake or cupcakes as a good sidekick to coffee. Similar to how I feel about muffins, I do not dunk (or dip) a piece of cake into my coffee. I just like to have a nice robust cup while I eat a piece of cake. At times, I am overwhelmed by the level of icing that is used, so having a cup of bold flavored coffee really helps in subduing the sugar of the cake.
Mix of java with a tasting dessert
As you can see, I definitely have an opinion on what item is the perfect fit to a cup of coffee. I love food as much as I adore my favorite drink, so naturally, my loyalty lies in the edible department. I highly recommend trying a sweet treat with your cup of coffee sometime. In my eyes, there is nothing better than the mix of java with a heavenly tasting dessert.
I may have to go pick up some donuts now….happy coffee drinking!
WRITTEN BY Summer Anderson
Click on the page 2 or here to check What alcohol goes good with coffee?
Another opinion on what goes well with coffee written in infographic