Nespresso Inissia vs Vertuoline Evoluo Comparison – Which nespresso machine is better for you?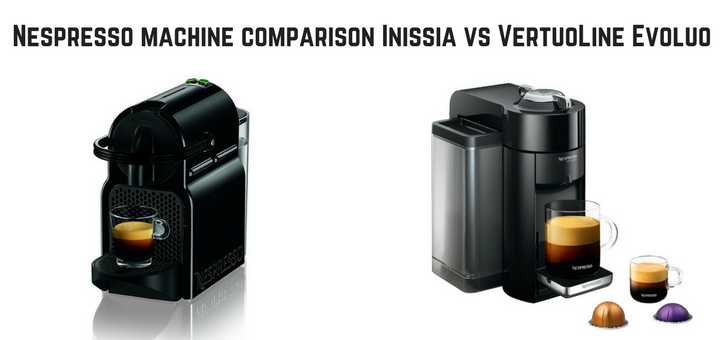 It is never easy to buy a good, reliable coffee machine that will make your favorite brew just like you want it. There are many brands on the market, but not every one of these can be called "reliable". In order to help you decide what is best for you, we will compare two quite famous coffeemakers. Today, you will learn more about Nespresso Inissia and Nespresso Vertuoline Evoluo. These are some of the most reliable nespresso machines that you can find on the market. By comparing Inissia vs Vertuoline Evoluo, we will try to help you decide which appliance suits you best. But first, you must "get to know" both of these little better.
Nespresso Inissia Espresso Machine by De'Longhi


The first thing you are going to notice about Nespresso Inissia is its elegant design. Painted in black, this appliance could fit anywhere. It will easily bring some "class" to your office, kitchen or living room. You can also find this coffeemaker in silver color. Nespresso Inissia Espresso Machine by De'Longhi is a lightweight appliance that contains ergonomic handle. This small machine can be easily placed anywhere and it easily fits any interior design.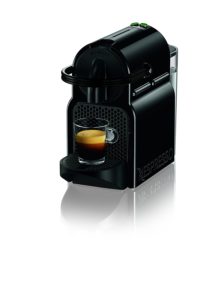 When it comes to brewing coffee, you will be surprised to hear that it doesn't take much time for the machine to heat up. All you need to do is to click on a button and wait for some 25 seconds. Then the water temperature gets ideal for brewing and you can make up to 9 coffees. Another good thing is that you don't need to refill the 23.8 oz tank after doing all this. It is no matter if you like your cup to be large or small. Nespresso Inissia contains two buttons (Espresso and Lungo) that can help you adjust the cup size. This appliance also has energy saving mode. After 9 minutes, this coffeemaker automatically shuts down in order to preserve power. Also, the folding drip tray can accommodate various cup sizes. The folders tray will drop down automatically at the moment when you remove your mug in order to catch drips. There is also a powerful pump that will extract coffee better and preserve all the good taste of your beverage. The next one you might like the most. Nespresso Inissia by De'Longhi has the Nespresso capsule system that will enable you to degust various aromas. When you buy this machine, you will also get 16 capsules containing different aromas.
Nespresso VertuoLine Evoluo Coffee and Espresso Maker


Another carefully designed appliance (and also painted black), this one is somewhat larger than the machine that we talked about before. But its size should worry you because Nespresso VertuoLine Evoluo is supposed to do a lot more than just be a regular coffeemaker.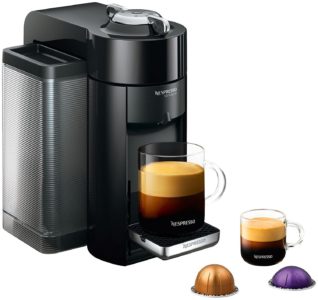 First of all, this appliance is well known for its innovative extraction technology ("Centrifusion"). When you insert a capsule and close the lever, the capsule starts spinning almost in a "faster than light" style (7000 rotations per minute). During this process, water is blended with ground coffee. When the machine finishes its work, you will get the fantastic cream that goes with any coffee or espresso. When it comes to brewing coffee or authentic espresso, Nespresso VertuoLine Evoluo works fast. Like, really fast. Only two things that it needs are you clicking on the button and 15 seconds of your time. Its extraction system is so advanced that it recognizes each Grand Cru blend. It also contains two capsule sizes, one is for coffee (8oz) and another is for espresso (1.35oz). Like Nespresso Inissia Nespresso VertupLine Evoluo comes with additional capsules (each having a different flavor) that you can use.
Comparison Nespresso Inissia vs Nespresso Vertuoline
| | | |
| --- | --- | --- |
| Image | | |
| Title | Nespresso GCC1-US-BK-NE VertuoLine Evoluo Coffee and Espresso Maker, Black | Nespresso Inissia Espresso Machine by De'Longhi, Black |
| Brand | Nespresso | DeLonghi |
| Color | Black | Black |
| Height | 12.2 inch | 9 inch |
| Weight | 11 pound | 5.29 pound |
| Width | 9 inch | 4.7 inch |
| Length | 12.3 inch | 12.6 inch |
| Link | More Info | More Info |
Well, after taking a look at both of these you would probably say "I guess Nespresso VertuoLine machine is a lot better". You wouldn't be wrong on that account. However, there are some things that you should also consider. First of all, Nespresso VertuoLine costs more to purchase than Nespresso Inissia. You can research online and find various suppliers, but the bottom line is, you will always pay more $$ for Nespresso VertuoLine.
If you drink only espresso, you won't be making any mistake by purchasing Nespresso Inissia by De'Longhi. True, it doesn't work as fast as the other one, but honestly speaking, it will provide you with a good beverage anyways. On the other hand, if you need to make your drinks fast (both espresso and regular coffee), pick Nespresso VertuoLIne Evoluo. And as we mentioned before, it has other important advantages (for those dedicated "coffee lovers"). VertuoLIne Evoluo produces great cream and it has much better extraction technology than Nespresso Inissia. This means that it also produces beverages with superior taste. So, if you want a machine that will satisfy your needs, pick Nespresso Inissia by De'Longhi. Plus, you will save some cash. If you want a truly superior appliance that will make extremely good beverages, pay some more and buy Nespresso VertuoLine Evoluo.