Best 12-cup coffee maker under 50 dollars
12-cup coffee makers are very popular for big families and small offices. This type of coffee maker is an easy way to prepare coffee for everyone in a short time. With the benefit of a large amount of coffee you get by pressing one button, there are some things you have to reconsider before buying this type of coffee maker. Since you are preparing 12-cups of coffee at once, your coffee maker has to have a good hot plate or quality thermal carafe. The coffee needs to taste good, and it has to have a simple way of cleaning. Taking all this in a matter, we choose five best 12-cup coffee makers under 50 dollars.

Click here if you want to check all the best 12 cup coffee maker in 2018 regardless of their price
Hamilton Beach 12-Cup Coffee Maker – Good, Affordable, Easy to use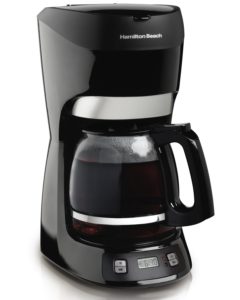 This is a great coffee maker with a really low price. For the money you give, you will get a 12-cup coffee maker which is programmable, you will be able to set a precise time when you want your coffee to be prepared 24 hours in advance. It uses number 4 cone paper filters, which are considered as better ones. Cleaning is easy since you can wash most of its parts in the dishwasher. If you are impatient in waiting for coffee, you can get a cup while it is still brewing with the grab-a-cup pause. It needs only 10 minutes to brew 12 cups, and it will automatically shut off after 2 hours. Its non-stick hot plate keeps coffee warm up to 4 hours and if you spill your coffee on it you can just clean it with wipes. Convenient, isn't it?

BLACK+DECKER 12-Cup Thermal Coffeemaker CM2035B – Best buy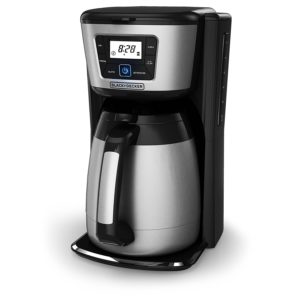 BLACK+DECKER 12-Cup Thermal Coffeemaker will draw your attention with its sophisticated look. Made of stainless steel and plastic in black color, it has a modern look. Its double-walled carafe made of stainless steel, and with a possibility to be vacuum sealed keeps coffee warm for several hours. You can program it to prepare your morning drink at an exact time 24 hours in advance and it will automatically shut off after 2 hours. It doesn't have a hot plate but it doesn't need it since it has a thermal carafe. There are more things that are programmable, you can choose between strong and bold coffee, and you can choose option 1-4 cups for a small batch. Even-stream shower head makes it possible to moisture coffee evenly in the brew basket. This is a perfect coffee maker for home use and offices. It has a permanent filter but you can use paper filters as well. Many good options for less than 50 bucks.

Mr. Coffee very fast 12-Cup Programmable Coffee Maker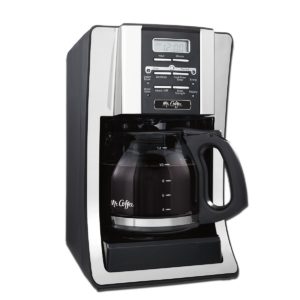 Mr. Coffee has a good reputation when it comes to creating great coffee makers. This one is not an exception. At a very reasonable price, you get a programmable 12-cup coffee maker. Preparing a larger amount of coffee for an impatient coffee drinker can be a torture. You can grab your cup before the brewing is over, you can set your time for coffee 24 hours in advance if you are someone who likes to steal one more minute in sleeping, and if you are picky when it comes to the coffee strength you can choose between strong and regular. What is great about this particular coffee maker is that it has a built-in water filtration, so you can get your coffee with its full taste without any chlorine or impurity. This Mr.Coffee's model of coffee maker doesn't have a hot plate but it comes with a thermal glass carafe, and with the option to buy a thermal stainless steel carafe. If you are in a hurry in the morning you don't have to worry, the coffee maker will shut off automatically after 2 hours.

Proctor Silex best cheap 12-Cup Coffee Maker (43602) – currently under $ 20
Among this programmable 12-cup coffee makers we decide to write about some good coffee makers which are simple in its use. This model of Proctor Silex 12-cup coffee maker has no options. You choose the amount of coffee to prepare a drink that is suitable to your taste. While filling the 48 oz water reservoir you can choose how much coffee you want to make. On and off mode depends completely on you. It can't automatically shut off, so you will have to pay attention not to forget this important thing when living the house. We can say that only option that you have is a pause and serve, so you can get your cup before the brewing is over. This coffee maker uses basket shaped paper filters and it is really is to clean since it is dishwasher safe. If you take into consideration its options you can realize that this coffee maker is one of the cheaper once. But for the money you pay, you will get a fantastic cup of coffee.

KRUPS EC311 SAVOY Programmable Digital Coffee Machine with Glass Carafe, 12-Cups – Currently on big discount (March 2018)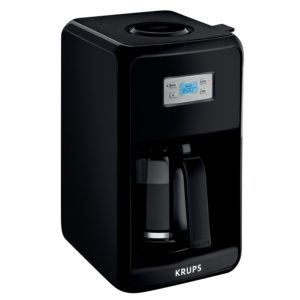 Krups EC311 Savoy is great 12-cup coffee maker with simple programmable options. It gives you a possibility to set time for your coffee to be prepared 24 hours in advance and it will shut off automatically after two hours. Pause and serve option makes it possible to drink coffee before the brew cycle is over. This coffee maker is equipped with a gold-tone filter which is removable and you can easily clean it. If you don't like a sludge in your coffee you can always use a cone-shaped paper filter as well. It uses Krups' DuoFilter which reduces chlorine and scaling and gives you a fantastic coffee with great taste. The coffee is prepared at 180 degrees and it remains warm up to 2 hours. Again, at a reasonable price, you get a fantastic way to prepare your favorite morning drink.

For every household with real coffee lovers or offices with hardworking workers, it is important to treat them with strong and tasty coffee in the morning. All these coffee machines can serve good coffee, can do it in 10 minutes, and can prepare a large amount of coffee at once. Depending on what is that you need from a coffee maker, you can choose from those which are completely programmable to those which are simple in use. Anyway, the result must be a cup of hot and tasty coffee.