Best Dark Roast Coffee that you should buy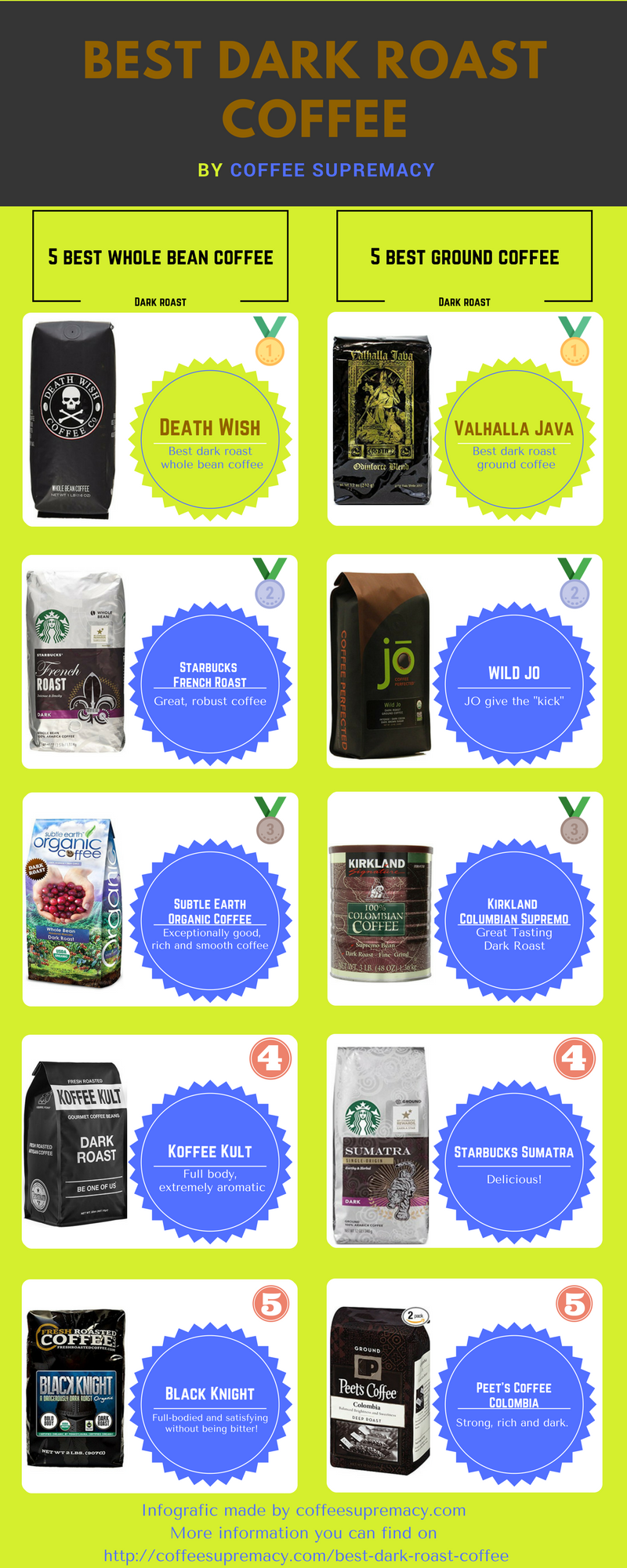 Best Dark roast coffees that you must try
Not all of us drink the same coffee. Everyone's morning routine is different and therefore the ritual with which we start the day. Mostly it is a cup of coffee, but what kind of coffee? Do you know what kind of coffee you drink and is there any better coffee that would suit you more? From light roast to dark roast, in which category would you rank yourself? We will not discuss about the tastes, because they are different, we will present you the top ten dark roast coffee (5 best dark roast whole bean coffee and 5 best dark roast ground coffee) in our opinion.

Types of coffee roasts
When we talk about the types of coffee that we get by roasting, first we have to explain what happens during that action. Every coffee bean is green in its raw state, it is soft and often has that grassy flavor. However, after this interesting action called roasting, all the beauty and colorfulness of flavors come out of it. On high roasting temperatures, the humidity is released, and at the end of this process, coffee beans become lighter than at the beginning. The color becomes darker, and how much oil will be released from the bean itself depends on the length of roasting. If the roast process lasts longer their surface becomes greasy and shiny. The length of roasting time also determines the color, so we can clearly distinguish four basic categories.
Light roast – these beans have a light brown color and they are not oiled on the surface because they do not roast long enough to release their natural oils. For those who enjoy the smoother coffee, this will be the right choice: Light City, Half City, Cinnamon
Medium roast – has a medium brown color and also has no oiled surface because it is not roasted long enough. It is one of the favorite categories in America. This category includes: City, American, Breakfast.
Medium dark roast – these beans have a dark brown color, their surface is oily and have a rich and strong taste. In this category we have Full City+ (437 ° F).
Dark roast – these beans have very black color and they are very shiny on the surface due to the length of roasting. They have a strong and rich taste, also their acidity is reduced to a minimum due to the length of roasting. This category includes: Vienne (446 ° F), French (464 ° F) and Italian (473 ° F). This coffee is perfect for espresso.
Besides the fact that the length of roasting affects the taste of coffee, an important role in its taste has its geographical area of cultivation, as well as other cultures with which it is cultivated.
Consumers of dark roast coffee often say that besides the strength this coffee must have, its taste has to be mixed with the flavors of chocolate or caramel. If you decide to try some of the dark roast coffee, do not be too harsh if it is bitter, maybe it just does not suit your taste. Those who like their first sip of coffee to "kick them in the ass" , they will appreciate that bitter but still good, strong and rich taste that is given by dark roast coffee.
5 Best Dark Roast Whole Bean Coffee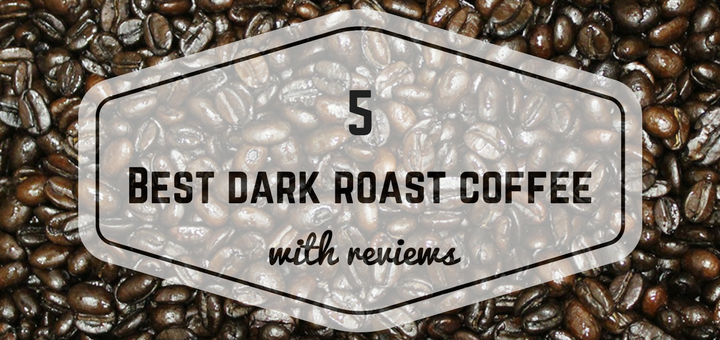 Now we will list the five brands that make best dark roast whole bean coffee. You can also check our list best cheap coffee beans. The main characteristic of this top 5 dark roast coffee beans is that all 5 is exceptional and another characteristic is that companies sell it as whole beans coffee, so you can store it for a long time and preserve its freshness. The advice of how to store whole bean coffee goes from those who believe it is best to do it in the refrigerator, to the others who believe that it is best to store it in cold and dry places.
For great coffee you will need great coffee grinder and great coffee maker. Bad coffee machines can spoil the taste of coffee made of these best coffee beans that we chose for you. To learn more about the best coffee machines read our site regularly. Every time you grind beans and immediately afterward make your favorite morning drink, you will enjoy the rich taste of the best quality dark roast whole beans.
Death Wish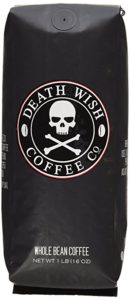 Death Wish is the strongest dark roast coffee beans on the market and on our list. It contains two times more caffeine than other dark roast coffee. If you need stronger caffeine kick in the morning or help to stay awake whole night Death Wish coffee is great for you.
It belongs to the first class organically grown coffee designed to make your morning routine a perfect start of a successful day. If you want your waking process to last only a few minutes, then this coffee is right for you. You will surely enjoy in it, its taste is refined, strong and creamy without the presence of unpleasant bitterness. This coffee is organically grown and it is bought at USDA Organic and Fair Trade coffee farms. With the great attention and skills of the top masters, it is roasted until you get the best dark coffee.
Death Wish Organic coffee beside an exceptional strength also offers a fantastic flavor. Death Wish company know that they made great coffee and they offer refund if you are not if you are not satisfied with their coffee. If you need more energy, quick way to wake yourself up, stay awake longer or love strong coffee with great taste and aroma Death Wish is the best dark roasted organic coffee for you.
Death Wish coffee reviews by Coffee Supremacy team
Death Wish help me to stay awake and tastes better that all other coffee.
Tasting very smooth with no bitter taste. Legal "Speed".
Hello, my name is Mike and I'm an caffeine addict. I love Death Wish today more than yesterday but less than tomorrow.

Starbucks French Roast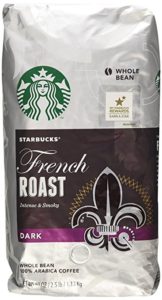 Very important thing is that this is 100% Arabica coffee. Many dark roast coffees are made by combining the best beans of Robusta and Arabica, and here we are talking about "purebred" Arabica coffee. Starbucks French Roast coffee is one of the favorites of strong coffee lovers. Rich and strong taste, again without unnecessary bitterness. Once you start drinking it, other coffee won't give you the same satisfaction. Those who try it once will remain faithful to it forever. The fact that it is whole bean coffee allows you to have fresh coffee rich in flavor. It is easy to preserve its freshness with everyday storage in the refrigerator.
Starbucks French Roast coffee reviews by Coffee Supremacy team
Starbucks French Roast is a great dark roast whole bean coffee. Maybe the best.
One of my favorite whole bean coffees
Dark and rich but not my favorite

Cafe Don Pablo Subtle Earth Organic Coffee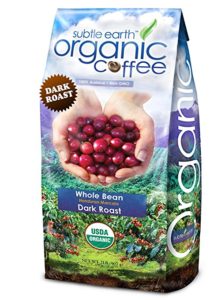 Produced in Honduras according to USDA Organic Certified by CCOF. This coffee is also 100% Arabica, made from the best organically grown coffee beans. It is characterized by an extremely strong and refined chocolate taste with notes of honey, caramel, and cocoa. Acidity is reduced to a minimum so you will enjoy the full taste of this dark coffee. This coffee is grown in a special way, and even in the fight against pests, they only use natural methods and not pesticides. The secret of its freshness lies in the fact that it is roasted after the order and it is done only in small batches. Very cheap dark roast coffee beans, especially for organic beans. We sincerely recommend Organic Cafe Don Pablo to anyone who looking for the right value for money.
Cafe Don Pablo Subtle Earth coffee reviews by Coffee Supremacy team
Subtle Earth is awesome organic dark roast whole bean coffee. Exceptional aftertaste.
So cheap and so great. Rich, smooth and dark. Don Pablo brand have so good prices for all their great coffees.
For that price Cafe Don Pablo coffee have to good taste. Highly recommend.

Koffee Kult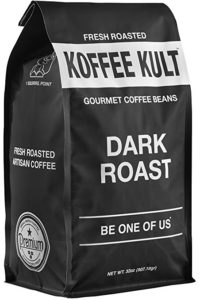 Koffee Kult is brand that must be on every coffee top list. Their coffee beans is must buy. One man said "this is not gourmet coffee… it is KULT". This coffee is also made from 100% Arabica coffee beans. They do not combine it with Robusta for the stronger taste, so there is no bitterness in it. It is characterized by a strong and rich taste with the cinnamon aftertaste. Producer of this coffee is a small family store that keeps the secret of the art how to bring a coffee bean to its perfection. Since it is roasted by order, this coffee is always fresh and rich in taste. It is not important how you prepare this coffee, you will enjoy its exceptional taste anyway. The best coffee beans are found on different farms and they are delivered to your home. Once you try this coffee, you will become her admirer. Note: Dark Roas Koffee Kult is not USDA organic but who cares about it when the taste is perfect.
Koffee Kult coffee reviews by Coffee Supremacy team
Great value and quality dark roast coffee beans.
It gives me enough energy to get through a very long working days.
Wonderful full bodied flavor and gentle aftertaste. Perfect dark roast coffee beans for espresso

Black Knight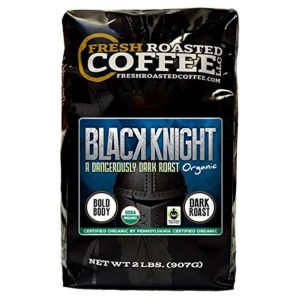 This coffee is also grown according to the USDA Organic Certificate. Like those previously mentioned, Black Knight organic whole bean coffee is dark-roasted just before delivery, so its taste and scent are always fresh and rich after grinding. This is a 100% Arabica coffee grown without additives and chemicals. This is an extremely strong dark roast coffee with a pleasant chocolate aftertaste. Despite its strength, this coffee does not have any bitterness and those with a more sensitive stomach can enjoy in it as well as others. One great advantage of this coffee is that it has never happened that the Black Knight coffee ordered on Amazon is old. Black Knight is perfect coffee bean for French press.
Black Knight coffee reviews by Coffee Supremacy team
If looking for a really good dark roast, organic and robust coffee than Black Knight coffee is perfect for you.
Beautifully dark. Not bitter at all. Perfect for French press.
If you like dark roasted coffee you must try Black Knight coffee.

5 Best Dark Roast Ground Coffee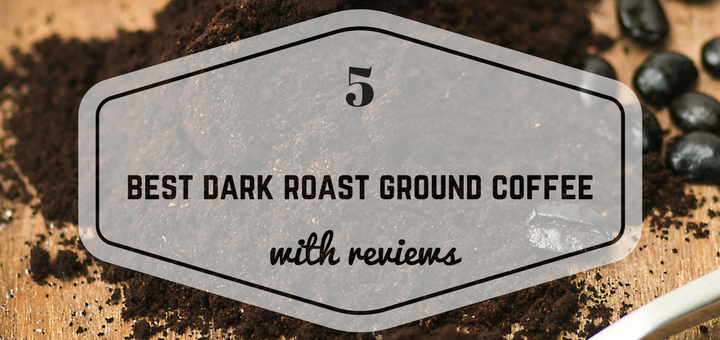 The coffee which is grounded in advance has to fulfill certain conditions in order to be extremely good. Whole bean coffee always keeps freshness longer, as beans are milled as needed. If you do not have a coffee grinder, you have to buy pre-ground coffee. Regardless of the quality of this coffee, you must always consider the speed in which you consume coffee. Once opened, ground coffee can keep its freshness for at least two weeks if it is stored in a right way. Therefore, take into account the amount of coffee you buy in order not to repent when it loses its taste. Its quality is as high as for whole bean coffee. Check 5 brilliant dark roast coffee from our list.
Valhalla Java Coffee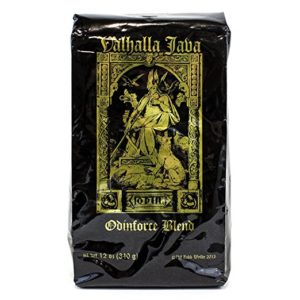 Note: We have not yet made the top list of the best medium-dark roast coffee. Valhalla Java Coffee is medium-dark roast coffee but we must add coffee to our best list because it is really the best ground coffee ever.
These coffee beans are Fair Trade and USDA Certified Organic, and their taste is smooth and incredibly powerful. Valhalla coffee is roasted with a special skill immediately before grinding and delivery to your home. This coffee was made by Death Wish Coffee for legendary guitar player Zakk Wylde. Valhalla coffee is the best a medium-dark roast coffee that you can buy. As you enjoy it, you will feel the mild taste of chocolate and hazelnut. It's three times stronger than ordinary coffee and it is incredibly tasty even if you drink it completely cold. This is a fantastic coffee for those who drink dark roast and who need a real "kick in the ass" to wake up. If you try it once it will surely become one of your favorites. The Death Wish company offers you a refund if you are not happy with this cafe. The chances that you are not satisfied with Valhalla coffee practically does not exist.
Valhalla Java coffee reviews by Coffee Supremacy team
Definitely recommend. Great caffeine buzz for every coffee lover. So far I've been testing over 200 different ground coffee but none of them is nearly good as it is Valhalla.
Pricey, but AMAZING. The best dark roast ground coffee in the World. Unique flavor.
Every real caffeine addict must love Valhalla Java coffee. Extra caffeinated and very strong. Not for everyone. Perfect for me.

WILD JO – Dark French Roast Coffee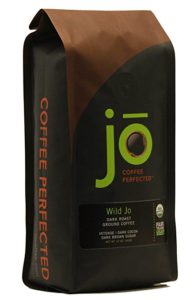 This is a 100% Arabica coffee, the best coffee beans selected with care, roasted and grounded with great love and skills of the masters. Although it is a practice for milled espresso coffee to mix with Robusta, this is not the case. Its taste is strong and profine, flavored with notes of cocoa and sugar. This is organically grown coffee, so there are no additives as well as artificial flavors and odors. Jo Coffee is a member of the American Coffee Association, Fair Trade USA and Slow Food USA, The Roaster's Guild and Rainforest Alliance. This coffee was once on market under the name "Wicked". When you try it, you will surely love it. Ground to the level of the finest powder, this coffee offers a powerful taste without bitterness left by other dark roast coffee.
Wild Jo coffee reviews by Coffee Supremacy team
Incredible dark french roast coffee. Not overly caffeinated.
Meh. Not for me.
Perfect Dark Coffee. Delightfully tasty

Kirkland Colombian Supremo
This is coffee 100% grown in Colombia, purchased from several small breeders, who breed with great care these Colombian coffee beans of our morning joy. Depending on the habit of drinking coffee, some might call Kirkland Colombian Supremo coffee so strong that even sugar cannot make it smoother. Of course, if you are the true lover of a strong coffee, you will accept her strong taste with real enjoyment. If you want to get started in the right way, then this is right coffee for you.
Kirkland Colombian Supremo coffee reviews by Coffee Supremacy team
Inexpensive, yet better than most coffee on market.
Cheap but strong. Inexpensive but great. Not bitter at all. Kirkland Columbian Supremo is excellent coffee – tastes same every time.
Kirkland Colombian Coffee is good not exceptional but still very good.

Starbucks Sumatra Dark Roast Ground Coffee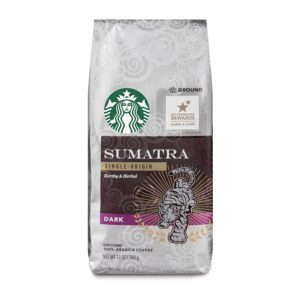 This is one of those stronger dark roast coffee. Its taste, except for strength, has herbal notes and earthy flavors. Its taste is extremely strong and robust, but it's exactly the same taste that you enjoy after you leave Starbucks. Now you can enjoy in this dark roast coffee without living your home. Because of the herbal note, it is often said that this coffee is spicy. Regardless of the fact that there are no notes of chocolate taste that would soften it, this coffee does not contain any acidity. Through years of experience in coffee production, Starbucks created the best for us, a product that they are most proud of. Using their techniques in temperature height and length of roasting, they made a real bomb in morning routines.
Starbucks Sumatra coffee reviews by Coffee Supremacy team
The best dark roast blends from Starbucks.
Great bold coffee.My favorite dark roast ground coffee.
Sumatra is good choice. Complex flavor make this coffee very unique.

Peet's Coffee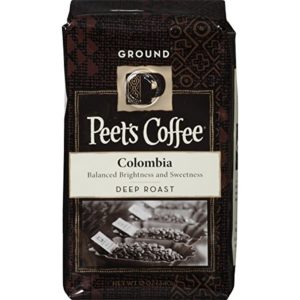 This is one of the finest Colombian coffee. It is grown from a special type of beans at the high southern redoubt of San Agustin Huila. It has a strong taste with fruit flavors. Although it belongs to dark roasted coffee, its aftertaste will be described as a good balance of brightness and sweetness. Although it is an espresso coffee it is made from the finest Arabica coffee beans. This is the perfect coffee for pour over. When preparing this coffee you should pay attention to the water that you use. It is best to use bottled or filtered water to get the best of the best. This coffee could be a role model for those who are even more popular than it. Experience, scientific methods, systematics in the selection and preparation of beans are the reason why it is on the list of the top five ground coffee.
Peet's Columbia coffee reviews by Coffee Supremacy team
Fantastic coffee!
Must try. Smells better than any other coffee. House smell magnificent when it's brewing.
Strong but not strong enough.

Do you agree with our choices? Or do you have some other favorite coffee brands that you drink every day? Share in comments your opinion.
I hope that I woke up your imagination and led you to try some of the perfect tasting dark roast coffee. Who knows, maybe is some coffee from our top list is the right choice for you.