Aicok Coffee Grinder Reviews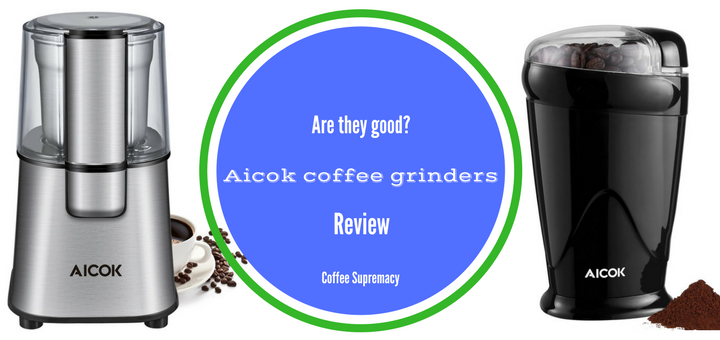 Coming from the Aicok series of coffee grinders, the appliances we are presenting in this article are the ones that you should not miss if you are looking for a reliable grinder. They can both brag with a high-quality blade and the possibility of grinding multiple beans or seeds at the same time in a large capacity grinder. Additionally, they also come with great safety solutions.
Earlier we wrote Aicok coffee maker reviews and now is time to read on and find out more about all the advantages of Aicok electric grinders in our review.

| | | |
| --- | --- | --- |
| Image | | |
| Title | Aicok Electric Coffee Grinder Fast and Fine Fineness Coffee Blade Grinder with Removal Coffee Powder Bowl, Spice Grinder for Coffee Beans, Spices, Nut and Grains, 60g, 200W, Stainless Steel | Aicok Electric Coffee Grinder Fast and Fine Fineness Coffee Blade Grinder Mini Spice Grinder for Coffee Beans, Spices, Nuts and Grains, 60g, 150W, Black |
| Color | Silver | Black |
| Height | 9.69 inch | 7.3 inch |
| Width | 5.51 inch | 4.6 inch |
| Length | 5.75 inch | 4.6 inch |
| Link | More Info | More Info |
Technical specifications
When it comes to Aicok coffee grinders that we're presenting, you can choose between the one with with a removing bowl and the regular one.
On the one hand, the regular one comes with elegant black design and compact dimensions (4.6 x 4.6 x 7.3 inches), whereas it works under the wattage of 150 W and weighs about 1.5 pounds.


On the other hand, the grinder that provides you with a removable stainless steel bowl for ground coffee has a bit larger dimensions (5.8 x 5.5 x 9.7 inches), and a modern grey appearance. In addition to this, it weighs a pound more, and works under the wattage of 200 W.


Both Aicok coffee grinders have the capacity of 3 ounces and provide from 25000 to 28000 revolutions per minute, approximately, which means that they can provide you with perfectly ground coffee in less than half a minute. Both appliances have the same start and stop mechanism – all you have to do is press the indicated button, which makes the process as simple as possible.
What are the best features of Aicok coffee grinders?
Amazing Blade Constructions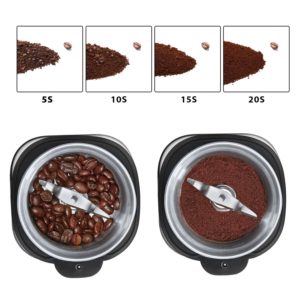 No matter which one of these grinders you choose, the powerful fine double blade made of stainless steel, without BPA, is one of the biggest advantages of both of them. Thanks to their well-planned design and solid construction, you can choose how coarse you want your ground coffee beans – you can practically turn it into near dust size.
If you are preparing espresso, you should grind the coffee beans for about 20 seconds, whereas it takes around 10 seconds to get the ideal beans for Mocha coffee. To get the ground coffee suitable for french press coffee you will not have to wait longer than 8 seconds.
The multifunctionality of the appliances
Another reason why Aicok coffee grinders should be among your top options when it comes to getting a new electric coffee grinder is that you don't only get a coffee grinder, but the appliance that will let you grind all kinds of beans and seeds, including spices, nuts, pumpkin seeds, linseed, seeds herbs, and everything else.
The capacity and design of the grinders
With Aicok grinders, you can ground the amount of coffee that's enough for up to 12 cups, at once since it has the capacity of grinding up to 60 grams of beans at a time. Apart from its large capacity, it is also a well-designed grinder, sleek, compact, and therefore, easy to store and use on not so spacious surfaces.
How to maintain Aicok coffee grinder sin optimal condition?
When it comes to their maintenance, there are not a lot of things to think about. All you have to do is to make sure that you've removed the power plug from the wall socket before you start to clean them, and carefully clean the transparent lid. If you want to keep the appliances in good condition, don't clean the lid in the dishwasher. Instead, you can clean them by hand. In addition to this, you should also clean the grinding chamber and the removable bowl. To clean them properly, you may want to use a small brush and a wet cloth. Finally, make sure not to clean the motorized base of the appliances in a liquid or dishwasher because you may damage it.


Extra tips for the efficient use of Aicok coffee grinders
Depending on your preferences, with Aicok electric grinders, you can get both finely ground coffee as well as coarse beans. If you want to get finely ground coffee, you should hold the button down for several seconds before releasing it. If you prefer it coarse, you should press and release the button several times (at least 3 or 4).
Another important thing you should remember if you want your Aicok appliances to last and keep providing the same quality ground coffee is that you should not use them continuously for more than half a minute.
Finally, if you are still having some doubts whether you should buy one of these appliances, you should know that both come with a two-year warranty that lets you use your Aicok grinders without thinking about potential issues. In case of any malfuncion regarding any part of these grinders, you can easily contact the producer.
At the end of a couple of words about Aicok brand
You certainly have on mind a few questions such as Where is Aicok made? Is Aicok a good brand? Are their coffee maker and coffee grinder worth buying?
Aicok are made in China. Meh, probably say most of you, but wait. Do you know who also produce their coffee makers in China. KEURIG. Yes and we all love our Keurig coffee makers. And most of the other coffee machines is made in China. If something is made in China that absolutely does not mean bad quality. Answer 2, Aicok is very good brand. We have great experiences with their cheap coffee equipment. Answer 3, if you looking cheap and good than yes, Aicok product mostly have great value for money. Of course, much depends on your preference, needs and budget. If you want to save money and get great value for money than Aicok coffee grinder, coffee maker, milk frother, espresso maker.. are excellent for you. Before buying, read customer reviews on Amazon and our honest reviews here on Coffee Supremacy.