Review: Breville BCG600SIL – Dose Control Pro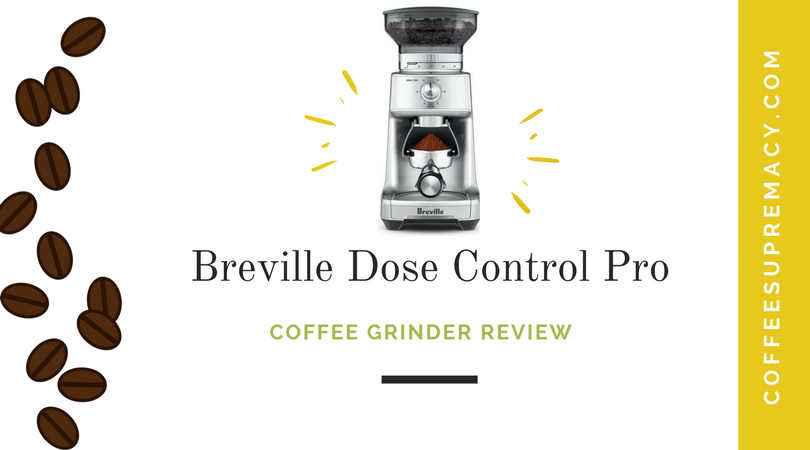 Looking for the best burr coffee grinder under $200? Definitely one of the best is Breville Dose Control Pro because offer much more than competitors. Read our full review.
Breville BCG600SIL
Breville BCG600SIL Dose Control Pro is amazing grinder that makes it possible for you to grind up to 12 oz of coffee beans. Comes in silver color, with stainless steel conical burrs that minimize grinding heat and keep the essential oils of coffee beans. Its dimensions are 8 x 6 x 13.5 inches and it is especially recommended for all of you who want to step up from standard and smaller grinders that may get you a problem of wasted and stale grounds that just stuck in the machine – which is especially annoying when you're preparing rare and expensive coffee. This bur grinder is also on our list of the best coffee grinder for a budget under $ 200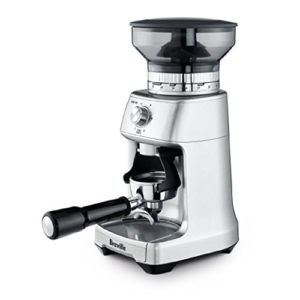 For potential buyers worried about the aesthetic aspect of the grinder, Breville BCG600SIL is a nice option as well – for the price you pay, you won't only get an easily cleanable grinder with a wide range of settings, but also an exceptionally solid machine that looks great.
Breville BCG600SIL technical characteristics
With its precise electronic timer and 60 different settings, Breville BCG600SIL offers a wide variety of grind possibilities – from the coarsest French coffee grind to the finest Espresso grind. It also provides consistent doses and it has a locking system which makes it easy for you to remove, storage, and transfer bean hopper.
The portafilter holder is worth the price of the grinder which also provides a direct down chute that significantly reduces the grinding dust, enabling you to prepare your favorite coffee without any mess. In addition to being a super quiet grinder, Breville is also easily manipulated – the top burr can be removed for cleaning and adjustments practically without any effort.



Usage options
Even though it is labeled "Dose", Breville can also be used as a standard grinder which means that you can use it with no hesitation to grind the beans into a cup or other regular coffee container. If you want to make it even easier, you can simply slide out the tray and put the coffee basket under the grinder. If you don't require fancy grinding options, this grinder will perfectly meet your demands since it has the same burr mechanism as in costlier Breville Smart Grinder Pro.
Is this grinder good for French Press coffee or just for espresso?
I mostly use this BCG600SIL grinder for espresso, but I also tried several times others grind settings. The most important thing is that consistency of the grind produced by this bur grinder is perfect. Whether it's very fine grind for espresso or coarse grind for French press consistency is key for great coffee. If you use a coffee grinder that does not produce consistently grinds, it can really ruin the taste of your coffee.
Comparison Breville Dose Control vs Capresso Infinity
| | | |
| --- | --- | --- |
| Image | | |
| Title | Breville BCG600SIL The Dose Control Pro Coffee Bean Grinder, Silver | Capresso 560.01 Infinity Burr Grinder, Black |
| Title | Breville BCG600SIL The Dose Control Pro Coffee Bean Grinder, Silver | Capresso 560.01 Infinity Burr Grinder, Black |
| Height | 13.5 inch | 7.8 inch |
| Weight | 4.5 pound | 10 pounds |
| Width | 6 inch | 9.6 inch |
| Length | 8 inch | 14.6 inch |
| Link | More Info | More Info |
When compared to some other coffee grinders in similar range, such as Capresso Infinity, Breville is considered as a higher-quality grinder and it is stated a perfect entry level grinder, especially because of its awesome adjustment range. Capresso Infinity has the advantage over Breville BCG600SIL because of the much lower cost and in my opinion, this is the only advantage. I'm not saying that Capresso 560.04 Infinity is a bad coffee grinder, on the contrary. That is one of the best electric burr coffee grinder for under $100, but in a battle between Breville Dose Control and Capresso Infinity
my vote go to Breville.
Positive sides of Breville dose control pro coffee grinder
Within its abilities and for the price you pay, Breville is a great grinding machine and comes with a good timer setting. Even though the body of the grinder is light, its motor shaft keeps the burrs steady. If you set the top burr to the finest setting, you can stay above 10 on the overall grinder setting and you'll have no excessive clogging issues. Another great thing about Breville dose control pro coffee grinder is the easy cleaning. All you need is a paper clip, brush, and a vacuum.
For those of you who use more than one sort of beans a day, with the vacuum usage, you won't have to throw away an excessive amount of grinds when switching beans. The awesomeness of this grinder also lies in its hopper that can be taken off so that the unground beans can be taken back into a container, without having to disassemble the whole machine to get the beans out. Additionally, as it's already said, the removable bottom tray makes dealing with the mess much easier. All you have to do is to remove the tray, dump the mess, and put it back to its position, which is definitely a more practical option when compared to the grinders that only have the built-in trays and containers.



Negative sides of Breville dose control pro coffee grinder
While the good sides of this grinder definitely make it a good buy, there's also a couple of things you should have in mind when it comes to its limits. One of the disadvantages of Breville BCG600SIL is the fact it is impossible to grind at a level finer than 10 because if you do so, it is likely that the machine will be clogged before it is done with 18 grams. In some cases, the machine was said to have the difficulties handling darker types of beans, as well as the oily ones, at any espresso range, but it's not a regular case. In addition to this, you should tamp really harder if you want to use Breville with an espresso machine that doesn't come with a pressured portafilter.



Finally, when opposing positive and negative sides of Breville bcg600sil dose control coffee grinder, in the conditions of reasonable usage, it is pretty certain its advantages beat the potential flaws, especially having in mind the features this grinding machine offers in the given price range. We hope that we help you with our honest review to get to know better this coffee grinder.