How to get Cheap K Cups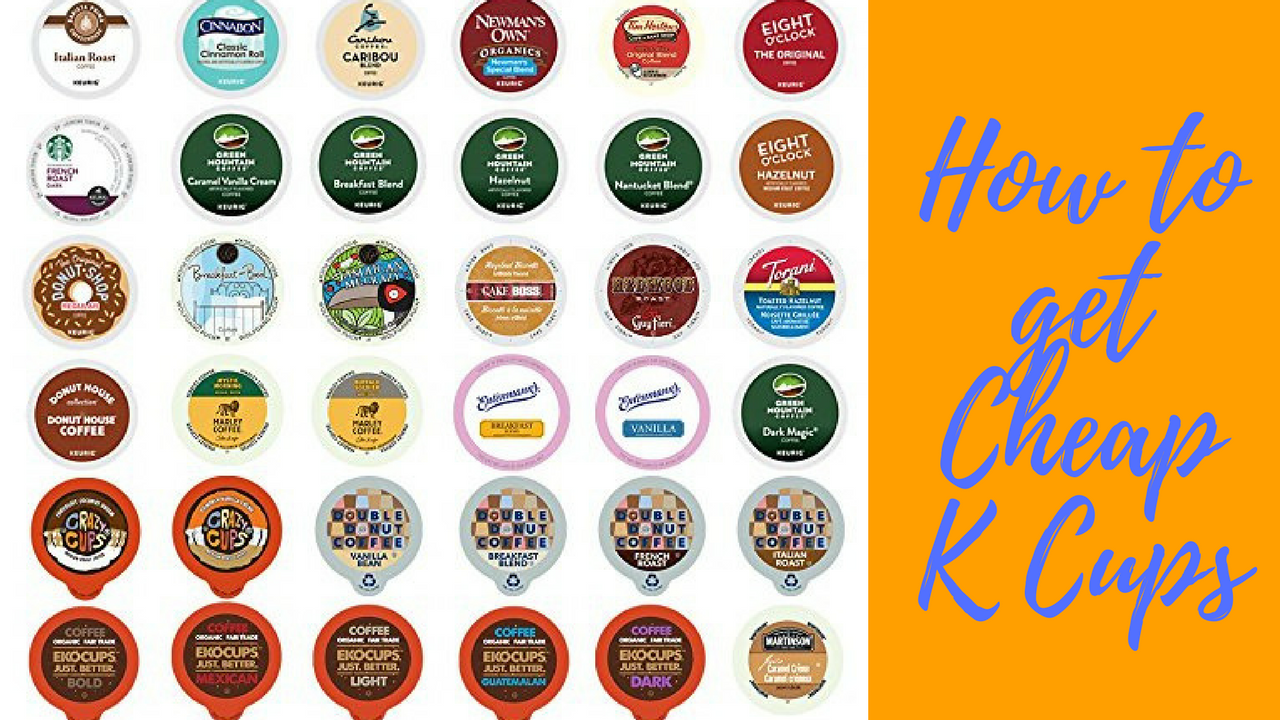 How and Where to Find Cheapest Keurig K-cups
The introduction of Keurig machines has revolutionized coffee brewing in the home or office. No longer do you have to brew an entire pot of coffee for just a single cup. Now you can simply brew one cup of coffee at a time, eliminating the wait that brewing a full pot entails, as well as the mess and cleanup of conventional coffee makers. Additionally, K cups offer a full range of coffee and other beverage options. Unfortunately, this convenience and versatility can come at a price. K cups, when consumed on a daily basis, can start to add up in terms of cost. This article will present some tips and tricks on how to find K cups at a more reasonable cost. Now you will be able to enjoy the pleasures of single serve coffee without breaking the bank!


Shop around
Like any product, K cups can be found at different prices depending on where you buy them from. While high end retailers will sell them at high end prices, more modest retailers will usually offer the same K cup products at a significantly reduced price. Thus, just as you would expect to find clothes or groceries cheaper at places like Wal-Mart, K cups are no exception.
Hit discount stores
While many people will go to discount stores for things like cheap party plates and decorations, most will shy away from buying food at such locations. This is largely due to the misconception that discount stores sell food that is either out of date or a lesser quality than what is found elsewhere. The truth of the matter is that discount stores cannot sell food that is out of date. Thus, any food that you find in dollar or discount stores is there for another reason. Sometimes warehouses need to clear stock out to make space for newer stock. Other times packaging changes, and all old packaging is sent to discount stores so that regular retail stores look their best. In any event, dollar stores or discount stores will carry K cups from time to time. By checking these places out on a regular basis you can save a bunch of money.


Shop online (Find Cheapest K-Cups on Amazon)
Anyone who shops online can attest to the fact that you can save a lot of money by purchasing a product online as opposed to going to a conventional brick and mortar store. Just as this is true for clothing, appliances and the like, so too is it true for K cups. Amazon, among other sites, offers K cup products at a price point that is more reasonable than regular retail stores. This is due to the fact that online retailers don't have to pay the overhead of building expenses or employee salaries. Therefore, it pays to shop around online for K cups the way you would for any other product. Additionally, online retailers will offer discounts from time to time which will increase the savings. These discounts can be a percentage off, or they can include things such as free shipping. Shopping around online can wind up helping you to save significantly.
For me Amazon is the place where I get the cheapest K Cups. Here you can find coupons for some K-Cups you get discount 5-15% if you subscribe.
Try K cup alternatives
Another tried and tested method for saving money on any product is to purchase non name brand alternatives. Perhaps the best example of this is with store brand groceries. Anyone who does grocery shopping knows that the grocery store offers the same products as name brands but for a fraction of the price. More often than not these products come from the same factories and farms as the name brand products, but because the grocery store makes its profit by volume selling it can afford to offer the item at a lower price. Thus, store brand K cup alternatives will provide the same quality beverage without draining your purse dry. Furthermore, any time your grocery store offers discounts on purchases you will be able to save even more.


Use discount cards
Some retailers offer customer loyalty cards to increase sales. These cards can offer savings in many ways, but often they provide a percentage off of any purchases in that store. Thus, if you get 5% off by using your loyalty card then you can save 5% on your K cups. This can really pay off if your retailer also offers a store brand alternative to K cups at a lower cost.
Coupon shopping
Keurig is like any other brand in the respect that they rely on advertising to get people to buy their product. One of the main advertising options is coupons that offer significant savings on a purchase, thus Keurig will have coupons available from time to time. If you take the time to search these coupons out you can really save some money in the long run. Additionally, any grocery store or retailer will offer coupons that take a percentage off of your next purchase. Buying K cups when you have such a coupon will enable you to get the same product for a significantly reduced cost.


Conclusion about finding cheap K Cups
In the end, finding cheap K cups is no different from finding any product at a reduced price. Shopping around at different retailers, searching for deals and just common sense shopping will go a long way to finding K cups at a greatly reduced cost. The best piece of advice, however, is to trust discount options. If you find K cups at a discount store, buy them. There is absolutely nothing wrong with them other than the fact that they were in the wrong package or at the wrong warehouse. Additionally, just because the package doesn't say K cup doesn't mean it is bad quality. Try off brand cups the
next time you see them. Whether you follow one or all of the tips in this article you will be able to enjoy single serve coffee on a regular basis without hurting your purse or wallet!