Best French Press Travel Mugs And Tumblers
If you are a coffee aficionado who travels a lot, then the idea of having your French press coffee on the go must be exciting. For this to happen, you need to equip yourself with a French Press travel mug. As such, they allow the full flavor and essential oils of the coffee to pass through into the brewed coffee. Aside from just the flavor, goodness such as nutrients and antioxidants that are essential for your health also end up in your travel French press mug. Note: Always use coarse ground coffee. These mugs or tumblers can be used in your home on a daily basis, not only when traveling. Here is a detailed rundown of some of the best French press travel mugs available on the market today:

Stanley Vacuum Travel Press Mug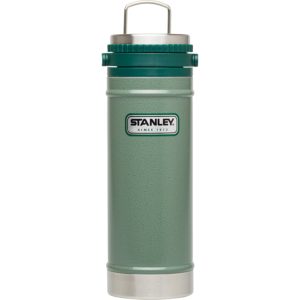 With this French press mug from Stanley, you can have your coffee at the desired temperature. This advantage is all thanks to its vacuum insulation, which keeps your coffee iced for 20 hours, hot for 4 hours or cold for 5 hours. To top it up, the mug boasts an 18/8 stainless steel construction, which makes it rust and BPA-free. Aside from being dishwasher safe, this excellent travel press Stanley has a durable press that is not only easy to remove but also clean.
Thanks to its leak-proof lid, you can store this mug in your backpack without any worry. In addition, the lid's ergonomic design ensures that your coffee remains inside regardless of the hassles or bumps encountered during your everyday travels. It fits into standard sized car cup holder. Overall this portable French press is great for camping or travel.
Pros
It is rust-proof and naturally BPA-free.
Ideal for outdoor activities like cycling, fishing or hiking.
Keeps coffee hot for a really long time
Fits in car's cup holder.
It has a leak-proof lid.
You can remove the press and use it as a travel mug
Cons
It is slightly heavier compared to other French press travel mugs.

Bodum Travel Coffee Press Insulated Mug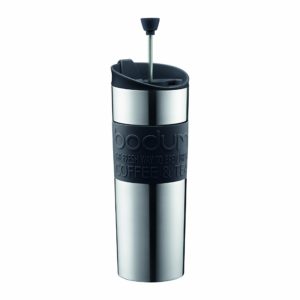 Bodum is a popular name in the French press manufacturing industry. We compare earlier Chemex and Bodum if you are interested, read.
The brand prides itself on its Bodum Coffee Press, which allows you to brew tea or coffee on the go as well as drink it from the same mug when ready. As such, you do not require a costly coffee maker and a separate travel mug to brew your favorite cup of coffee. It also features stainless steel, double-wall construction that plays a significant role in keeping your beverage cold or hot for several hours.
To prepare your desired on the go beverage (tea or coffee) using this French press travel mug, you need to put in coarsely ground coffee, and then add hot water before sealing the lid. In several minutes, you will get your desired, freshly prepared coffee to start your day. Aside from being that easy to use, the Bodum is most widely sold travel press mug. However, although we really love Bodum, in our opinion you can buy better press mug (thermos), Espro or Stanley, for about the same price.
Pros
It features a silicone-made sleeve that is wrapped around the mug for a comfortable, non-slip grip.
It has a 15oz capacity.
The mug comes in several different fun colors for both the lid and the silicone sleeve. The colors include white, black, red and green.
Cons
It limits you from drinking the coffee immediately, as it keeps it extremely hot. You have to give it time to cool down before drinking.
It is not durable as Espro or Stanley
It is not leak proof

Espro Travel Coffee Press Tumbler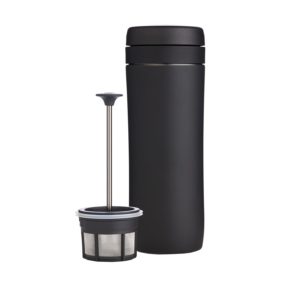 And now the best one that we reviewed, Espro. Featuring double-walled stainless steel, the Espro Travel French Press is designed to keep your brewed coffee hot for several hours. The mug also comes with two patent-pending BPA, phthalate and BPS-free filters that provide twice the filtering power of other coffee makers. In fact, the outer filter offers you nine times(9X) the filtering strength of a standard French press coffee maker while the inner one gives provides 12x the filtering power of a French press. Although Bodum is probably the most famous name when it comes to French press coffee makers our favorite on the list is Espro French Press Tumbler.
The Espro French press mug features a double-lip seal that stops both grit and over-extraction from passing through micro-filters. This function ensures that you enjoy a flavorful cup of coffee. Espro press tumbler is very durable. If you are as clumsy as we are durability is a critical consideration. Although the travel mug is dishwasher safe, it can also be hand-washed by using a bottle brush.
Pros
It comes in multiple color options including violet purple, sky blue, matte black, yellow, chalk-white, gunmetal grey, bright white and brushed stainless.
Great build quality
It is backed by a lifetime guarantee.
Easy to clean
It features an insulated, double-walled construction made of stainless steel to ward-off rust.
Thanks to its double micro-filters, the press provides a rich coffee flavor with fewer coffee grind left in the mug.
Cons
Small size, just 12oz. We wish more coffee (16oz) from this the best French press tumbler.

Planetary Design Double Shot Travel French Press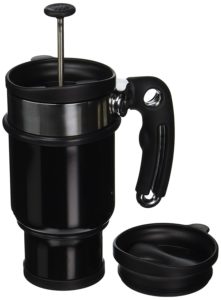 Unlike the other presses on this list, the Double Shot Travel French Press from Planetary Design allows you to make your favorite fresh cup of coffee and store extra grounds for another one. It boasts a storage compartment located at the bottom, whereby you can store various items such as additional coffee grounds, sugar or cream. Furthermore, the Double Shot French Press Mug is made from long-lasting, double-walled stainless steel that is not only BPA-free but also non-toxic.
The Double Shot Travel French Press comes with a sturdy steel handle, which features a hole for attaching to carabiners easily. Also, thanks to its compact base, the mug can fit into almost any standard car cup holder.
Pros
It features a scratch-resistant high gloss black finish.
It boasts an extra sip top lid.
Comes with a screw-out container for storing additional sweeteners and grounds.
Available in fashionable color choices.
Cons
The arm that closes the hole is susceptible to breaking.

ZYLISS French Press Coffee Mug, Single Serve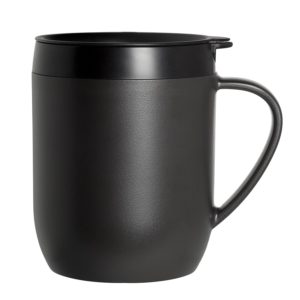 ZYLISS Travel French Press Coffee Mug is ideal for on-the-go coffee enthusiasts that have very, very small budget. Designed by Sebastian Conran, an award-winning British designer, and created by ZYLISS, the mug has the looks of a regular cup but a long-lasting construction. To keep your beverages hot, the ZYLISS Press Coffee Mug comes with double-wall insulation, made of BPA-free material.
To make your on-the-go cup of coffee using this press, you need to add the preferred amount recently ground coffee first. Consequently, add hot water until it reaches the maximum fill line inside the mug before pressing down the plunger. Once you are done, you can add the desired amount of sugar or milk.
Pros
It is price-friendly compared to the other travel mugs.
It features a handle for easy portability.
It is ideal for multiple beverages including tea and coffee.
Cons
It accommodates a small amount of coffee, 12oz.
The mug is not entirely leak-proof due to a small hole located on the lid that can cause your drink to spill in case it is tilted.
The filter is not one of the best


Which French Press Mug You Should Buy?
Looking at all the above-listed options of French press travel mugs, the Espro Travel Coffee Press carries the day. Although it is relatively costly compared to the other mugs, it has a fantastic design and comes with double micro-filters that bring out a rich coffee flavor without leaving any grit at the bottom of your mug. Our second choice is excellent travel press tumbler by Stanley. On the other hand, the ZYLISS Travel Press is an affordable option if you are on a budget but still want to carry your favorite French press coffee.