Best stainless steel travel coffee mugs: Contigo AUTOSEAL, Thermos, Stainless King with Handle, Utopia Tumbler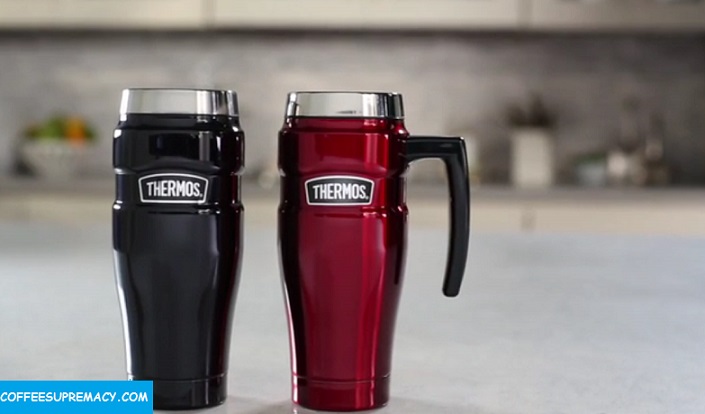 It's not that hard to think how important coffee is to our everyday lives and for many people it is no longer a novelty and they simply switch on the coffee maker or buy a cup of coffee out of instinct. In the US alone coffee stands are making a hefty profit from people buying coffee every morning and it is also a great source of profit for restaurants that like to serve breakfast.
In this tough economy, you could be saving a lot of extra bucks by simply having your very own stainless steel coffee mug and filling it up at home. While a cup of coffee is not expensive, it definitely starts to add up after a while and this is especially true if you start getting addicted to coffee.
We have decided to find the best travel coffee mugs that will help you have a lot of time and make your early morning routine a little less expensive. The travel mugs are easy to use and they are quite large to help you save those extra dollars on one or two cups of coffee every day.
But before we look at the top stainless steel travel mugs, there are a few things that you need to be aware of before buying and by taking these features into account; you will be able to get more multifunctional use out of these best travel mug to keep coffee hot for hours.
Key features to look for:
You'd think that all coffee travel mugs are exactly the same, but you cannot be farther from the truth. Every brand is trying to leave their very own and unique style on these cups and thus there are more differences than the size for instance. The one thing they do have in common is that they are made from stainless steel
One-handed drinking ability: When you are pressed for time, it is essential that you can easily use these mugs and that they offer easy to flip open lids that make it great for one handed drinking
Size: The size of these cups vary and it is ultimately the buyers choice to decide if they need a larger cup with the capabilities of storing two regular cup sizes or if they only need one. The size will also directly impact the weight
Thermogenic capabilities: The mug should have additional thermogenic abilities to ensure that your coffee stays hot on the inside. The stainless steel might cool off a lot faster in the winter and this could impact your coffee taste and experience
Sealer: The coffee mug should be capable of sealing in a sufficient manner. The reason for this is because you will be carrying it around all the time and this means that you could possibly spill the coffee. It is important to check out that the coffee mug does sufficiently seal when you are not drinking
By taking note of these features, you will be able to make a better choice on your next coffee mug and you can be sure that it is a high-quality product. The price will also be a good indication of the quality and sometimes it is not better to choose the cheaper item over quality.
With that being said, let's look at the top travel coffee mugs to keep you warm this winter season:
4 best stainless steel travel cups comparison chart
| | | | | |
| --- | --- | --- | --- | --- |
| Image | | | | |
| Title | Contigo AUTOSEAL West Loop Vacuum Insulated Stainless Steel Travel Mug with Easy Clean Lid, 20oz, Stainless Steel | Thermos Stainless King 16 Ounce Travel Mug, Stainless Steel | Thermos 16 Ounce Vacuum Insulated Travel Mug, Stainless Steel | Utopia Tumbler - Stainless Steel Double Wall Insulated Large Coffee Mug / Travel Mug for Hot and Cold Drink (20 Oz, Stainless Steel) |
| Brand | Contigo | Thermos | Thermos | Utopia Home |
| Size | 20oz | 24 oz | | 20 Oz |
| Height | 10.4 inch | 7.8 inch | 8 inch | 6.06 inch |
| Weight | 0.81 pounds | 0.3 pound | 0.9 pound | |
| Width | 3.5 inch | 4.9 inch | 5 inch | 3.23 inch |
| Length | 2.75 inch | 3.3 inch | 3.5 inch | 3.23 inch |
| Reviews | Read Reviews | Read Reviews | Read Reviews | Read Reviews |
Top Quality Stainless Steel Travel Mug Reviews
Contigo AUTOSEAL Review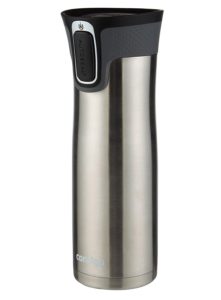 The Contigo auto seal west loop coffee mug is packed with great features and it is also available in multiple sizes depending on your coffee consumption. The travel coffee mug features an auto sealer in the lid and this will ensure that you do not spill anywhere and it can even be turned upside down without spilling a drop.
The Thermolock ability is one of the newest methods of ensuring that the coffee stays hot on the inside. When this is combined with the stainless steel outer frame, you can be sure that your coffee will stay hot for prolonged periods of time. Furthermore, the drinking nozzle is quite unique and it will ensure that you can use this coffee mug anywhere you co and drink coffee without a mess.
The coffee mug is great for multifunctional use and in the hot summers it can also be used to store your water and keep it cold for longer periods of time. The stainless steel construction id durable and the cold will be kept inside longer if you have refrigerated the mug.
We definitely recommend this cup for anyone that likes to travel or anyone who loves that cup of coffee every morning. This mug is available in multiple sizes ranging from 16 ounces to 24 ounces.



Thermos Travel Mug Review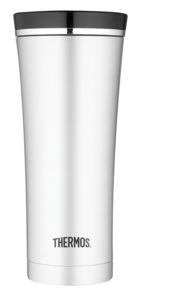 The Thermos Vacuum insulated travel mug makes use of suction power to ensure that your cup is insulated and that there never spills a drop of liquid. The mug is made from stainless steel and it has the capabilities of keeping your warm liquid hot for up to 5 hours and the cold liquids for up to 9 hours, making this the perfect coffee mug for a full working day at the office
The coffee mug is uniquely designed and it absolutely exerts style and class. The lids can also easily be taken down and this will allow you to give the mug a good and thorough wash every night to ensure that it is ready for the next day. The Eastman Tritan lid has also been approved by the FDA and it is BPA free to give you a healthier drinking experience
The drinking feature on this lid is quite large and you will be able to drink quite comfortably while ensuring that no spillages occur and that you have a nice clean and fresh tasting cup of coffee every morning.
On the downside, the mug might become extremely hot or cold on the outside and thus limiting your ability to carry it around



Thermos Stainless King with Handle Review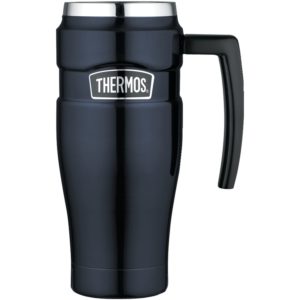 Featuring a stylish new and unique design, the Thermos stainless king can be considered as an upgrade to many of its predecessors. The coffee mug is made from durable stainless steel, but the rubber exterior makes it easy to carry around when you have extremely hot or cold liquids on the inside and the added handle will allow you more functionality when carrying around the mug.
The leak proof drinklock lid feature has been incorporated to eliminate any possible spillages and to ensure that you have an easy drinking experience. Furthermore, you will be able to add hot or cold liquids to the mug and the mug will be able to retain the respective temperatures for a prolonged period of time and this will allow you to use the mug as a water bottle for a full working day.
On the downside, we have to look at the price, but we believe that this could be seen as an investment and that you will be able to get multiple years of use out of this mug. The mug will also save you a lot of money and you will no longer need to buy those coffee stand coffees every morning.



Utopia Tumbler Review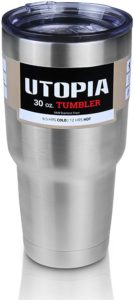 Finally, we have a stainless steel travel mug for the huge coffee lovers and the lazy people as well. This large 30-ounce coffee mug will be great for keeping a full mornings' worth of coffee and to ensure that you are fully energized throughout the entire day.
The entire mug is also dishwasher friendly and this means that you could simply take off the leak proof lid every evening and pop it into the dishwasher with most of your other household cutlery and washing. The lid is entirely leak proof and you can be sure that there will not be any spillages when having a bumpy bus or train ride
The mug is really affordable and it will allow you to store hot or cold beverages inside while maintaining the temperature for a prolonged period of time. The only downside to this huge mug is the weight and once filled up it will be rather heavy to carry around.
We definitely recommend this for the big coffee lovers and you can be sure to save a few extra bucks by using this mug instead of buying beverages on your way to work every morning.



AUTOSEAL video presentation
Final Thoughts:
We would like to thank you for reading this article and we believe that you now have the knowledge to buy your next stainless steel travel coffee mug and ensure that you buy a quality product. We hope that you have seen that not all of these mugs are the same and that they have multiple different functions.
We would like to encourage you to let us know what you think of these mugs and to tell us of any other cool travel coffee mugs that we might have missed and you believe are high-quality.