Cheap Coffee Makers that Use K-Cups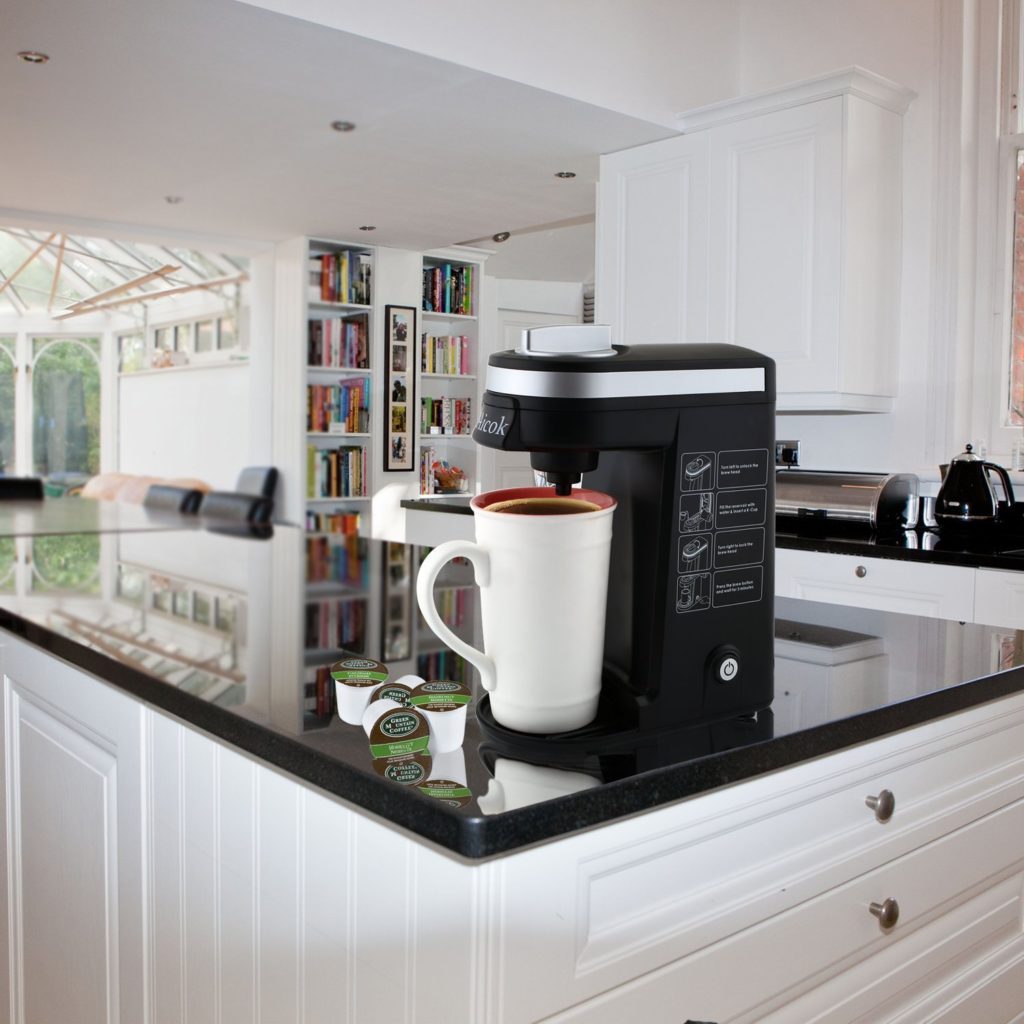 K-cup coffee makers have increased their popularity lately. You will encounter them in almost every home, office, and cafes. This popularity can be attributed to their versatility and convenience. The single cup coffee makers are an intelligent alternative for the automatic coffee makers. The real deal is that there are some of these machines that are quite affordable going for less than $50.
These coffee makers use coffee pods for brewing. With the variety of beverages available ranging from milk specialties, coffee, tea, and hot chocolate among others, users are spoilt for choice when it comes to flavors. These coffee makers tend to save you a lot of hassle for heading to the cafeteria daily. Additionally, they are a perfect choice to entertain guests at home as all you need is buy a variety of K-cups.

Best affordable K-cup coffee maker
Below you can look on our reviews for five good and quality cheap k cup coffee maker under $50 that you should consider to buy.
Aicok Single Serve K-Cup Coffee Maker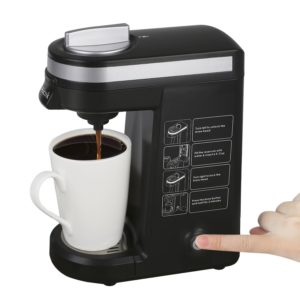 The Aicok single serve is one of the most reliable and affordable k-cup coffee makers in the market. It's is small in size making it excellent for travel. This coffee maker is designed such that it can accommodate even large sized coffee mugs. It has a compact design and will brew your coffee in just three minutes.
Features
Quick brew technology that helps you brew in only 3 minutes.
One touch button that indicates when the machine is in use.
Auto shut function that allows the machine to go off when brewing is complete.
Removable drip tray and 12 oz. water reservoir.
Pros
With auto shut function, it is good for saving power.
Aicok k-cup coffeemaker is good for travel since it is a lightweight. With its small size, you can use it in office, dorms, and apartments whenever you are traveling.
Two-year manufacturer warranty.
One touch button control allows ease to use.
With 12 oz. water tank, you can brew several cups of coffee before refilling.
The Aicok single serve can accommodate standards sized coffee cups and mugs of 5 ½ inches long. With the removable drip tray, it is easy to maintain clean. It also features a brew lid with lock and unlock features which prevent overflowing. Additionally, the water tank of this machine is made of BPA free material hence assuring you safety.
This K-cup coffee maker is our favorite to buy for a very low price and more than solid quality.


Icoffee Steam Brew Coffee Maker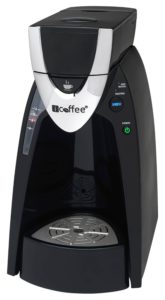 This machine applies a technology that enables it always to brew smooth and sizzling hot coffee. Like all iCoffee single serve machines, this coffee maker is compatible with all K-Cup, RealCup capsule, OneCup, and any other private label cups. This compatibility increases the versatility of this coffee makers.
This decent and stylish coffee maker will fit perfectly on your kitchen counter as it measures 14 x8 x11 inches and weighs 8.27 lbs.
Features
Spin brew technology that enables the machine to turn, steam and stir inside the cup.
Pour and brew technology which allows pouring the amount of water you want depending on the coffee strength.
Icoffee steam brew coffee maker has a removable tray allowing the use of any cup size.
Safety locks which activate during brewing.
BPA free unit with a removable tray.
Pros
Easy to use.
Easy to clean considering the removable tray.
Stylish with a compact design that perfectly fits in your office or home kitchen.
Icoffee brews quickly.
Lights when brewing.
Can fit travel mugs.
Cons
The opening to add water is rather small.
It has no auto shut function.
It requires daily water addition.
The Icoffee K cup coffee maker is good for use in homes and offices. Regardless of these cons, the single express steam brew coffee machine is reliable and really cheap. The features and benefits it offers make this coffee maker worth its price.


Gourmia GKCP135 K-Cup Manual Hand French Press Coffee Maker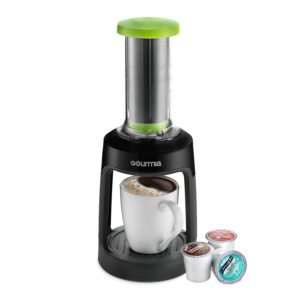 This hand coffee maker gives you the pleasure of enjoying your coffee whenever you are even when traveling. It is incredibly affordable going for now much less than $50, but the features and benefits it offers are invaluable. You can use this single serve K-cup to make piping hot coffee, chocolate or tea depending on your taste.
Features
It has a silicone plunger with a removable lid which provides K-Cups storage.
BPA free water tank that is magnetically connected at the base of the coffee maker.
It has a non-skidded rubber surface which prevents the mugs from falling when you are refilling.
It can hold medium-sized coffee mugs.
Measures 8.5 x8.5 x 6.3 inches and weighs only 1.8 pounds.
Pros
Most of its parts are easy to dismantle hence best if you are short of space.
Easy to clean and is dishwasher safe.
Easy to assemble and takes seconds to brew a cup of coffee.
Gourmia manual coffee machine is made of highly durable material.
Small size and lightweight hence good for use when traveling or camping.
Gourmia K-cup coffee maker is manual hence no need for electricity for you to enjoy your cup of coffee.
Easy to use as all you require is to select the k-cup of your choice, fill the water tank with hot water and slowly press the plunger down and voila, the brewing is complete.
We highly recommend all travelers, campers, hikers and those who want to at any time to enjoy their coffee to buy this great small and cheap coffee maker that can use K-Cups.


CHULUX Travel K Cup Coffee Maker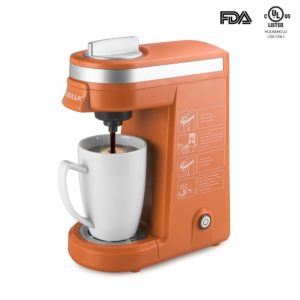 CHULUX coffee maker ensures the freshness of your beverage by producing one cup at a time. It managed to appear in our list considering its efficiency, reliability and more so affordability. Although it is designed for original k-cups, it can accommodate other capsules. You can buy this cheap K cup coffee maker in very interesting colors.
Features
Measures 4.3 x 7.4 x 9.8 inches and weighs 2.2 lbs.
Features a removable drip tray which allows you to use a coffee mug of your choice.
Easy to clean since all removable parts are dishwasher safe.
Has water reservoir that holds a capacity of 15oz.
It has a smart and simple button that indicates when the brewing is in progress.
Water reservoir made of BPA free material.
It uses NTC stainless steel heating material instead of a heating tube.
Pros
Straightforward and fast to use and takes only three minutes to brew a cup of coffee.
Auto shut when brewing is complete ensure energy preservation.
Brewing lid with a lock and unlock button prevents spillage while brewing.
Small in size and a lightweight hence adequate for travel.

Mega Cocina K-cup coffeemaker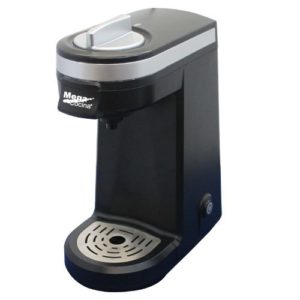 Mega Cocina machine makes one cup at a time and accepts different k-cup capsules which give you choice when it comes to flavors. It takes a few minutes to brew your favorite cup of coffee, tea, or chocolate. With a removable drip tray, you can easily fill your travel mug.
Features
12 ounces BPA free water tank.
It has multidirectional brewing systems.
It is compatible with all K-cup capsules.
Pros
It is highly convenient and especially when traveling.
Compact and lightweight.
Heats up fast and hence provides with a hot cup of coffee within minutes.
Cons
It has no visual for water levels hence requiring you use a cup every time you are refilling.

Best budget K-cups coffee maker 2017 conclusion
If you consider the features offered by each one of the above k-cup coffee makers, then you will realize that their price is quite an offer. Most of these coffee makers are suitable for people who travel a lot either for business or pleasure purposes. With their compact small sizes, you can save yourself a few dollars every time you are out of the home.
All these K cup coffee makers are cheap but good, and you no longer have to miss your favorite beverage in excuse that k-cup coffee makers are expensive. With less than $50, you can own your K-Cup coffee maker.